You will agree that Mutual Funds are like chocolates – there are so many different kinds & new is always popping up. How are you supposed to decide where to invest?
There were a couple of questions related to Tax Saving Mutual Fund or ELSS that I keep getting on the blog. So I thought of writing this post.
I am not sure if I will be able to answer  "Which is the best tax saver mutual fund in India?" but I promise this post will help you in selecting the right one for your tax planning needs. And you will also learn an important lesson to avoid mistakes 🙂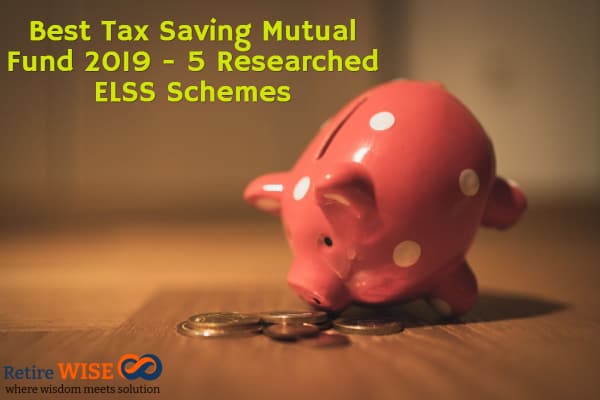 Check performance of Best Tax Saving Mutual Funds in last three years.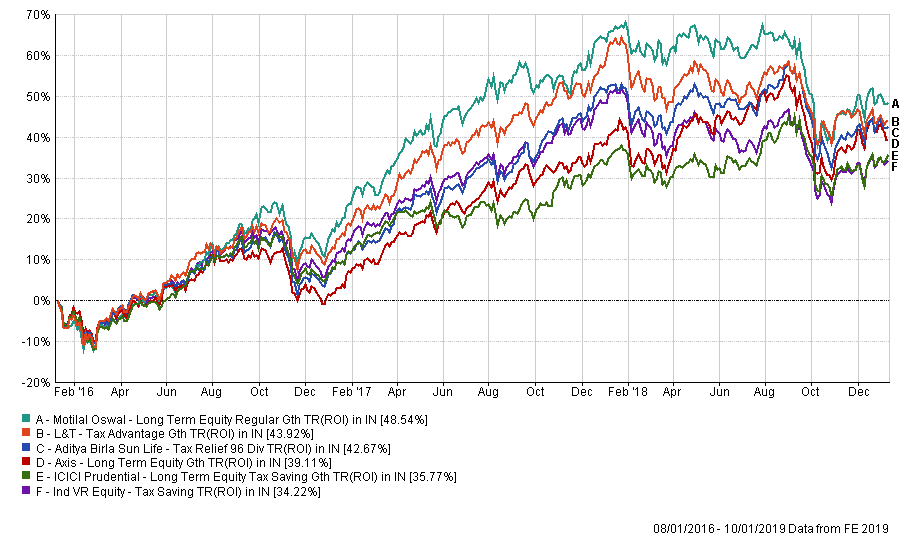 Don't forget to download consolidated factsheet of these funds that I have shared after performance table.
Tax Saving Mutual Funds
End of the financial year is around the corner. It is the time when the salaried invest to save tax. For those investors who have not done their tax planning hardly any time is left. Eleventh-hour tax planners must be now looking for tax saving instruments to park their funds to claim income tax deductions. The tax saving mutual fund is one such instrument.
Tax Saving Mutual Funds are popularly known as Equity Linked Saving Schemes (ELSS). They serve the purpose of combining tax benefits with wealth creation using equities. They are basically meant for tax saving but over the last few years, investors in these funds have tremendously grown their wealth. Some ELSS funds have been top performers and consistently outperformed the Sensex.
Must Read – 11 Unusual ways of smart tax planning 
Oops.. but I have to share this before going forward. Mutual Funds write this in bold "Past Performance may or may not be sustained in future." But who cares.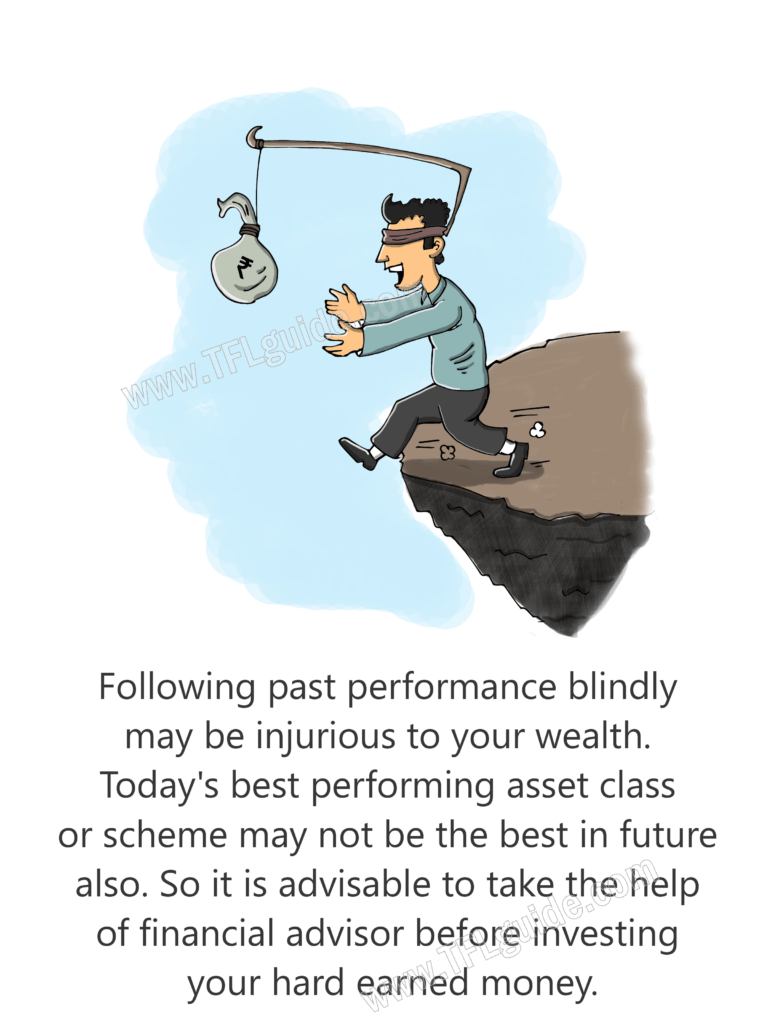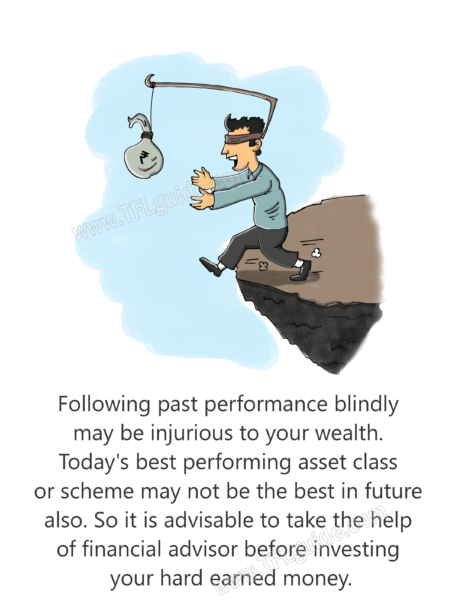 Which is the Mutual Fund for ELSS or which is the best Mutual Fund for SIP or which is the best term plan? This is the most common trick to ask secrets from Hemant. 🙂 And as usual, my answer is "There is nothing called best – best comes after postmortem".
If you don't have much idea about Mutual Fund ELSS (Equity Linked Saving Scheme) – You should read ELSS the best instrument for saving tax.
Do you know "Equity markets in the US have given a return of 10% from 1991 to 2017 but what investor got was just 4%." (Dalbar Studies)
Can you guess why this happened? Because people were looking for the BEST FUNDS & not concentrating on other factors which are even more important.
Read More – How Healthy Is Your Mutual Fund Portfolio?
My Second Book about Investor Behavior
I have Highlighted this difference between Investment Returns Vs Investor Returns in my new book "Modifying Investor Behavior" – Check back Cover to get an idea.
But won't you like to ask what happened if someone made investments in tax saving funds when the Sensex touched its highest point in the last bull run?
If someone had invested Rs in ELSS Fund on 9th January 2008 (Sensex 20800) & withdrawn it after 3 years on 10th Jan 2011 (luckily Sensex 19100).
Must Read – Compare ELSS Vs PPF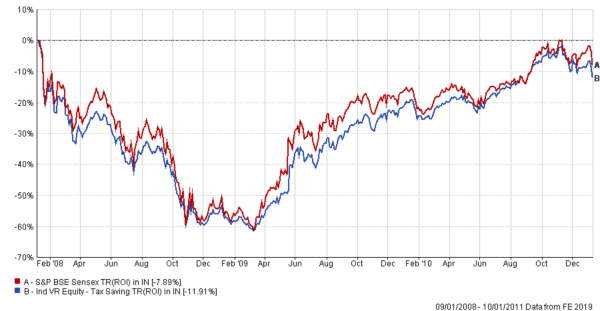 So as a category ELSS have given negative returns in this period & if you notice in the middle of this period funds lost almost 50% of their value. Equity is the most volatile asset class & it always works like this – if you don't have risk appetite or if you want that your investments should never go negative, please don't invest in equity or equity related instruments.
So we have seen a single period but this cannot be much help in any judgment. Let's see what happened in all 3 year periods since ELSS came to existence – for that we have to understand rolling returns.
Definition of Rolling Returns The annualized average return for a period ending with the listed year. Rolling returns are useful for examining the behavior of returns for holding periods similar to those actually experienced by investors.
3-year rolling return of ELSS
For example, the three-year rolling return for 1996 covers Jan 1, 1993, through Dec 31, 1996. The three-year rolling return for 1996 is the average annual return for 1993 through 1996.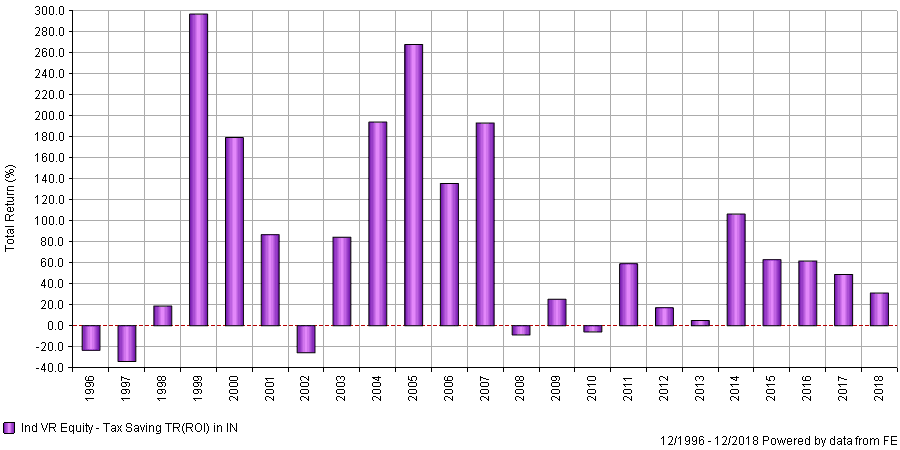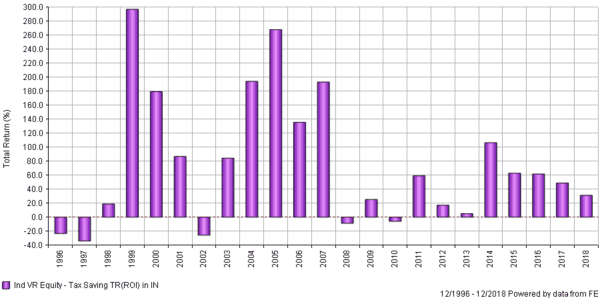 So you can see there are a couple of negative periods here – all 3 year periods that are starting from a peak of the bull market. Deepest fall, almost a 30% negative in 1997 because this is talking about investments done at the time of Harshad Mehta's Scam (1993).
Read – High Return Investment
5-year rolling return of ELSS
If we look at 5 year period there is only 1 negative period – ending 2012. If you do a Prima Facie observation – on an average investment has given more than 100% return or doubled in the period of 5 years.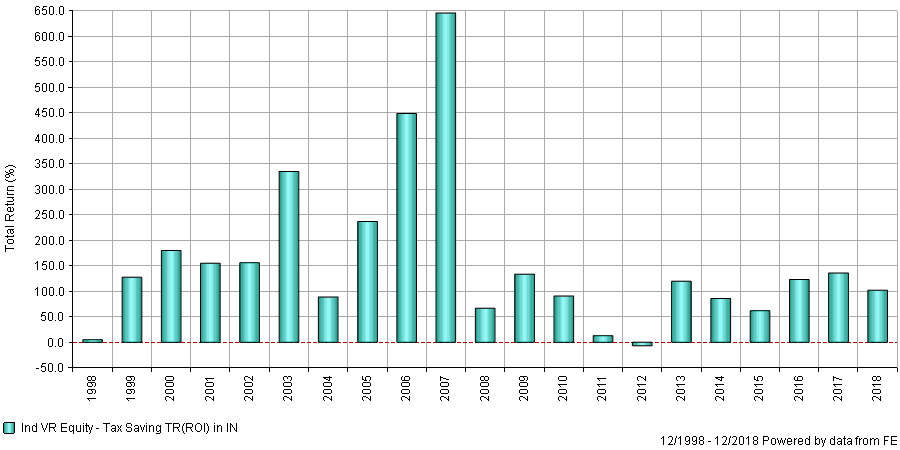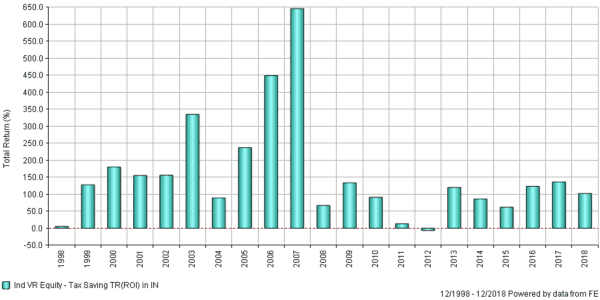 If you look both the rolling charts there are a two important learning:
First, with an increase in the investment horizon (3 to 5 years) volatility substantially reduces.
Second, investments done when actual returns were negative have generated a good return. (Check 3 year period)
But the question is which fund to invest. & what about when not to invest in ELSS Funds.
Best ELSS Mutual Fund for 2019
Aditya Birla Sun Life Tax Relief 96
Axis Long Term Equity
ICICI Prudential Long Term Equity Tax Saving
L&T Tax Advantage
Motilal Oswal Long Term Equity Regular
These 5 tax saving mutual funds are based on our research but you can take the decision based on your own research or talk to your financial advisor.
 Long term Performance of ELSS Funds (CAGR)
ELSS Funds
1yr
3yr
5yr
10yr
Aditya Birla Sun Life Tax Relief 96 Div TR(ROI) in IN
-6.39
12.57
18.98
19.29
Axis Long Term Equity Gth TR(ROI) in IN
-1.21
11.63
19.42
ICICI Prudential Long Term Equity Tax Saving Gth TR(ROI) in IN
0.22
10.73
16.21
20.50
L&T Tax Advantage Gth TR(ROI) in IN
-11.58
12.90
16.23
18.43
Motilal Oswal Long Term Equity Regular Gth TR(ROI) in IN
-10.20
14.10
Sector: Ind VR Equity
Tax Saving TR(ROI) in IN
-10.98
10.31
15.36
16.25
Year on year of Best ELSS Mutual Funds

An optimal way to invest in tax saving mutual funds is by way of monthly SIPs.
Read – You can also have SIP in ELSS
Video – ELSS or PPF Which is better?
Note – Ignore numbers – try to understand the power of equity.
Tax Saving Mutual Fund Vs Diversified Equity Fund
ELSS funds follow the same investment strategy as diversified equity funds. They invest in a portfolio of quality stocks chosen without any market capitalization or sector bias. Investment in ELSS is locked-in for a period of three years from the date of investment. Three- year lock-in period works in favor of these funds. Fund managers can take longer calls and deploy funds without the fear of premature redemption. Because of the stability of the corpus, a higher proportion of assets can be deployed for mid and small caps to get superior returns.
But be aware that few agents try to mis-sell ELSS to earn higher returns.
Who should invest in Tax Saving Mutual Fund?
Investors should go for these funds only if their main aim is to save tax. ELSS funds do not allow you to book profits when markets are rising due to the lock-in period. (or even you can't apply asset allocation strategies)
Since ELSS schemes invest in equity, over longer investment horizons, they deliver the "highest" long term returns among other tax saving investments. These are suitable for investors with a long investment horizon of more than five years. As these are equity-linked schemes, investors should have a higher risk appetite than pure debt investors.
ELSS is the only tax saving instrument that is pure equity oriented and has the least number of years as lock-in period.
It's time to stop making haphazard decisions about your INVESTMENTS

and instead talk to us about your GOALS.
In case you have some questions regarding mutual Funds – feel free to ask. But please don't ask which is the "Best ELSS Mutual Fund". 😉
Also, share this with your friends who may be confused about choosing funds to save tax.