Today I want to do a SPRITE Ad in investment "Seedhi Baat no bakwas". Low-Risk High Return Investment is a Mirage.
I get a chance to speak few prospects every week, a major change I have noticed is expectations are Sky High. Even the existing investors are getting carefree.
Everyone is singing in Chorus "Mauka Mauka"…
Don't try to find hidden messages from this post because the equity market is "the great humiliator". So do not try to predict market direction on the basis of what you think.
I am just trying to compare investor behavior today & a few years back.
A Journey from Disbelief to Optimism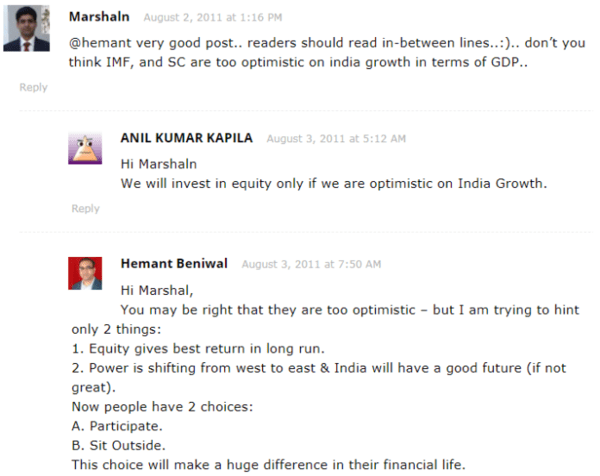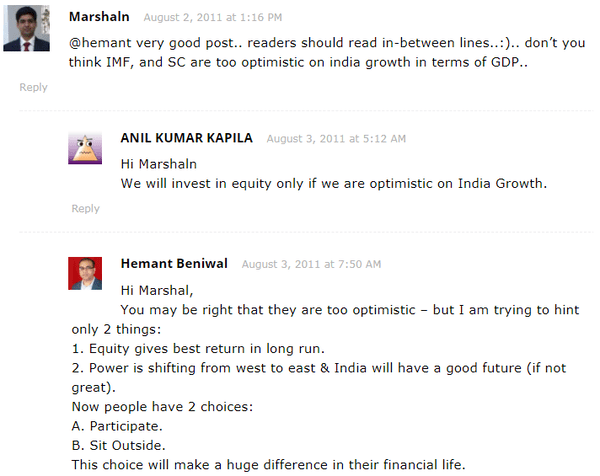 Low-Risk High Return Investment is a Myths
Few major things that I have noticed – High, Higher, Highest:
Returns– Kitna Deti Hai
Will you recall ad of Maruti "Kitna Deti Hai"? It's not new that a prospect asks about returns in the first call. If that number was 1/4th earlier now it is 3/4th – why such a huge jump. Everyone wants to peep for returns.
I think because clients are looking at past performance and they want confirmation that past can be mirrored in the future.
Last week when one prospect asked me what returns do you expect in the next 3 years, I said negative 30%. He said what?? I repeated negative 30% if you will be lucky & it can be even worse.
I keep saying this on TFL and even to our clients, we don't have any idea about the market. We are very clear; we do not want to build relationships with wrong expectations.
Comparison in Portfolio Returns – Uski Shirt meri shirt se safed kaise
Return is one thing and higher returns are other. When markets are performing so well why someone would like to settle for less. If it's low risk high return – it's even better.
The comparison is a disease which keeps us away from happiness.
You gift a dress to your wife/girlfriend.
Reaction 1: This is really nice. Finally, your choices are getting smart!!!
Reaction 2: It's good… I think… but… ok … will I look better than Ms. Pheku?
The happiness of gifting dies & even receiving. It puts pressure too.
Comparing your house with relative leads to buying a bigger house which you may not need. Comparison of car makes a big hole in your pocket.
Recently one prospect told me that he is not expecting higher returns, 15-18% is sufficient. I told him please manage my fund.
I don't know from where people get all these numbers.One existing client said that one of his fund is not performing in comparison to the other, I told that's good at least others are performing 🙂
Eager to Invest – Oh Yes Abhi
Eagerness is an emotion and emotion is psychological. I have observed that now everyone who knows even little about mutual funds want to be part of the equity market. They don't want to miss some kind of Limited period sale.
To be frank such behavior is very dangerous for individual investors.
Recently a prospect called and he said he doesn't want to create a plan (as it takes time) but directly want to invest his huge savings that are parked in SB Account in the equity market. (another asked about low risk high return Mutual Funds – Sahi Hai)
I said if you are 40 you have another 40-50 years of the investment horizon. What difference will one month make? If one month difference is bothering, you have already lost last 10-15 years.
Direct Stocks – Ye to bada toing hai
I think this advertisement is my second most hated adv – I think first is Car Trade where dogs are driving the car. But this ad catches my eye every time and reminds me of greed that investors surrender to. 🙁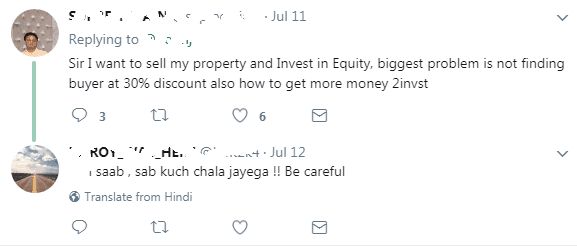 Investors are not satisfied by market return. They're not even satisfied by professional fund manager that still generating some Alpha. They feel that there is some secret sauce and Advisors will serve that in a paid buffet. They feel they can beat fund manager in their game when they are not even qualified and experience to play that. Debate on Mutual Fund Vs Direct Stock is not new.
I clearly remember 5 years back no prospect asked about direct stock – at least from us being a Financial Planner. These days I don't remember if someone missed asking about that.
Recently one prospect also mentioned the name of one fancy stock and said that's a bluechip stock and I want my portfolio to perform better than that. (Just to share that stock has gone up by 50 times in last 8-9 years)
I told him for god sake if I can generate that kind of returns, you would have never got a chance to talk to me. Claims on generating such returns are just hindsight bias – will share a detailed post on this.
You should remember this time it's different is very dangerous statement – in last decade we have seen people getting disappointed in Real Estate & Gold due to higher expectations.
Risk – Taste the thunder
Will you take that kind of risk to have a single bottle of cold drink? If no it is important to understand what kind of risk you are taking to achieve some return.
If the return is real, the risk is also real.
But these days people are not willing to understand risk.
We regularly run fire drill exercise with our clients so they mentally prepare for future. We ask them how they will react if their portfolio will be down 40% next month.
Pain – Jor Ka Jhatka JOR Se Lage
Equities can give a lot of pain, it is important to understand risk and return relationship.
Black Mondays, Furry Fridays can happen anytime. The more you are near the fire, with nylon clothing, more you are prone to get 3rd degree burns.
That is why the risk and returns need to be balanced. Don't chase returns that too someone else has got. You are different and unique as per your risk readiness and returns expectation go.
The margin of safety is squeezing now. Alpha generation is a headache for fund managers. They are lowering cost to save returns. Greed is increasing, Times are changing…
Don't waste time about thinking about Low Risk High Return Investment. Focus on your Goals & holding period. Don't be worked up… let your PLAN work.
Feel free to share your views in the comment section. If you liked the post share with your friends.