It is now no more a secret that Equity investment for long term is the key to planning your long term goals and beating inflation. (If not, read this "Indian Equities – Past, Present & Future") And traditionally to invest in equity market, there are two options available to an investor- Mutual Funds and going direct to buy Stock/Equity Shares form open market. Today we analyze the merits and demerits of these two options.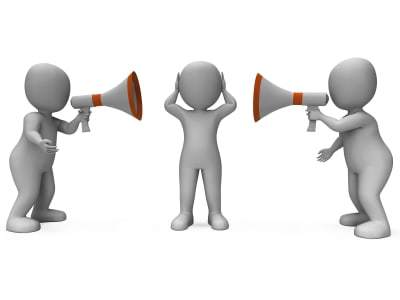 Image courtesy of Stuart Miles / FreeDigitalPhotos.net
What is a Mutual Fund?
'Mutual Fund is a pool of money that is collected from investors who have a common goal and is invested in stocks and securities by professional team with the aim to achieve the fund's predetermined objective.'
What is a Stock – Direct Equity?
'Stock or share is a security that represents ownership in a company. As it is commonly said …'A share is a share in the share capital of the company''
Here are the basic differences between mutual funds and stocks.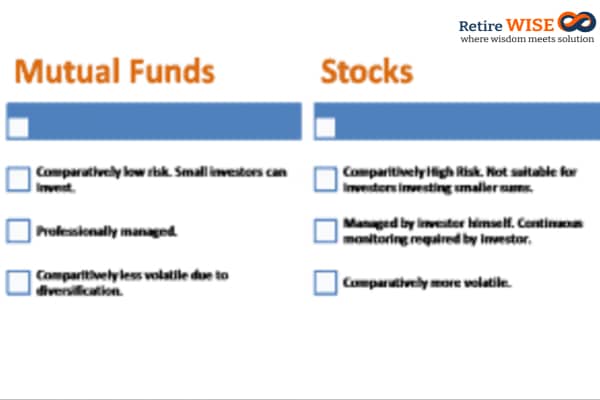 Which is a better option to invest – Mutual Fund or Direct Equity?
Below are various factors which a person should consider before making his decision to invest.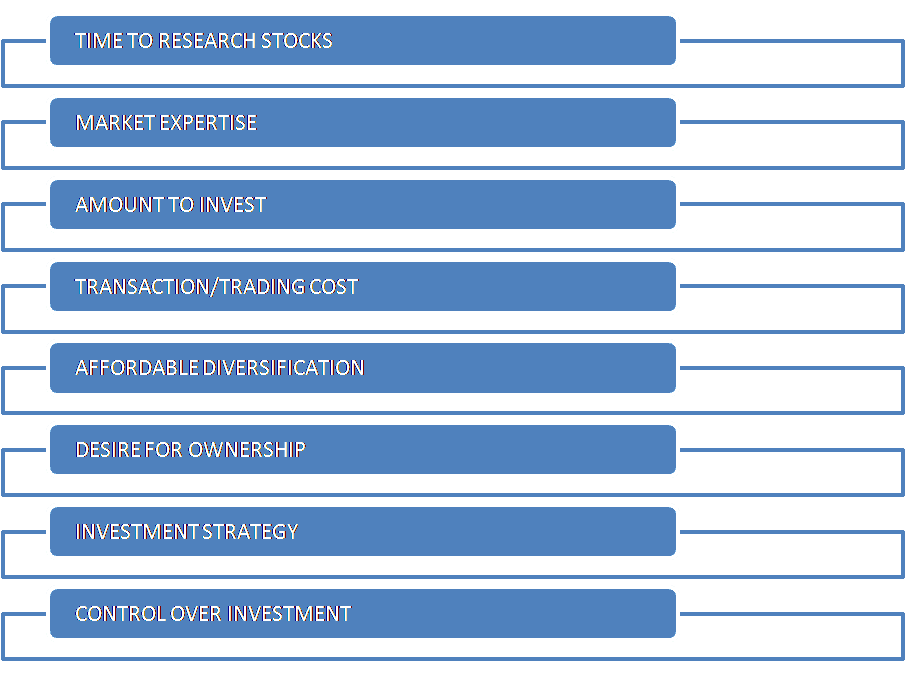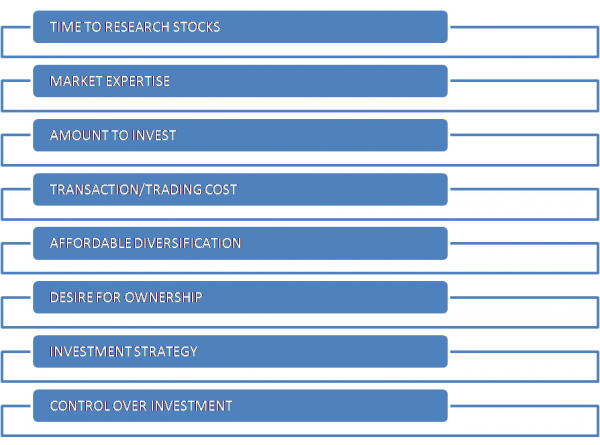 Time to research stocks: Studying the share markets is a full time activity and requires a lot of time and energy on part of the investor.  And it is just not confines to share market but also includes analyzing economic numbers and macro-economic factors like government policy changes, currency trends etc.. If an investor is ready to dedicate adequate time in studying these markets and can continuously monitor his investments, he can go for investing in direct stocks. If a person does not have time to select and monitor his stocks, he can invest through mutual funds.  In mutual funds, the investor leaves this task to the fund managers who are professionals in their field and manage the investment on behalf of the investors.
Market Expertise: A person requires adequate skills and expertise in managing the investments. The skill lies not in having information about the market alone but in the ability to analyze the information. So, if a person is holding a stock in auto ancillary sector, must be able to analyze the trend if the Automobile Association announces that "Q3 sales drop in passenger segment" and "Maruti is developing petrol engine with more than 22 km mileage". The information comes in the crudest form as these may not refer to studying a particular company or sector but it encompasses the study of the micro and macro factors affecting the economy as a whole. In mutual funds, the fund managers have quality access to research material and have adequate skills and experience in managing the fund to the best of their discretion.
Amount to invest: 

The cost and time involved in research study for selecting stocks is not justifiable for small amount of investments. For eg to invest Rs 5000 a month in Nifty stocks, are you going to go through financial data of all the fifty companies? Thus, for small investors mutual funds are a better option. Small investors can invest through SIP (Systematic Investment Plan) route in mutual funds which helps them in investing small amount regularly on monthly/quarterly basis. The investor gets the benefit of rupee cost averaging which is not available in case of stocks.

Expenses and Transaction/Trading Cost: 

The main charge involved in mutual funds is the annual expense ratio (fees charged as percentage of total investments) whereas the charges involved in stocks are demat, brokerage and transaction charges. A person has to be prudent in studying the costs involved. As mutual funds involve high trading volumes, the transaction cost is comparatively lower than that of an individual investor who has lower trading volumes. Further, if an individual investor trades frequently, he will be paying significant brokerage commission + Capital Gain on every transaction. 

Affordable diversification: 

The units of a mutual fund scheme provide the investor exposure to a range of stocks held in the portfolio of the scheme. Thus even for a small amount of Rs 5000 in a particular mutual fund scheme, the investor enjoys a diversified portfolio as schemes have 30-60 stocks in the portfolio. In case of stocks, for the same amount of Rs 5000, the investor can purchase limited number of different stocks. In order to achieve the same level of diversification as in a mutual fund scheme, a person needs to invest huge amount.

Desire for ownership

:  If a person wants ownership in a company, he should purchase the stock of the company directly. Equity share is part of shareholding so howsoever small it is you become the owner and like an owner, you have to discharge your duties and have the right to share loss or profit. In case of mutual funds, as the stocks are held indirectly by the investors, they don't get the ownership right. Thus in case of purchase of stocks, the investor is entitled to various benefits, like attending the shareholders meeting, voting right etc.

Investment Strategy: Mutual Funds provide various investment strategies to investors like SIP (Systematic Investment Plan), STP (Systematic Transfer Plan), SWP (Systematic Withdrawal Plan). Also portfolios are managed as per various strategies like growth, value, contra etc.. These investment strategies are not available in case of individual stocks. Further some mutual funds provide various other options and facilities like dividend reinvestment, trigger facility (shifting or redeeming investment based on happening of a certain event in future, like Sensex rising 10% up etc..) again not available in case of purchase of stocks.
Control Over Investments:

If a person prefers to have control over his investments, he should invest directly in stocks. In case of mutual funds, the decision to buy, sell and hold stocks is delegated to the fund manager and the investor has no control over his investments. So even though if you have hunch that markets may fall, you cannot do anything. Or if you hate companies manufacturing liquor, you may not be able to tell you liking to the fund manager.
I raised Mutual Funds Vs Stocks on LinkedIn & got few interesting comments on both sides – check here
Read – 3 Principles & 3 Practices to generate Superior Lifetime Returns 
Thus both mutual funds and direct equity have their own pros and cons.  Investment in stocks is recommended only to those investors are a great stock picker and have developed expertise in securities market. For beginners in equity market and those who don't have adequate time to monitor their investment, should invest in equity market through mutual funds as mutual funds provide various benefits which are summarized below:
Professional management
Portfolio diversification
Economies of scale
Liquidity
Tax benefit
Convenient options
What is your take on this? It will be great if you can share your experience – Mutual Funds vs Direct Equity. Do share in comments section.