Mrs. and Mr. Verma is one tough customer to handle. They haggles with vegetable vendors to save a couple of rupees, is always on the alert for sales and discounts schemes and quibbles with domestic help — the maid, the dhobi, the driver. They saves a few hundred rupees every month through these small bargains. And then they signs away thousands — sometimes lakhs — of rupees blindly in insurance or funds that brokers ask him to invest in. They look nowhere except for the "x" marks for signatures in the forms.
In many ways, Mrs. and Mr. Verma are true Indian Family — a penny-wise consumer, a pound-foolish investor.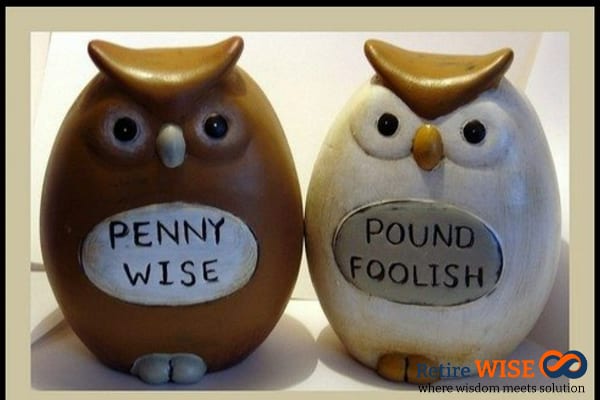 Penny Wise, Pound Foolish
There is a British saying "penny wise, pound foolish." It means, "making decisions with small amounts of money (pennies) that end up making bad sense for affecting larger amounts of money (pounds, as in Great British Pounds)."
I recently met a doctor couple who came to my office and when I saw their insurance portfolio, I could see that they have invested (they think its investment) over 12 lakh in last 3 years in different ULIPs from LICs to HDFCs to Reliance to Max and what not. Their total cost of insurance was over 4.5 lakh per year & still underinsured. Can you believe that?
We Indians don't understand finance very well and when it comes with investments, we make reckless decisions. When it comes to consumption we spend hours looking for the best possible deal but when it comes to investment we take hasty, unconsidered decisions that have little or no bearing on our financial goals. Given the rising financial and job insecurity— which have come hand in hand with increasing levels of prosperity—such a casual and illiterate approach to investing is inexcusable.
Sure, many people have begun to think of financial planning. But they never get down to doing it. It's not uncommon to hear 'I will retire at 50'; 'I will start my own business at 40'; 'I will have a second career'… But thinking to plan is not planning — it's daydreaming and nothing more than that..
Sooner, not later, we all have to do financial planning of some sort. If you don't do it by will, you may be in for a rude awakening.
The first step to financial planning is financial literacy. And if you are waiting for a reason to begin, it is right in your hands. At TFL, our endeavor is make Indians "FINANCIAL LITERATES".
But does that means you should not hire financial advisor
Got a comment on "8 Most important Mutual Fund Questions".
I am here for some advises from expert here. I have some amount (80,000) which I got by cancelling fixed deposit as it was gaining only 7%. I would like to have your views, where to invest this amount? Should I invest it again in bank FDs as the interest rates are high or should I invest it in lump sum to MFs as the sensex is down now.
Also please guide me some MFs for lump sum investment. I want to have a diversified portfolio as hubby has already lost 7 lakh in intraday trading 🙁
One more question, I am investing through MF distributor, do I need to pay any commission to him? Shall I directly invest through my bank or should I personally invest through each fund house . Why investing in MFs is so confusing?
My MF distributor told me that Investing through distributor, is better idea as I do not need to pay any charge for fund management, is he true? Please guide. Looking forward to hear from the experts.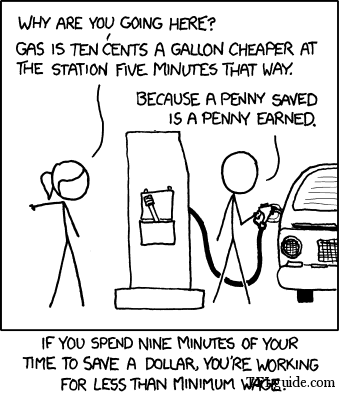 I think this cartoon from XKCD hints something. My Reply to the query:

Just read your message – sorry to hear that you people lost Rs 7 Lakh in trading.
Don't feel offended by what I am going to write now – I don't want to lose a good learner like you.
See at one place you have lost a big money & on another place you have a hitch to pay financial advisor. This is a very common approach by people & it is called "Penny wise – Pound Foolish". A good financial advisor would have saved you these Rs 7 Lakh & many more – people need to understand this. Being financial literate never means that you don't need to hire financial advisor. Hiring a right financial advisor is a time consuming process but may be one of the most important thing in your financial life.
One more thing few people think that finding few good performing mutual funds is Nirvana but how you will control your behavior. Then they will say we are very patient about our investments – we are investing since 2005 & we never sell in fear. (even in 2008 when market was down more than 50%) And they are very sure that they will not do this in their lifetime – so my question is which one was your equation in 2008:
Your income was 10 Lakh & your equity portfolio size 5 Lakh. Or
Your income was 10 Lakh & your equity portfolio size was 1 Crore.
If your answer is 2nd you may not need investment advice from anyone. THINK
Paying for Advice or Do it Yourself or Free Advice
Compare do-it-yourself investing/planning to do-it-yourself brain surgery. I wonder how anyone who lacks the proper education, training and experience could ever dream of going it alone.
Free advice is also available through TV, Newspapers, Magazines & latest trend personal finance blogs like TFL. But be very frank it is information & not knowledge. And let me also add – most of the blogs are run by people who understand Google GOD & Google Advertisement rather than your requirement or even basic finance in most of the cases. Free advice is also available through agents but you have already seen what happened with doctor couple.
How Much to Pay
Charles Schwab "Cheaper isn't always better. If you found yourself on the wrong end of a significant legal action, would you get the cheapest lawyer you could find, or would you hire the best one you could afford? The same principle should apply when it comes to your investments. You certainly don't want to pay more than is reasonable, but neither should you ignore suitability or quality solely for the sake of price.
Your financial goals and dreams are intensely personal, and more important to you than they will ever be to anyone else, even the most dedicated of advisors. But it's possible to find an financial advisor to partner with, someone you can trust to deliver suitable, high-quality advice at a reasonable price. All it takes is some discerning effort."
Would you like to share your experience?