"T
he markets are looking bearish and it can fall further. I shall wait and watch and shall invest only when they start turning positive". This is a not something which is unusual with the investors in stock market. Mostly people change their profession when it comes to investment in Share Market whether directly or
otherwise thru mutual funds. They are Doctors, CAs, Engineer MBA etc. but as an investors in share market they become astrologers and try to predict market's future.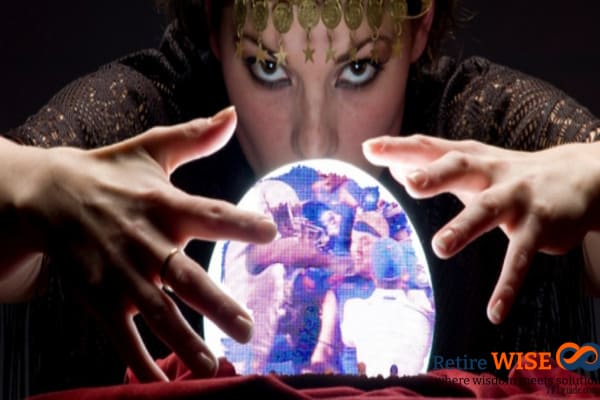 Few common statements are:
1. Mansoon is not good this year and markets will touch 12000 very soon.
2. Markets will witness turbulence during diwali as it happened last year, so that time I will invest. Lets withdraw and invest agains when the markets go down.
3. I missed 8000 levels, I believe they will go up and hence lets put everything right now.
4. And these days Greece, US, Europe & Gold are in Highlight.
These statements are no more than sheer guess work which can only be right if you are too lucky. But mind you,
even stop clock is right twice a day.
However, expert after expert has gone on to say that trying to time the market is a fool's game and should be avoided at all costs – but few
so called experts
keep trying. The below charts further highlights the point.
Market timing benefits – An illusion
2 friends started investing Rs 1000 per month in Sensex from Jan 2000. Smart Guy invested every month at the lowest level & Dumb guy unfortunately invested at the highest level. They both contributed Rs 140000 till 3oth August 2011. (Source Tata AMC)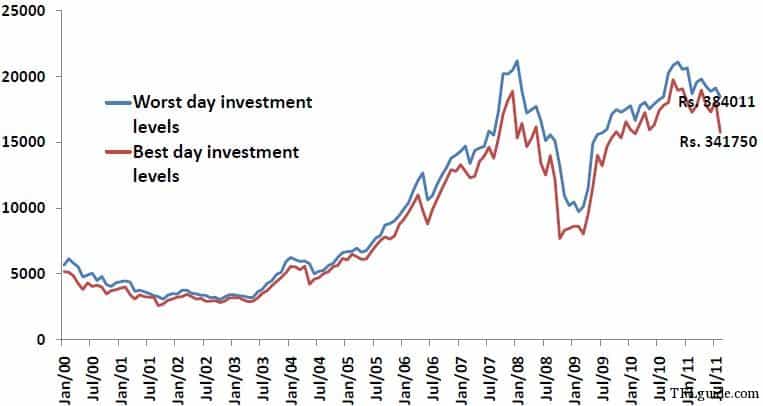 You can see value of their investments on 30th August 2011 – Smart Guy Rs 3.84 Lakh (16.23%) & Dumb Guy Rs 3.41 Lakh (14.42%). A difference of less than 2% – even when w lucky have assumed that someone can be extremely lucky to catch all bottoms & another can be so unlucky that he always invest on peak. You can just imagine what would have happened if this Dumb Guy would have used root of
Systematic Investment Plan
– difference in returns would have been negligible.
Timing the Market – A losing proposition
During the last ten year period, if an investor would have missed out the ten best days in the stock market, a sum of Rs 100,000 would have returned only a sum of Rs 133,592 as opposed to Rs 349,256 had he stayed fully invested. Even missing the two best days would have lowered his final figure by a significant 23%.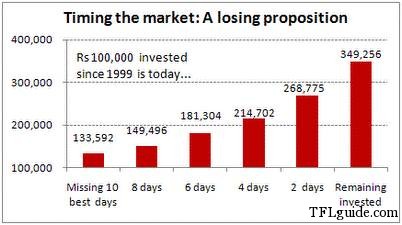 Data considered: Sensex closing between 5th Aug 1999 and 5th Aug 2009 (equitymaster)
And
Greed & Fear
will make sure that you miss best days. The moral of the story is that it pays to remain invested for the long haul rather than trying to move in and out of markets in an attempt to try to time them.
Markets will rise and fall but by investing at regular intervals you'll make sure that you get the benefits of buying low as well as catch the long term trend which is upwards.
Some of the well known investors and economists have said:
We've long felt that the only value of stock forecasters is to make fortune tellers look good – Warren Buffett
I never ask if the market is going to go up or down next month, I know that there is nobody that can tell me that. – Sir John Templeton
I don't know anyone who's ever got market timing right. In fact, I don't know anyone who knows anyone who's ever got it right. – John Bogle
There are two sorts of forecasters. Those who don't know, and those that don't know they don't know. – John Kenneth Galbraith
If I have noticed anything over these 60 years on Wall Street, it is that people do not succeed in forecasting what`s going to happen to the stock market. – Benjamin Graham
Prediction is very difficult, especially if it's about the future. –Nils Bohr
By the way until today nobody has got Nobel Prize in economics for a theory on "predicting tomorrow's stock prices today." You can try your Luck!!
It's not "timing" the market –
It's "time in" the market that creates wealth.