Upfront I am accepting that buying Club Mahindra Membership was my biggest financial mistake. Readers may be thinking "biggest is a comparative word – that means there must be few more". 🙂 Yes, Why not. I am also a human and allowed to make some mistakes. Each day one takes 4-5 financial decisions and if not more, there is a fair chance that few of them will prove to be wrong. Sometimes money involved can be small for eg going for a newly released movie. If your family likes the movie – then fine. But what if the opposite happens? (If the decision was wrong – cost Rs 1500-2000 if tickets bought in Royale or Rs 500-1000 if bought tickets for Executive class and additional loss of Rs 200-300 if buying Pepsi or eatables – even choosing large or small Pepsi is a financial decision – impact Rs 100 on the budget)
Let me also share that one decision which is a blunder for one person can be a small mistake for other & for the third person it may also prove to be right – again financial planner's favorite line "it depends on person to person". So why I am saying Club Mahindra Membership is MY biggest mistake (in short) – because:
Amount & time involved is huge.
It doesn't suit my type of person, who doesn't want to sit & enjoy – I want to explore the places in & around the city that I am visiting.
It was mis-sold – lots of things were hidden & misrepresented.
I am frugal when it comes to food on a trip & they charge me bomb for that
There is a big difference between what Club Mahindra promises, what people expect & what they deliver.

Must Read –Diabetes health insurance
Club Mahindra Holidays Membership Features
If you want to know about membership features, check their website…..
Club Mahindra Membership Fees
Before looking at the Club Mahindra Holidays Membership Fees we have to understand – criteria on what this fee is based on.
First is a type of Rooms
Studio Apartment – is a room for 3 adults or 2 adults & 2 kids.
1 Bed Room (BR) – room for 4 adults
2 BR – room for 6 adults
Must Read – Market Bubbles And The Damage They Cause
Second is Type of Seasons
Club Mahindra has divided 52 weeks into 4 Seasons/Colors.  (Check Season chart here)
Purple:  This is a period like New Year, summer holidays, or Diwali holidays.
Red: Its second-best category which covers all major long holidays & peak season for a particular location.
White: Normal Season
Blue: It's offseason
Membership is also divided into these categories where you can utilize holidays in your season or lower. So Purple Members can have holidays in any season but white can only go for White & Blue. A holiday in a higher season is also possible but there are limitations like bookings can only be made 15 days in advance & you can jump only one season so White can think of going in red but not in purple.
Must Read –How you benefit from long term orientation in Life and in Investing?
Club Mahindra Membership Fees (2017 – 2018)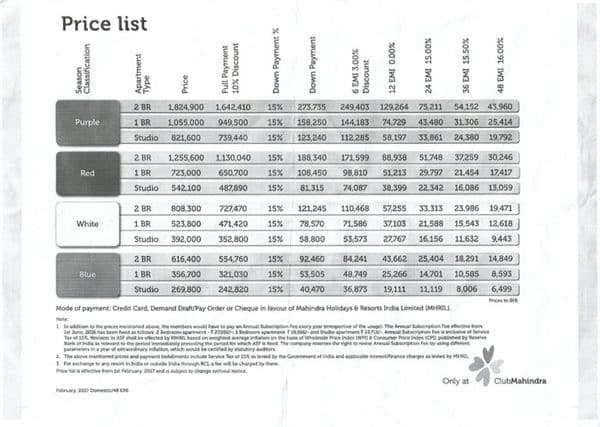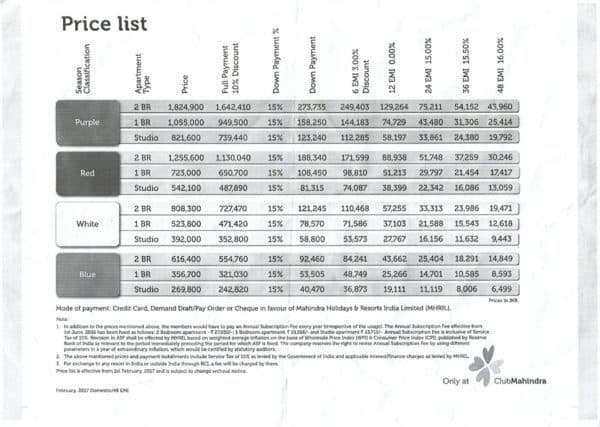 Just to share a lot of existing members are willing to sell their membership at 30-40% discounts.
Club Mahindra Membership Annual Subscription Fees (ASF)
Club Mahindra Claims their membership is Inflation Free but other than one-time fees members have to pay Club Mahindra membership annual subscription fees (irrespective of usage), depending on the type of room they own. They charge ASF on the type of rooms so Studio will pay the lowest ASF & 2 Bed Room will pay the highest. But at the time of booking you can choose any room so I am having Studio but can book 2 BR & pay 50% less ASF. (You people will be feeling pity about me & I am feeling same for people who have bought 1 BR & 2 BR) This fee is not fixed – it increases every year according to urban inflation numbers.
ASF Charges in 2011-2012 (in bracket 2010-2011) – including service tax
Studio Rs 9,681 (Rs 8,994)
1 BR Rs 13,593 (Rs 12,629)
2 BR Rs 19,069 (Rs 17,717)
Must Read – What is finance planning
Club Mahindra Membership Cancellation Policy
They have a very transparent membership cancellation policy that there is 10 days free-look period – where the whole amount can be refunded but I was not allowed to use that. After 10 days you can cancel the membership but there will be no refund – sounds similar to our favorite endowment plans. But after that, if you want you can sell your membership in the open market – but there are no buyers. Check sites like Quikr or Olx and you will find a lot of sellers but no buyers.
In the last financial year, there were 4000 membership cancellations – I assume that as they don't have a proper cancellation policy, these are the people who have not paid Annual Subscription Fees (ASF) & their membership was automatically canceled.
44% of members are not utilizing their holidays
Club Mahindra Holidays can advertise "Happy Families" but the truth is 44% of members are not availing their holidays. Why?
The First & biggest reason is there is a gap between the number of members & inventory (number of units) available in the resorts.  They proudly say that their membership is increased by 26% Compounded annualized growth rate but their Inventory was not able to keep pace & just grown by 22%. The gap was 9% in 2005, which has now grown to 26%.  (You can check the below table – Club Mahindra Members Vs Inventory)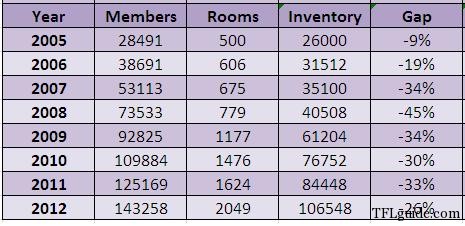 Second, Club Mahindra gives resorts on rental to nonmembers, even in the peak season. So members compete with nonmembers. Their annual report show earning of Rs 15 Cr from rental they have received from nonmembers. If I assume Rs 4000 per night room rent – it turns to 3% of the total available inventory.
Third, when there is a big gap in available inventory & some competition from nonmembers; few people will definitely be disappointed because they will not get what they desire. Club Mahindra expects that people should plan their holidays 6 months in advance – I think I can do it but it's not possible for people who are in jobs. Their annual report shows that occupancy was at 77% & if we adjust even 2% that was utilized by nonmembers so member occupancy is at 75%. If we compare that with the number of members, it turns out to be 44%. (check below graph – Club Mahindra Yearly Membership Unutilised)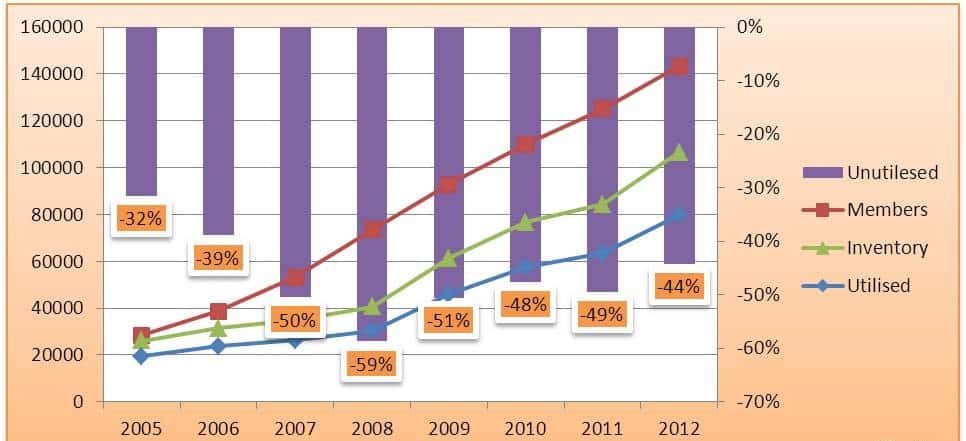 I don't think I again have to tell you that Club Mahindra charges Annual Subscription Fees (ASF) irrespective of you go on holidays or not. In addition, they don't allow members to accumulate more than 3 years (21 days) holidays. If members don't pay ASF, their membership will seize.
My Story 
I am passionate about traveling – I bought Club Mahindra Red Studio in Feb 2008. Just after my sister's marriage, we were having some cash in our account & coincidentally we were also planning to buy LCD TV. Then came THE SUNDAY & I saw an advertisement in a local newspaper, where Club Mahindra also shared about FREE Sony Bravia TV. My mind stopped working something similar to when people see emotional ads of child plans. I called up the number & the executive reached my doorstep in 2 hours. In the next 5 days, we finished all formalities & were part of Club Mahindra roller coaster rides.
There is a lot of bitter experience with Club Mahindra – starting from purchasing to doing bookings to services in resorts to checkouts but I must appreciate they have good properties.
Must-Read –Personal Finance Lessons from the Olympics
My Mistakes – from which you should learn
They say "Learning from your mistakes is smart, learning from the mistakes of others is wise." But learning from own mistake is really expensive….
I have not analyzed my requirement: I am passionate about traveling but they have resorts at limited locations. When I go to someplace I try to explore other good places which are close to that city – I don't like sitting on the poolside throughout the day. 31st Dec 2010 I visited Jim Corbett – I had bookings for 4 nights. You won't believe we spent very little time in the resort – we were more interested in visiting Nainital & Ranikhet. Even we spent one night in some other hotel because we thought rather than going back to resort to sleep let's directly go from Nanital to Ranikhet. 🙁
I have not researched the product before buying: I have not researched the product & matching it with my requirement. I believed in brand Mahindra, the limited information that was shared by the executive & my gut feeling. After buying the product I started searching about how existing members feel about it & I was shocked.  But that was too late.
I agreed for the things that were not documented – I was interested in Red Studio because that was most flexible in usage as I can go in Red, White, or Blue & even purple if there is some chance in the last 15 days (purple weeks were not available at that time for purchase). I can choose any type of room & that too with lower ASF.
But the executive said FREE TV is only available with 1 BR so first you buy White 1 BR & we can later convert it in Red Studio. It took me 7 months in conversion & that too after a lot of threatening calls & what not.
There are a lot more things to share about Club Mahindra Membership but I will try to share that in the comment section. If you are a member of any such time-share resort or planning to buy one or approached by someone, please share your views in the comment section.