Diabetes has been a fast-growing disease in India in the last 16 years. As per International Diabetes Federation, there are about 72 million diabetic adults in India. This is a serious challenge to the country.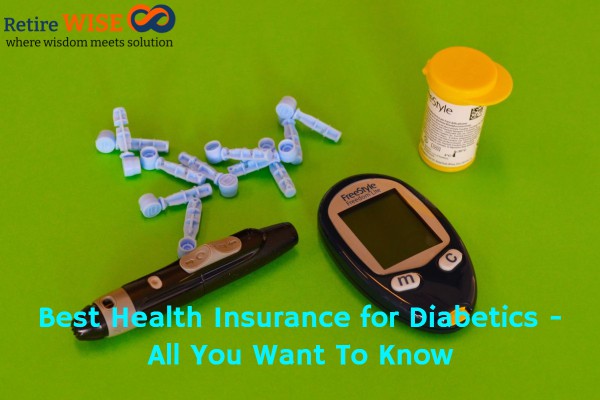 It is not easy to live with diabetes as it takes a toll on the physical, mental, and financial health of a person. In spite of the widespread prevalence of the disease, there are not too many insurance providers that cover diabetes. Moreover, when a diabetic wants to purchase diabetes health insurance in India, diabetes is considered as a pre-existing condition and gets covered with conditions only after a waiting period. In some cases, health insurance is denied to diabetics. People with diabetes may have multiple claims as it affects different parts of the body and also involves a lot of medication. Therefore, insurance companies are not keen to provide cover for it.
But there are a few diabetic insurance India that takes cover diabetes and related conditions. Here is a comparison of some of those plans –
Must Read –How much Health Insurance do I need in India
We look at Best Health Insurance for Diabetics 
Plan Name
Energy Insurance Policy
Diabetes Safe Insurance Policy
Insurance Provider
HDFC Ergo General Insurance
Star Health Insurance Company
Types of Plans
Two Plans –

Gold and Silver with and without options of co-pay

Two Plans –

Plan A – Medical screening required

Plan B – No medical screening

Coverage
Covers Type II Diabetes or Pre-diabetes or Hypertension.

Covers 182-day care procedures, organ donation, emergency ambulance up to Rs. 2,000

Covers hospitalization expenses for complications of Type 1 and Type 2 Diabetes and complications apart from diabetes

All daycare procedures

Kidney transplant

Accidental Death

Outpatient expenses and diagnostic expenses up to a limit.

Eligibility
18 years – 65 years with lifelong renewability.
Diabetic between the age range of 18 years – 65 years with lifelong renewability.
Waiting Period
None for the covered diseases.

2 years for other pre-existing diseases

Plan A -None for diabetes.

Plan B – 12 months for diabetes and related complications.

Sum Assured
Various amounts available in the range of Rs. 2,00,000 – Rs. 50,00,000
Various amounts available in the range of Rs. 3,00,000 – Rs. 10,00,000
Benefits
Renewal premium discount of up to 25% based on claims and health conditions

Wellness tests, Wellness support, and services of a wellness coach.

Online health assessment

Free Health check-up included in Gold Plan

Plan can be taken on an individual and floater basis

Covers diabetes and other medical conditions

Exclusions
Pre-existing diseases apart from the covered conditions will be covered after 2 years.

HIV and related diseases, congenital diseases, pregnancy, hospitalization due to war, and unproven treatments not covered.

Congenital defects

Use of tobacco, alcohol, and other intoxicating substances.

Cosmetic surgery, weight treatments, and fertility treatments

The premium for Sum Assured of Rs. 5,00,000 and age of 35 years
Without co-pay – Rs. 17,342

With 20% co-pay – Rs. 15,086

Plan A – Rs. 12,479

Plan B – Rs. 16,319
The policy from HDFC Ergo has a higher coverage available but includes co-pay. It is more expensive but offers more in terms of services as compared to the policy from Star Health. Star Health offers a floater policy which might be beneficial for some people.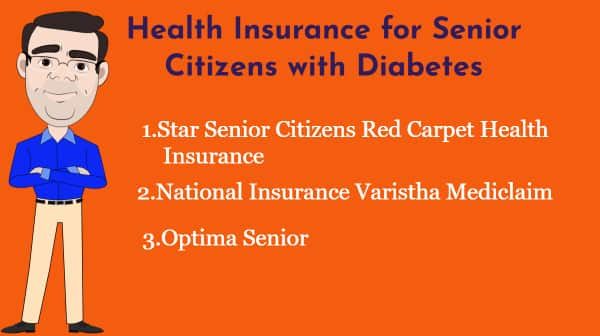 Must Read – 8 Most Important Mutual Fund Questions
Health Insurance for Senior Citizens with Diabetes –
 These Best Health Insurance for Diabetics cover senior citizens for Type 2 Diabetes –
Plans
Star Senior Citizens Red Carpet Health Insurance
National Insurance Varistha Mediclaim
Optima Senior
Insurance Provider
Star Health Insurance
National Insurance
HDFC Ergo General Insurance
Types of Plans
–
Two options – Mediclaim and Critical Illness
–
Coverage
Room and nursing expense up to 1% of sum assured or Rs. 6,000 whichever is less

Emergency ambulance charges up to a limit

Outpatient consultation included up to a limit

Pre-existing diseases covered after 1 year of the waiting period.

Surgeon fees, Cataract, cancer, cardio-vascular diseases covered depending on sub-limits.

Hospitalization covers up to 1% of the sum assured on a daily basis.

Medicines, blood, and oxygen paid till 50% of sum assured

Emergency Transport

Critical illnesses like cancer and stroke

Illnesses such as diabetes covered from day one with additional premium else after one year of claim-free renewal

Cataract, Prostatic Hyperplasia, and Organ Transplant covered up to a certain limit.

Hospitalization

140-day care procedures

Emergency ambulance up to Rs. 2000 per hospitalization

Organ donation

Pre-existing conditions covered only after 3 years of policy coverage

Eligibility
60 years – 75 years with lifelong renewability
60 years – 75 years with renewability up to 90 years.

Premium is loaded by 10% for people in the age group of 76-80 till 85 years and by 20% till 90 years.

61 years and above with lifelong renewability
Sum Assured
Various amounts available in the range of Rs. 1,00,000 – Rs. 10,00,000
Under Hospitalization & Domiciliary Hospitalization – Rs.1,00,000

Critical Illness – Rs.2,00,000

Covers of Rs. 2,00,000; Rs 3,00,000 and Rs. 5,00,000 are available
Benefits
Discount on premium for online purchases

No medical screening

Medical consultation charges up to a limit offered for consultation as outpatient

No medical screening if the insured had health insurance for the three previous years else it is required.

No maximum entry age

No claim discount of 5% on premium

E-opinion for critical illness

No sub-limits on claims

Discount of 7.5% on premium if a 2-year policy is purchased.

Exclusions
No cover for 2 years of policy coverage for cataract, glaucoma, ENT diseases, and transplants.

Dental treatment, congenital conditions, weight control treatments and cosmetic surgery

Costs associated with hearing aids, spectacles, wheelchairs and contact lens.

Medical conditions due to war, nuclear materials and unproven medical treatments.

Existing ailments attributable to diabetes and/or hypertension even if diabetes is covered.

Contact lens, hearing aids, dental procedures, diagnostic tests

Many conditions such as cataract, sinus, lumps in parts of body are not covered in the first year.

Coverage:

HIV and AIDS

Cosmetic treatments, weight treatments and non-allopathic treatments.

Conditions arising due to drugs, alcohol and other intoxicants

Medical conditions due to war and nuclear radiation

The premium for a person who is 65 years
Rs. 21,240 for a cover of Rs. 5,00,000 and age between 60-75 years.
Rs. 4598 for Mediclaim (including diabetes cover)

Rs. 6605 for Mediclaim+Critical Illness

Rs. 22,553 for a cover of Rs. 5,00,000
As you can see, there are not too many Best Health Insurance for Diabetics plans that cover diabetes. Moreover, the cover for diabetes for senior citizens is woefully inadequate. Hopefully, the insurance companies devise some more useful diabetes health insurance plans for diabetics. Till then, it is important to ensure that one leads a healthy life and creates a medical emergency fund to tide over the medical costs even if one buys diabetes health insurance.
Check- Importance of Financial Planning in Your Life
Some more advise 
Choose the best Diabetics health insurance in India, which has the least waiting time and helps you enjoy the maximum benefits offered as part of the plan. Group health insurance plans usually do not have a waiting period.
Choose the size of insurance coverage based on your age, health status, and increased health expenses. Make sure that the amount of health insurance is adequate and meets your needs and requirements. If your family has a history of diabetes, make sure you have the right plan. And if you don't have diabetes, buy a plan to prevent rejection from the sidelines because of your diabetic background.
Before signing the dotted lines, be sure to read the policy's terms to get up to speed and know about the inclusions and exclusions offered under health insurance in connection with a pre-existing illness.
If you have still any questions about Health Insurance for Diabetes – feel free to add them to the comments section.