Good education for one's child is something that will always be a cherished dream for every parent. And good education means good colleges, which means need for funding. The education costs are going up tremendously every year, hence it is necessary to save and invest regularly to build up a decent amount by the time the child is ready to go to college. Though we don't now which field our child might like to get into, it is a good idea to keep a funding corpus ready for use. Check where ICICI Prudential Smart Kid fits..
Since this is such an emotional issue for most parents, there are several products which are being served on the emotional platter.  And people do buy such products due to the perfect sales techniques and sepia toned advertising blitzkrieg! What is needed is a practical look at whether the product will be able to do everything that you want from it.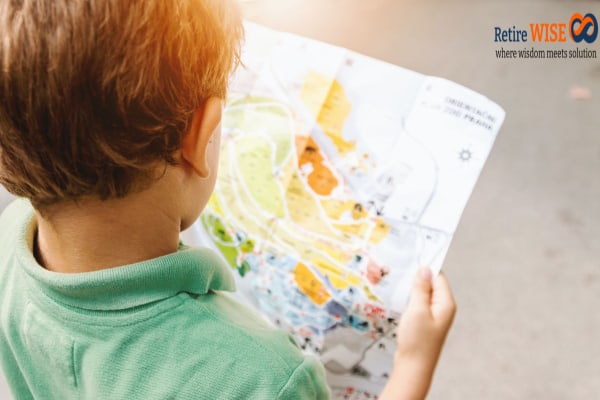 Check – Best Insurance for Parents
ICICI Prudential Smart Kid Regular Premium Plan – Review
It is this need that the product ICICI Prudential Smart Kid (RP) is trying to meet. The need is established, but does the product answer the requirements. Let us have a look.
Features of Smart Kid Regular Premium:
1. It is a traditional insurance product. This means the returns will have no link to the vagaries of the stock market. It has a pre-defined payment and benefits schedule.
2. The premium is to be paid on a regular basis till maturity of the product.
3. The policy provides for a premium waiver benefit. This means that in case of death of the parent, the future premiums of the policy will be waived (or as mentioned in the illustration- the company pays the balance premiums on your behalf). So essentially, the benefit will be paid to the child as per schedule even if the parent is no more.
Check – LIC Jeevan Arogya Policy
ICICI Prudential Smart Kid Riders
1. Income benefit Rider: 10% of the sum assured will be paid for 10 years in case of the unfortunate demise of the parent. This is apart from the regular benefits.
2. Accident and Disability Rider: In case of accidental death, an additional amount is paid. If total, permanent disability occurs due to an accident, an amount equal to 10% of the sum assured under this rider is paid to the child for 10 years.
Let us look at the illustration given on the website.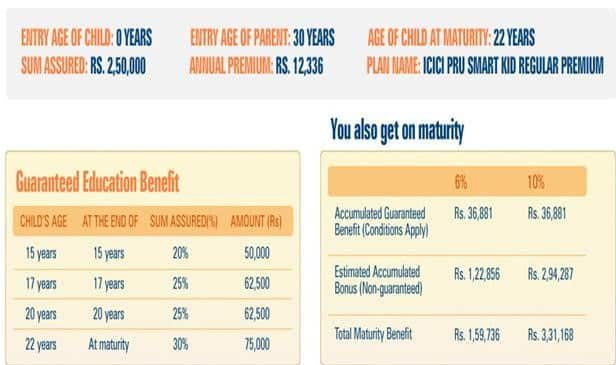 The illustration is for a 30 year old parent who has a new-born child. The tenure of the policy is 22 years. The sum assured is Rs 2,50,000 and the premium is Rs 12,336 to be paid for 22 years. For simplicity, we are not considering any riders or the service tax component in the policy. Fixed amounts, depending on the sum assured are paid at the end of 15, 17, 20 and 22 years. A guaranteed amount equal to 3.5% of the sum assured of the first four years is paid on maturity. In the above illustration, this is Rs 36,881. Rest of the maturity amount is non-guaranteed and will depend on the performance of the company's investments. (Download detailed illustration)
It is important to note that the premiums continue even when the payout starts. Thus the effective amount in hand will be less.
Health Insurance – Religare Care Vs Apollo Optima Restore
ICICI Prudential Smart Kid Few points to note:
1. Does it give me money when I want?
Big amounts are usually required at +2 stage for extra coaching etc (age16/17), then at graduation for fee (age17/18) and post graduation (age21/22). This policy pays in those years. There is also an option to get payouts in the last five years.
2. Will the amount suffice?
The payouts will happen as pre-defined, but the premiums still continue. So the net amount will be less. The fixed amounts will depend on the sum assured. Thus, to have a decent amount in hand, a higher sum assured will be required. Maximum sum assured allowed in this policy is Rs 30 lakhs. So the maximum payout at the end of 15 years will be Rs 6 lakhs. The premium in above case will be Rs 145029. This amount might be prohibitive for most young parents.
3. Time Value of Money
Inflation eats away into the purchasing power of money. In the above example a payout of Rs 6 lakhs sounds very attractive today. But considering inflation @8% – the value of that Rs 6 lakhs in 15 years will be only Rs 1,89,145. If you consider the premium that is still to be paid, you have net Rs 454871 in hand, which will be equal to Rs 143394 today.
4. Will it support my child if I die?
Yes, to the extent of the sum assured. The amount of sum assured will be paid immediately on death of the parent. There is a premium waiver benefit. Hence future premiums will be waived. The benefits will be paid to the child as and when due.
Must Read – Ulip Vs Mutual Fund – which is better
5. What is the rate of return?
This policy has a rate of return of 3.35%-6.3%. Compare this to the current inflation in education which can be on an average 10% per annum. It is thus, not an inflation protected product.
What is Family Floater Health Insurance
6. Are there other options to fund my child's education?
Yes, there are.  Combination of mutual funds, direct equity, PPF, personal accident cover and term insurance can provide a good corpus and protection for your child's education. Term insurance provides a big sum assured at a nominal cost. This can protect the child and the entire family in the unfortunate event of death of the earning parent. A personal accident and disability policy can provide additional amounts to support the amount in term insurance. It also provides the income benefit and the disability benefit. Equity and equity oriented mutual funds are known to deliver superior returns over longer terms. They are products that beat inflation. PPF is a guaranteed, tax-free and almost negligible risk product which can help build the corpus in a stable manner. Building a portfolio consisting of these components gives you a better chance at fulfilling the requirement of your child's education funding.
Read- New LIC Jeevan Akshay VI a Crazy Guaranteed Annuity Plan
Before buying any product that promises to support any of your important goal in life like education funding for your child, it is important to have a rational view on the offerings. It is very easy to get swayed by the emotional pitch of the advertising, but do your calculations and see whether it will stand true to its promise. Only then pick up your pen to sign on the dotted line.
Review of ICICI Prudential SmartKid Regular Premium Plan is done by Kiran Telang, CERTIFIED FINANCIAL PLANNERCM – the views expressed herein are the author's personal views.
If you have any questions related to
Child Plans or any other life insurance policy
– feel free to add it in comment section.
Download ICICI Prudential Smart Kid PDF