You will agree with me that Pension Plans are complex, specially Annuity products like LIC Jeevan Akshay VI. But I can promise that after reading this post you will be in a better position to take decision. We will cover:
What is Annuity? And types of annuity options in India.
LIC Jeevan Akshay Plan Features
LIC Pension Plan Chart
Disadvantage of LIC Annuity Plan
Should you consider LIC Jeevan Akshay VI?
But why it's important for us to understand Pension Plans?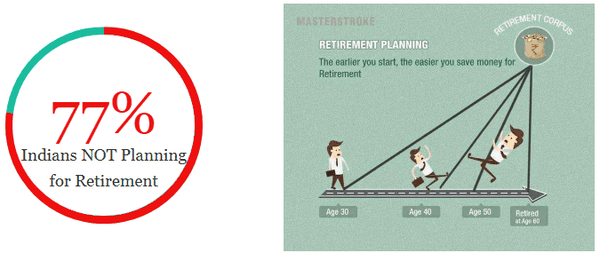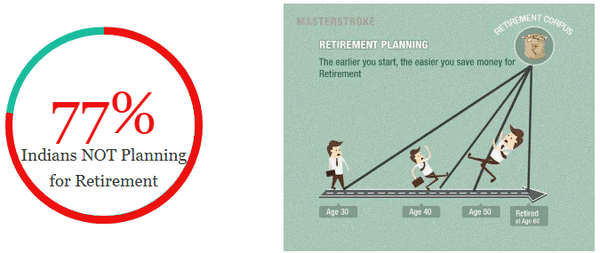 What is Annuity Plan?
Annuity is one of the options available to regular income seekers. With a mandate of providing a fixed income to members for life or the terms selected, life insurance companies offer annuity products to meet the desired need.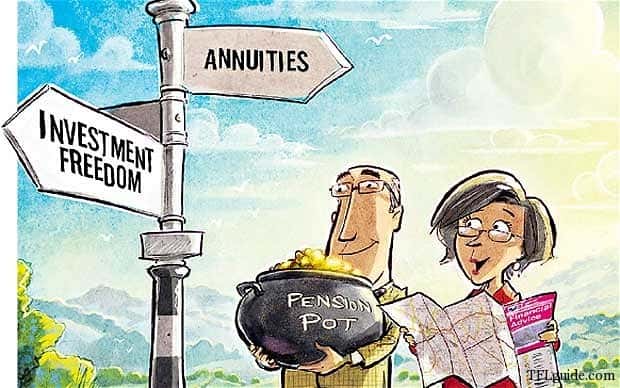 Any individual who is retired or nearing retirement does not have time to accumulate. With ready surplus available to invest or getiing huge gratuity, the need is to have regular income right from the next month or in a year's time. Apart from savings scheme like Senior Citizen Saving Scheme (SCSS) or Post Office Monthly Income Scheme (POMIS), immediate annuity from life insurance companies is also available.
Annuity in India
Apart from LIC, which sell 95% of annuity products, pvt insurers like ICICI Pru Life, Tata AIG, Max New York and now Kotak Life insurance has immediate annuity products.
Recently, LIC started online selling of Jeevan Akshay VI, an immediate annuity product. This was a strong move from public insurer and may be followed by pvt players going forward..
Let's review the product and see whether it is able to meet the income need of higher age population which is quite large in India.
What is Immediate Annuity?
In immediate annuity, by paying a lumpsum amount you purchase a stated income stream for life or a specified term from an insurance company as per the option you select. The income payment starts from the next periodic interval from the month you purchase it.
Read – Investment Options for Senior Citizens
LIC Jeevan Akshay VI 
LIC has entered online insurance space but surprisingly with an Annuity Product; which as a category is not very popular in India. They have not launched a new plan but selling their LIC Jeevan Akshay VI with some rebate on it. Other existing LIC Penison plans are LIC New Jeevan Nidhi & Pradhan Mantri Vaya Vandana Yojana
Who can buy Jeevan Akshay Policy?
Any person with minimum age of 30 years and maximum 85 years can purchase the product online. This can be considered attractive feature as it is not restricted to only higher age individuals and someone having a good surplus at young age can opt for the product to earn a steady income.
Premium
The premium is to be paid in a single installment and the minimum payment is Rs 1.5 lakh for online buy. There is no maximum limit in LIC Jeevan Akshay.
Payment Option
Annuity is paid monthly, quarterly, half early or annually. The first installment of annuity is payable after one month, three months, six months or one year from the date of purchase of annuity depending on the mode chosen is monthly, quarterly, half yearly or yearly respectively.
Annuity options
LIC offers seven annuity options under Jeevan akshay VI product:
Annuity payable for life at a uniform rate.
Annuity payable for 5, 10, 15 or 20 years certain and thereafter as long as the annuitant is alive.
Annuity for life with return of purchase price on death of the annuitant.
Annuity payable for life increasing at a simple rate of 3% p.a.
Annuity for life with a provision of 50% of the annuity payable to spouse during his/her lifetime on death of the annuitant.
Annuity for life with a provision of 100% of the annuity payable to spouse during his/her lifetime on death of the annuitant.
Annuity for life with a provision of 100% of the annuity payable to spouse during his/ her life time on death of annuitant. The purchase price will be returned on the death of last survivor.
The policyholder can choose any of the option based on his requirements. However, once the option is selected it cannot be altered.
Annuity Rates of LIC Jeevan Akshay Plan
This is the most important factor as it decides whether annuity you receive will be sufficient to meet your requirements. As per LIC website the following is the annuity rates offered in Jeevan Akshay VI
LIC Annuity Calculation – Amount of annuity payable at yearly intervals which can be purchased for Rs. 1 lakh under different options is as under: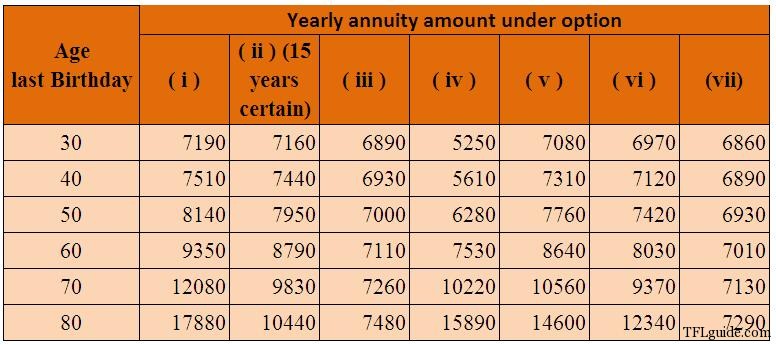 Jeevan Akshay Online Purchase
There is a special incentive offered to online buyers in addition to what is offered in offline product. The basic annuity rate is more by 1% when you buy Jeevan Akshay VI online. Be frank that's huge difference considering Jeevan Akshay 6 Agent commission is low in comparison to other traditional products like LIC Jeevan Ankur or even ULIPs like LIC Wealth Plus.
LIC Jeevan Akshay annuity Taxable
Annuities are added to your income and taxed as per your income tax slab.
Jeevan Akshay Interest Rate – What you Earn?
LIC Jeevan Akshay VI annuity rates vary under various options. Any option where the purchase price is not to be returned offers higher annuity in comparison to where there is joint annuity or purchase amount is returned to nominee. Also the higher is the age of the member higher will be the annuity received.
Given below are annuity rates in Jeevan Akshay VI which shows more annuity is offered then you buy it at higher age which emanates from the fact that company have less period to pay.
| | |
| --- | --- |
| Age in Years | Annuity rates (%) |
| 40 | 6.93 |
| 45 | 6.96 |
| 50 | 7.00 |
| 55 | 7.05 |
| 60 | 7.11 |
| 65 | 7.18 |
| 70 | 7.26 |
| 75 | 7.36 |
| 80 | |
 The annuity rates are for option with return of purchase prices (Source Jeevan Akshay Chart: moneylife)
Jeevan Akshay Vs Fixed Deposits
It's really touch to compare annuity with a pure fixed deposit or a post office scheme. Taxation wise right now both are taxable but LIC annuity plan or for that matter any annuity is a complex product.
Disadvantage of Annuity Products
The annuity rates have come down substantially with years. LIC who was the sole player in this market has reduced rates in Jeevan Akshay VI from what it offered previously. When you look at first instant then annuity rates of 7% is surely something to talk about. However, if your annuity amount is taxable then the returns lower down substantially and fall behind other investment option available. Someone who is at age of 60 and falls in 30% tax slab the returns from annuity will be approx 4-5%. This does not beat even the inflation. Also, annuities are fixed for the term while your income requirement keeps on increasing due to inflation. Although this product offer an option of 3% increase in annuity but inflation is more than double. So after a certain period the income from annuity may not meet even your basic needs if you have relied heavily on it.
Must Read – Is 1 Crore enough to retire?
Should you consider LIC Jeevan Akshay VI?
There have been regulatory changes in pension sector which has forced companies to rethink on pension products. Most of the private players do not market these due to tough environment. One of the primary reason is the absence of long term debt instruments where insurance companies can lock in rates to reduce interest rate risk and offer life-long annuity to people. The research has been also lacking in this sector due to which even LIC did not revised annuity rates for very long time. However, after IRDA specifying that annuity space would be from the same insurance company who sells the pension product,  SBI Life Insurance and Star Union DaiChi have launched immediate annuity products where rates are higher than LIC Jeevan Akshay. Expect more insurance players coming out with better rates or it may force even LIC to revise its rates. Hence, it will be good to compare other products and investment options along with your increasing requirement before you make any decision. Inflation and longevity risk are two devils which can spoil your retirement years if not considered.
Review of LIC Jeevan Akshay VI is done by Jitendra PS Solanki, CERTIFIED FINANCIAL PLANNERCM he focuses on special needs planning
If you have any questions related to LIC annuity plan or any other pension plans – feel free to ask.