Everyone wants to be Financially Wealthy including you, but do you know that first, you have to become Financially Healthy. People who don't care about their physical health always have a problem in later years similarly people who are not financially healthy never become financially wealthy.
How many times it happen that you think that your finances will improve if you get a good raise in salary from your current employer or change in the job – just analyze your income in the last 4-5 years. I believe in most of the cases it would have been 50% high but does that significantly improve your finances? Now don't say this is because inflation was so high in the last couple of years. Inflation never asks you to buy the latest gadgets or buy the stuff which you hardly need.
Albert Einstein said, "Insanity is doing the same thing over and over again and expecting different results." So are you done something different with your finance in the last 5 years – if the answer is NO, why you are expecting a different result?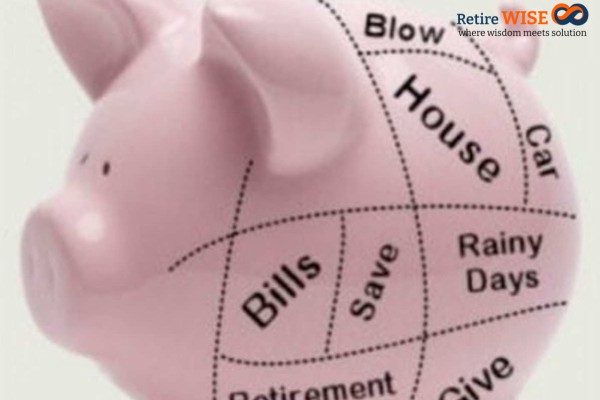 Must Read- Budget for your savings and not spending!
Let me ask how much money you have in your savings bank account? You have 2 mins to tell me. So easiest way will be looking at your passbook or the SMS from a bank or checking your account online. But don't you think something is wrong here?  Should your bank tell you how much money you have or you should tell your bank that you will hold xyz amount in your savings bank. And then you know what happens – your cheque bounces in spite of what is your income.
Must Read – Child Future Plan – Complete Guide
How you can improve your financial health?
Budgeting is the first step of financial planning & it is also the only panacea for good financial health. If you don't want to make budgets & stick to it – you need to rethink your decision. You may think this decision will not have much impact on you but you are sadly mistaken, if you are not making budgets it will impact you & your loved once. Many studies Cleary indicate that financial issues are the biggest reason of family disputes including divorce.
With Technology, every day we are finding new ways to spend our money without realizing its long-term impact. How many times does it happen that people say I have sufficient balance on my credit card rather than saying that I have sufficient balance in my bank account.
If you don't have a budget how will you know how much is too much?
Must Read – Maslow's hierarchy of needs & your financial goals
"I need it now" syndrome
The biggest problem of not having a budget is I NEED IT NOW. It's good I NEED IT NOW, there is a good discount I NEED IT NOW, my friend bought it I NEED IT NOW & the story continues. Are you a kid?? Don't feel guilty you still have time to improve it.
Nothing in this world is Silver Bullet. Someone rightly said, "A budget tells us what we can't afford, but it doesn't keep us from buying it." If you don't do it right & do it now – you will be right there where you started or even worse.
Read – Your Chartered Accountant is not a Financial Planner / Advisor
You should (not) learn from Global DEBT Crises
The whole world is facing crises be it US or European nations. What's the problem? Debt. What's the Solution? Reducing Debt. What they are doing? Increasing debt. This same thing happens when individuals enter into a debt trap – they take more loans to repay the earlier loan. They don't see that in the whole process they are increasing debt rather than decreasing it. Do you know US citizens were spending more than 110% of their earnings and now you know what is happening?
Do you discuss your finances with your spouse?
Normally it happens that men take a major financial decision (from my experience as a financial planner – I will love to be wrong) & women try to handle day to day finances. My only suggestion is budget is the only opportunity where you both have chance to work together on your finances – and this can be just beginning. If someone is a sleeping partner in financial matters – still outcome is going to impact him/her. Problem is people make decisions in vacuum without checking its short term or long term impact on the goals.
Check – A Dynamic Life cannot have a Static Financial Plan
You are a Company
Most of you, who are in job or running your company, have you ever thought how your company manages their finances. Can any big or even small company survive without building budgets & sticking to them? You assume your family is a company and you are CFO (chief financial officer of it) – now your target is that this company should perform better & achieve new heights. So start budgeting…
Must Read: Guide to Financial Freedom (you can also download budgeting worksheets)
Needs Vs Wants
When you don't have budget everything looks important & necessary. Let's assume that you wasted Rs 1 lakh this year as you were not able to differentiate between need & want. Check how this is going to impact your retirement corpus – depends on how many years are left in your retirement.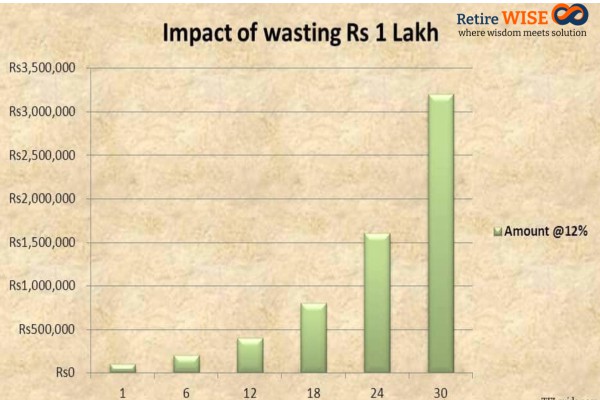 Read – What is Financial Planning?
"A need is something you have to have; a want is something you would like to have." Sometime this is not about Rs 1 Lakh but much more than that. We all know car is a depreciating asset – if someone would like to replace his car, replacement can be with Rs 5 Lakh car & may be with Rs 10 Lakh car. Or a vacation this year – vacation in India Rs 50000 but vacation abroad Rs 300000. You have to define what a need is & what a want is?
So next time when you see a hanging gadget at a throw away price or a sale tag at your favorite mall, simply go back to basics. Ask these questions to yourself:
Do I need this or is it a want?
If yes, do I need it now?
What are the saving/investment that I would have to forgo to buy this thing?
Did I plan for this purchase or budgeted for it?
If not, to what extent will it dent my estimated savings of this year?
You may even take help of your spouse in finding the answer to these questions. And even if your answer is "buy it", why not delay buying decision by one week.
And in no way this means that you should keep yourself aloof from leading a good lifestyle. But, all expenses which have a bearing on your long term savings/investment related goals should go through the screening process of BUDGETING. Start doing this and check for the results.
If you are already doing it please share the "before & after" results in the comments column. And if you are not making budgets comment section can always be used for making confessions.