Are you planning of starting your own business? Salary hikes & bonuses are announced in most of the companies and as expected – expectations are not met. Sometime this frustration can push people for starting business. You will be surprised to know that recession creates lot of entrepreneurs & this is also the best time to start the business.
This topic is bit close to my heart because I faced similar questions couple of years back, before starting my financial planning practice. 🙂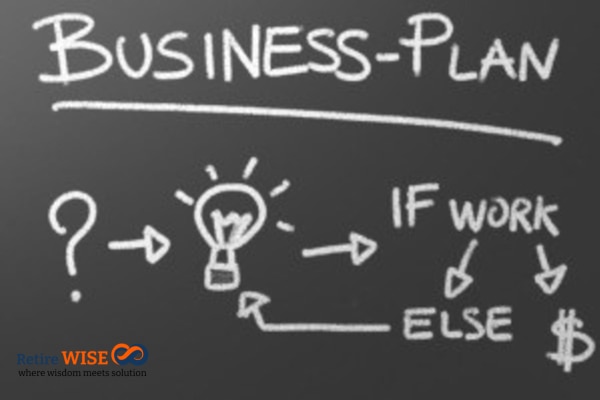 Things you should check before starting the business
How does one plan financially before taking the plunge?
It is not the easiest or even best decision to start the business as most of the businesses are closed before first year. First a person should realize that what's the motivation behind starting a business – is it the passion or money that is driving to venture or frustration or pressure from boss/company. Negative motivations don't last long.
Once a serious business decision is taken a person should spend 6-12 month on analysing couple of things:
A. Business Plan
Business is not about day dreaming, his family's financial future is on stake. He should prepare a plan taking in consideration the viability of business model, what are his goals, cash flow situation, how much is the initial cost including office & other infrastructure. In plan he should also put his limits on leveraging or involvement of his capital, red flags & exit strategy. If he is planning to start with big setup, he must take help of professionals for all these things.
B. Financial Plan
If he is not having a financial plan he should immediately meet a good planner. This will give him idea – that is business the right thing to do now.What can be the worst case scenario & is he ready to face that situation. Never enter into any business if you are running under loans. Try to finish off your debts first.
C. Building Emergency Fund
Normally a salaried person should have a 6 months emergency fund which can be used in job loss or medical emergency situations. But here objective is different so before leaving the job he should increase this fund equivalent to his limit to run the business. One should be having idea of what could be the monthly expenses and for his venture one should create a separate emergency fund of at least 1 year. Personal and business emergency funds should be in place before taking the plunge.
D. Reducing household expenses
He can also plan down to close the investment related insurance policies if premium is huge.
E. Adequate Insurance
He should take adequate insurance in shape of Term Plan, Accidental Insurance or mediclaim.
How does one prepare for an eventuality that the business may not take off?
In other words how does one have a plan B in place? How does one ensure that his regular expenses are not affected even in a situation where the business does not take off?
A person should be pragmatic in life including starting a business. It's good to think big & only then you can achieve that but always remember there are two face of coin. A person starts any business after giving a ton of thought but most of the time result is like a flip of a coin where probability is always 50:50. There can be n number of external factors that can impact your business & that a new entrepreneur has never thought of. So a plan B should always be there-
Spouse in job can be very helpful because she may be able to take care of most of basic expenses.
Second layer of emergency fund – he can keep some FDs or other investments which can further increase his emergency fund by couple of months.
Try to pre-close expensive loans – if possible all loans.
Related activities to generate some extra income – if someone is starting a business or profession which requires specific set of skills, he can use the same set of skills to generate some extra income if time permits.

Consultancy in same or related field
Classes or coaching on same subject
Helping other entrepreneur in completing their projects.
Since business itself is a risky venture, so one should not invest the positive cash flows generated in some years/months into risky investments (Yup, here I am saying equity is risky), just under the lure of multiplying money.
All this will increase the survival time in business & which is very crucial for entrepreneur.
If one is taking a loan for business, what are the things one needs to keep in mind?
Loan in business means leveraging & it's a double edge sword. It can multiply the profits but can create huge losses if you don't have the right business model or able to execute that. So loan amount will depend on the business plan that you have built & your risk appetite. If you are starting some service oriented business, which don't need brick or mortar, try to avoid loans. You can start a small setup from home or a business center & test the water with one leg.
But if you are planning to set a manufacturing unit PSU banks with SME products are certainly helpful. Ideal capital to loan ration is 1:2 where you can put Rs 100 & you can get a loan of Rs 200 but if you want to keep risk low just stretch the things for 1:1. Two main categories of loans are project finance or working capital finance – that you can take depending on your requirement. SME loans can have interest rate of around 12% depending on the business model, your credit history, visibility of cash flow, collateral; market repo etc. Tenure & EMIs should be negotiated looking at the gestation period of the project & overall cashflow situation.
If requirement is very small loans against insurance policies & bank overdrafts should be preferred.
How does one ensure that one's long term goals like retirement planning, buying a house and education and marriage of children are still on track even as one is planning to set up a business?
Best of both worlds is not always possible – job gives the security & business gives opportunity but right tradeoff is tough. Business is about taking calculated risk & sometimes this also mean compromising on few goals. If person is young & even if he loses some important years he still has time to make loss good.
Two things that he can consider
Don't touch EPF & Equity Savings – this can become a little treasure after couple of years.
He should make sure that he is having money for extremely important short term goals which may fall in next 5 years.
What one should do after suffering loss in the business 
In such a situation what are the immediate things that he needs to do?
He should do a SWOT (strengths, weaknesses, opportunities, threats) analysis are try to figure out if still there is some chance to revive the business. If yes, he should give a last shot with strict deadlines & targets to exit. In answer is no – he can do one of these:
If there is some equity in the business, try to sell it asap at a decent price.
 Check out that is there a possibility to partner or merge with someone who can bring the synergy.
Try finding a good job.
In case of debt, what should be done to get debt free?  
Sometime it can be close to debt trap situation where business in not generating any income & EMI are making net cash flow negative. Suggestion in this case have been reducing expectation & trimming expenses. Still if situation is not controllable selling assets to pay liabilities can be an option.Selling a bigger house & moving to smaller one or selling some gold to get rid of loans.
How should he plan for his longer term goals like planning for his retirement, education and marriage of his children?
He should gather energy & redefine his goals after considering present financial situation. Few tougher options can be:
Scale Back Lifestyle: This is not just about cutting expenses but actually compromising few of needs. Difference between need & want can be judged by size of wallet – so we have to draw clear lines again. Reducing lifestyle drastically can be a painful thing so should be done in phased manner.
Moving to a smaller city: Expenses in smaller cities are comparatively less than metros – you have a choice to shift there after retirement.
Delaying Retirement: Working longer was not the actual plan but this is the last resort as our original plan failed. Delaying retirement in which ever form it is have 3 benefits – more years for savings, conserving retirement corpus & less years in actual retirement.
Have I missed something basic or important? I will love to see your views & suggestions in comment section.