Fruits of patience & hard work are always sweet – this applies to your job too. Most of the employers in India have yearly appraisal systems and they declare bonuses & salary hike in month of April. This is a rewarding moment & for few this is the time when they think of changing the job or start on their own. But if you have really worked hard, and other parameters are favorable, there is a good chance that this year you will receive a good bonus amount – as bonus also depends on company's performance; and this year was better for corporate India. So keep your fingers crossed – keep checking your HR guys & salary account. But have you planned what you are going to do with this money – I think most of you have planned, but let's check if your decision is right or wrong.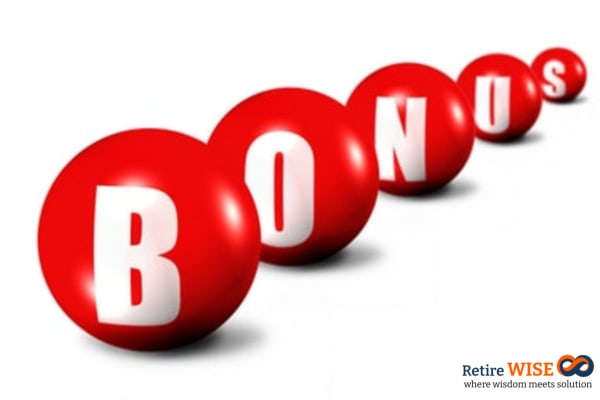 What about long vacation? – As summer holiday season is going to start very soon & kids must be ready with their packed bags for a trip. The friends and family will be pouring you with suggestions for exotic locations. It's good to take a break with family once in a year – end of the day we are working to keep them happy. The kind of work pressures these days doesn't allow giving sufficient time our loved ones & schools don't allow long leaves to kids. So summer holiday is the best time with no excuses. But your vacation should not depend on the size of the bonus for example, if I get x bonus we will go to Manali & if I will get y bonus we will go to Hong Kong. This is a wrong way to use bonus – you should fix your budget before even looking at bonus figures.
Read: Personal Finance Tips from a recent trip
What about Kids Computer & Wife's microwave? – These can be important things that you may be delaying from some time now. So you can think on these – check is it a need or a want. There can be endless list of wants but it is not practical to fulfill all of them. Once you have zeroed in 2-3 such things; attach priority tags with them. Go for the item which is on maximum priority.
LED TV or a New Car? – The way gen-next people manage their finances is totally different from last generation. New generation spend like there is no day called TOMORROW. The relevance of tomorrow is realized when they get heavy EMI to pay or when they get a 10 page credit card bill. Buying such expensive items is a big financial decision & should depend on your overall planning rather than fat or slim bonus cheques. Things can get worse when you give just down payments & rest on EMI. So now you have diverted your future income to present wants.
Someone rightly said "Too many people spend money they haven't earned, to buy things they don't need, to impress people they don't like." I think that was enough for our expense but there is a long unseen & in most of the case unplanned future lying ahead of us. All above points were expenses or liabilities which will not add much to our future needs but few of them can actually be important to have a good present.
Why not repay some loan? Why leave liabilities? someone running a home loan or a car loan, bonus can be a good opportunity to reduce this liability to some extent. In-fact won't it be wise that if you are running any liabilities, the priority should be reduce it than going for some vacation or something else. (By Jitendra Solanki)
Can some amount go for future? – Money is not good or bad but the usage makes the difference – I think this applies to most of these things in world like nuclear power, weapons, EQUITY. Oh! How equities fit in this analogy?? Result from equity investment depends on how we understand it & use it to our benefits. Most of the investor thinks it is for short term or speculation but actually it should be understood as long term investment & growth asset. So try to add some part of your bonus in equities through diversified equity mutual funds for your long term goals like retirement or child's higher education. This will give substantial boost to your overall portfolio doesn't matter you have planned your goals or not.
But hiring a planner & working on your financial plan was a better idea. If you were thinking on this line from sometime you can take this opportunity & have a planned future. One thing for sure you don't need to read some similar article next year after going through financial planning.
What Next? Sometime in our life this question comes – What next; I have already reached a level in my career what I dreamt 5 years back. How should I break this glass ceiling & reach that corner office. May be you need some more qualification to add in CV or some soft skills in your personality – check what's missing, what is related to my field, what boss CV says & fill the gaps.
What are your plans for Salary Increase? – Don't tell you have already lined up a list of monthly expenses against it. Generally it is a trend that every year people increase their expenses more than their income increase. Take a New financial resolution to break this trend & prepare a budget. It's not going to be easy in start but you will be able to fill the leakage points in your finance through budget. Check were there some expenses last year that you would have not done, is there any monthly expense which can be reduced. If you have still not plunged into mutual funds – start your Mutual Fund SIP (Systematic Investment Plan) as soon as possible.
What if you were not lucky this year? – It is bit disheartening that if someone not gets anything. You slogged for a complete year in appraisal interview boss says that salary hikes are bit low due to low profit growth, incentives & bonus are suspended this year and next year we may consider it. This should not mean end of world for you – analyze what went wrong rather than updating your CV & shooting it to the whole world. It happened only with you or also with your peers, has company grown this year, is it a cyclical trend in your industry or most important is that me which is lacking something.
You are the biggest asset in your family & your career is the best investment that you would have ever made. So always take well thought decisions. As churning is not the best investment strategy similarly hoping jobs frequently will be negative. You should only hop job in case you have a strong case that you are in a wrong bus. The best judge of the situation is you.
Would you like to share or confess what you did with your last year bonus ??