Share Market is something which is always talked about by Investors. People at large still looks at this investment avenue as a source of income creation rather than wealth creation. Now a days, when we read and hear about Sensex, we get to know that Sensex is going up, making new highs every day etc. At this moment, there are different reactions by different set of investors.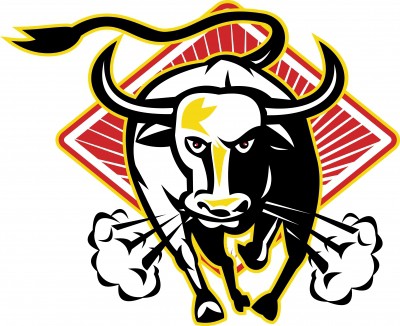 Image courtesy of vectorolie / FreeDigitalPhotos.net
Since we deal with investors day and night, let us share their views:
Category 1: Investors who are sitting on losses as they invested only when the markets were booming at 20-21000
These set of investors are the most anxious one. They seem to be waiting to recover their losses as soon as possible and then get out of share market. These set of investors are those who entered with greed to make quick money when the markets were going up and then got caught in bear market, did not invest anything when the markets were down, never believed on SIP and are now blabbering "ab mere paise barabar aa gaye ab, nikal leta hoon aur dobara share market me nivesh kabhi nahi karoonga".
These set of investors will never make money in stock market as the they work with no strategy, they just bank on their fate/luck & love following market fancy.
Category 2: Investors who are having some amount of profits and are now thinking to exit markets:
These investors can again be sub-divided into two types.
a) One who had invested in late 2006 or early 2007, got panicked in 2008 and did not invest during bear market and are now looking to exit. These investors also believe that they will not return to market as it is risky here.
Now here we would like to make a point that many of the investors in category 1 and 2(a), will return to the markets when they will again see their friends, neighbors, colleagues etc making money in stock market. They will never benefit out of share market in real sense.
b)Another type are those who do believe that it is possible to make money out of share market but believe on TIMING OF MARKET rather than giving TIME IN THE MARKET. For these set of investors, it is my sincere advise that do read about WARREN BUFFET, PETER LYNCH and many more great investors who have accumulated wealth by staying invested for long time. They always believed as long as Economy is doing well and the business in which they have invested is doing well, they will remain invested. Short term price movements don't really bother them.
Now those who believe in timing of the market, let us tell you that even the best fund managers who manages thousands of crore of money and have in depth knowledge of market do not time the market. They have created wealth for investors by investing in quality businesses and not by making use of market movements.
To give you few examples, WIPRO is a well traded stock and lakhs of shares of this companies are bought and sold in BSE/NSE terminals everyday. But if you would invested Rs. 10000/- in WIPRO, in 1980 today its worth in over 450 crores. Can anyone make more money by trading this stock. Even Sensex in the same period gave return of over +17% compounded annually.
Market timing requires two perfect things: one WITHDRAWING HIGH and another INVESTING LOW. If we make mistake in any of the one, the cost of mistake is huge.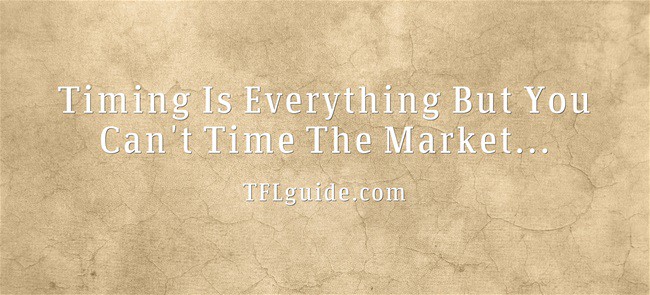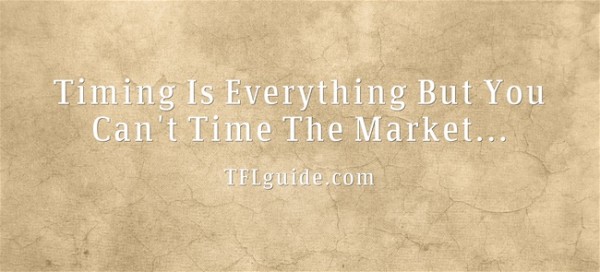 Category 3: Investors who believe in Equities as Long Term Investments and believe in Indian Businesses:
They are the one who make the best use of their investment. They believe that business is a long term investment, they believe that equity has consistently outperformed all other asset classes in long run and works well against rising inflation. They believe that share market is volatile in short run but has the potential to create immense and stable wealth in long run. They believe that their long term financial goals can be met by Equities and not by investing in Debt which does not beat inflation in long run.
Now to validate their views, please check the 2 tables.
Table 1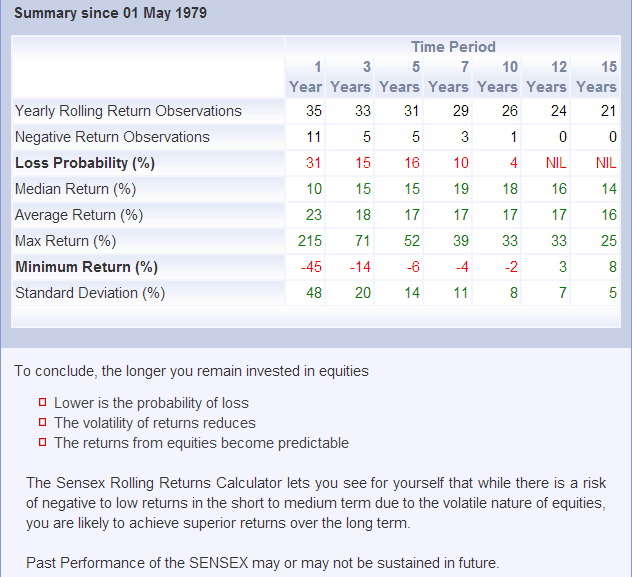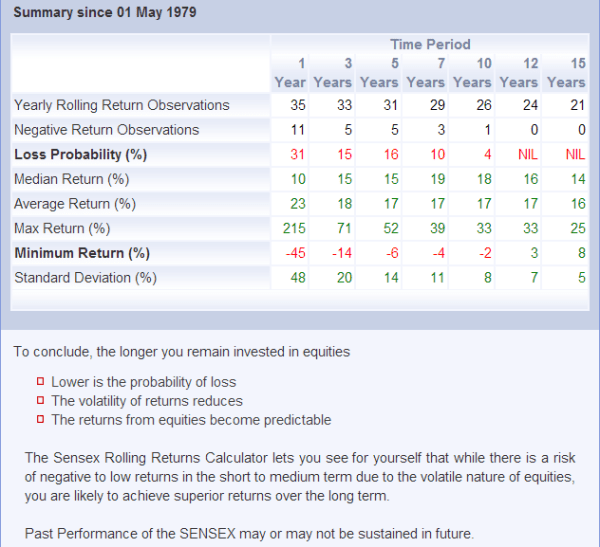 Table 2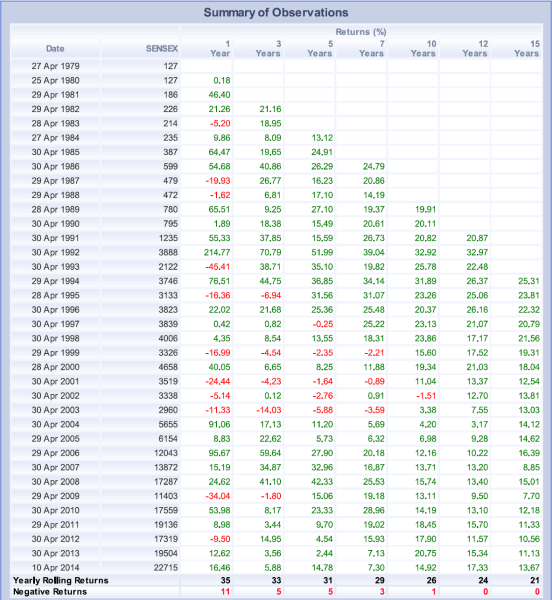 Read these articles – I wrote these articles in August 2013, when Sensex was at 18500 & Investors were really concerned
3 Principles & 3 Practices to Generate Superior Life Time Returns
Indian Equities – Past, Present & Future 
A dumbo (but still smart) investor who started his SIP when sensex touched 21000 in Jan 2008 – he generated +11% returns in this period, much better than any other financial product.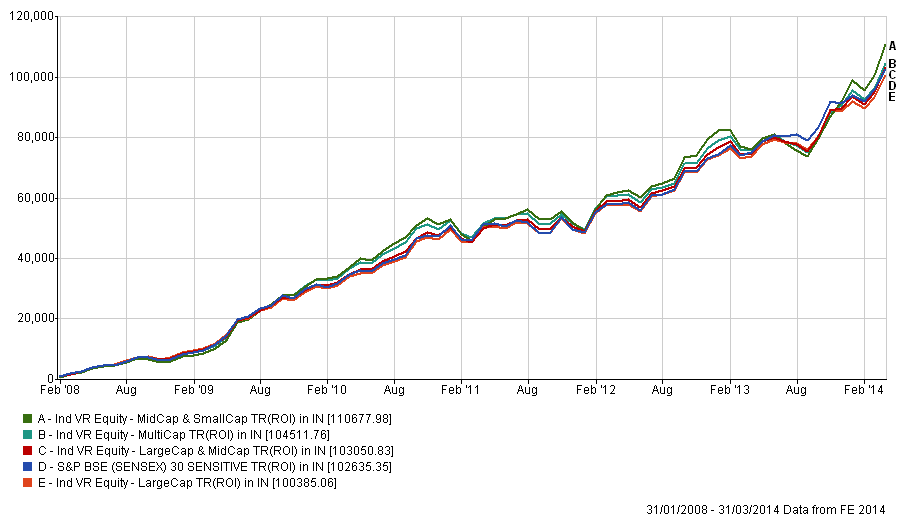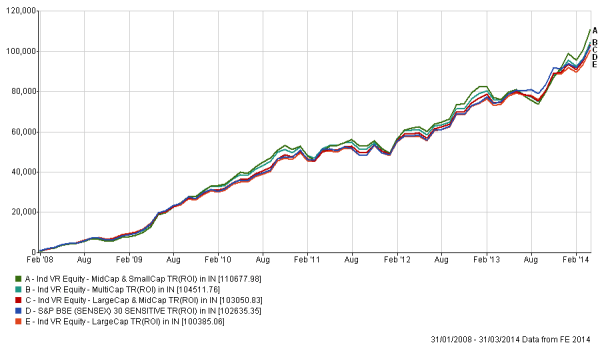 There is no short cut to success and we all know it but why should people think of making money in short run! So you decide what you should do!!