These days you keep hearing that you are getting negative returns on bank Fixed Deposits & other debt instruments. After reading this article you may feel that it's a big conspiracy done by government against you so that you never become rich.  Sounds shocking? But it's true and that too across the world. And if we talk about India where our 90% of financial savings are in debt instruments, the problem is even bigger. So first let's understand why & how you get returns on your debt instruments & later we see why it will always be negative return.
Debt Return
Let's start the discussion with the government bonds (security) interest rates. This rate forms the basis of other debt instruments, be it bank deposits, post office scheme, corporate bonds/fds rates. The Government Bond debt return is build up of 3 components:
Inflation: Long term expected inflation is already build in your debt returns. Basically this is the power that money looses over a period of time. In normal circumstances you can call it the dearness that the economy experiences.
Real Riskless interest rate: Some small percentage that you get because you are giving your money to someone for use today. And this someone is the government in this case.
Premium for bearing interest rate risk: Interest rates keep fluctuating and that is risk for your debt investment. There is a negative correlation between debt(bond) investments & interest rates – if interest rates rise your debt instrument will give negative return & vice versa. (This premium increases with time which you can see in next chart)
These things will be clearly visible in long term. But to keep things simple let's assume that inflation is expected to be 6% in next 3 years, Real Riskless interest rate is .5% & Interest rate risk premium is .5% – so if we total all this we can get return of 6%.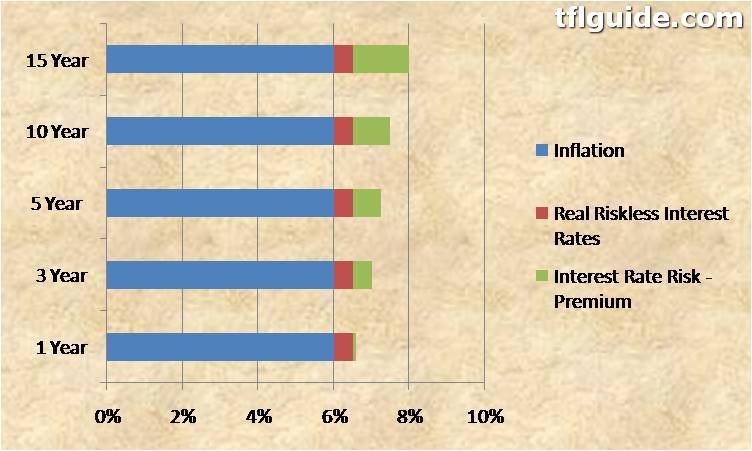 One thing is very clear from this that major portion of return is coming from inflation. So if inflation rises the interest rates are also expected to rise & which is happening right now. Wasn't it simple? Let's now see interest rates on other debt instruments.
Also Read: Personal Finance Tips
As already mentioned above 3 components will be same for any debt interest rate instrument but 1 more component is added for any instrument other than government bond.
Credit Risk Premium: Credit Risk Means there is risk that Debtor (to whom you are giving money) can default or situations may arise that he cannot pay. So you want some risk premium depending on the risk profile of the debtor. So in case of Government this will be Zero but in case of SBI Bank this can be .5% or 1% in case of private bank & may be 2-3% in case of co-operative bank.  (Even bank FDs are not 100% secured – so in case if some bank defaults you are only guaranteed to get Rs 1 Lakh as this portion is insured by RBI)
Let's understand this by comparing few other instruments.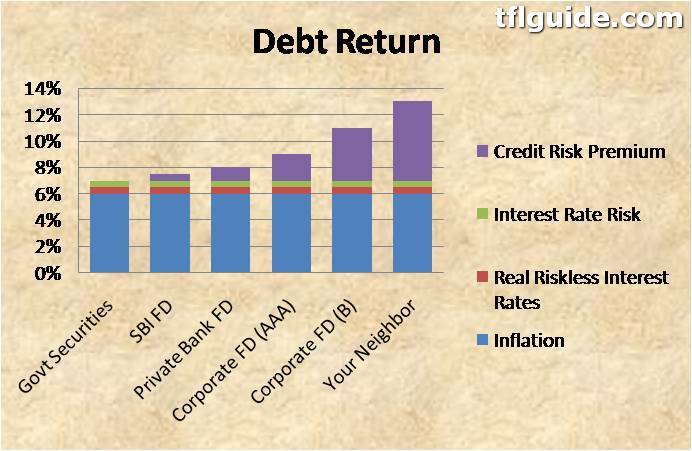 Must Check- Top 10 Personal Finance Articles
So it is clear from the above chart that Inflation & risk are the biggest component of interest rate. Onemint keeps updated list of Best Fixed Deposit Interest Rates in India.
Now you have understood that how returns are generated in Fixed Income or Debt Instruments. And thing that can be clearly seen from last graph is if x is saying I will pay you 7% & Y is giving 9% it's nothing but the risk premium. So there is no guarantee that you will get your money back if some corporate FD will give 13-14% return & this has happened lot of time in Indian debt market history. Names like CRB Capital, Modern & recent one Panjon Pharma still haunt people.
Nominal Return Vs Real Return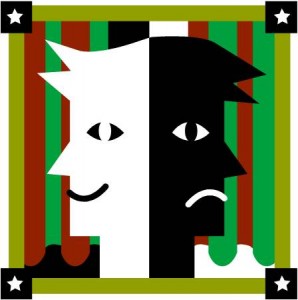 Till this time what you have read in this article is called nominal returns. Nominal return is actually what you are going to get in rupee term or what is written in the contract between creditor & debtor. But this doesn't consider inflation impact; the real enemy of every investor.
What is investment? Investment is the amount that we don't consume & keep aside for some future need – we park this amount to someone who needs it right now & he pays some rent (interest) to use that amount. So take one example you were having Rs 50000 & 2 choices available – first you can purchase ABC right now & second you lend this money @6% now & purchase it next year. But actually ABC prices rise by 10% in this period. So have you made the good decision by landing money? This can't be clearly said by this example but if you were planning for your retirement & your money have grown less than inflation it would have significantly impacted.
Calculate Real Return
Real return is when inflation is removed from your nominal return or return after impact of inflation.
This is as simple as Real Rate of Return = Nominal Return – Inflation
Actually formula is different & bit scientific but we will use above formula to keep things simple.
So if Nominal Return is 7% & Inflation is 6% your Real Return will be 1% (With actual formula it would have been even less)
Negative Real Rate
But what is happening now is nominal rate is less & inflation is high so Real Rate is negative. Consider SBI Bank FD Giving interest rate of 7.5% & inflation at 8.5% – this means a negative return or negative interest rate of 1%. So inflation is working as a black hole in your pocket.
Now actual conspiracy of government & why your returns will always be negative in debt investments

You have checked impact of inflation on Nominal Rate but have you ever tested impact of TAX on debt returns.
Let's assume that you got return of 8% on 3 years FD & you are in 30% tax slab – so after tax return will be 5.6% & if we assume an inflation of 6% your returns are negative. Even if you are in 20% slab & other things same, you will be getting just .4% after tax returns.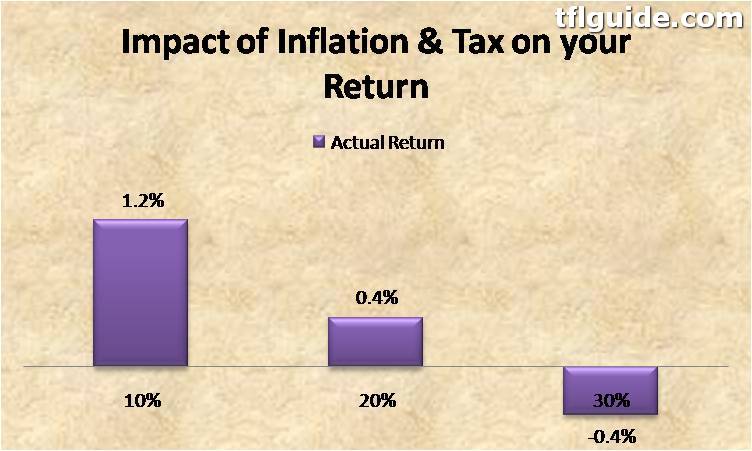 Do you think these returns are sufficient to make you rich? – I don't think so. But still 90% of Indian financial savings are going in such instruments. So what are your views?
Note: Figures that are used in this article are assumed figures rather than actual – idea behind this article was to explain you the concept. Hope you enjoyed reading it.