Don't take me otherwise I don't have anything against HDFC mutual fund or their star fund manager Prashant Jain.
Plus, most of our clients have exposure to HDFC funds.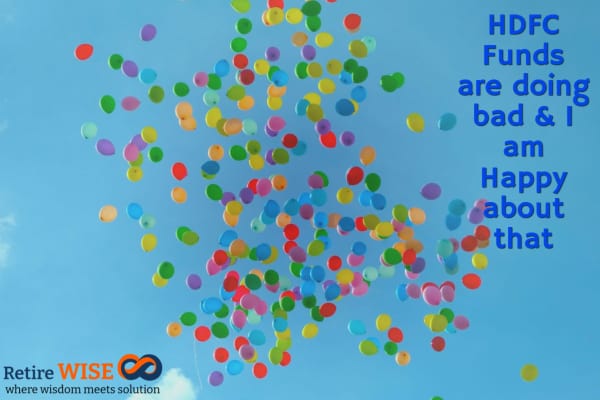 So why I am happy with underperformance?
In the last 16 years of my investment career, I have seen Prashant Jain keeping his head cool in all kinds of scenarios.
We also have to understand when you are investing in active funds – the fund manager or AMC has the right to make decisions in our best interest.
Plus we also have to check risk when we are talking about returns. This post can explain – How should you view investment risk.
Disclosure: I worked with HDFC Mutual Fund before starting my financial planning practice in 2009 but this article has no relationship with that.
Note: In this post when you read HDFC (replace that with any mutual fund) or when you read Prashant Jain (replace that with the name of any good fund manager).
But underperformance of funds is impacting my portfolio returns
Recently I got an email from one of our clients that HDFC Top 100 fund that we suggested is not performing and my answer was I'm really happy about that.
He was as confused as you are right now.
Let me ask "why you have given your money to an active Fund Manager?" Let me guess because you want to outperform markets over a long period of time.
But what is a long period of time, 3 months or 6 months or 5-10 years? If your answer is in months you are in the wrong place.
Really Hemant?
You expressed your disagreement in the humblest manner as possible in this situation "Hemant don't try to be smart; I have seen fund returns on a 5-year basis and they are underperforming their peers.
For your convenience, I am sharing that here."


(Oops I forgot this is information age)
You're right but even a one-year performance can make a huge difference in 3 or 5 years performance.
Let me give you an example:
This below fund underperformed its peers till 2018 but just because of a one-year phenomenal performance – long term track record looks much better.


2007 Vs 2008 Vs 2009
I clearly remember at the end of 2007 HDFC funds were underperforming their peers by decent margin & fund advisors and clients were all up in arms against them.
Funds also saw huge redemption pressure because why investors should sit in the train when flight tickets are available at the same price. So, they exited & entered the best (performing) funds of that time.
Then came tsunami of 2008 & markets were down by 50% in less than a year. HDFC Funds fell lesser than its peers & they saved people's money.
In 2009 when markets went up they outperformed their peers by a huge margin.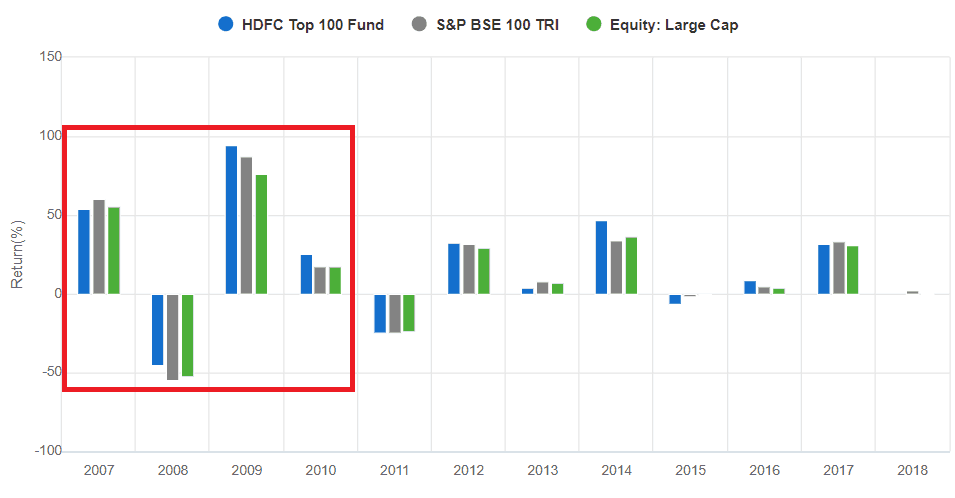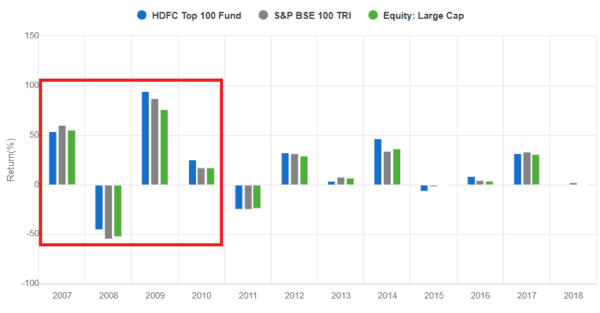 Media or many finance professionals do not talk about the importance of "downside protection".
Must Read: Low Risk – High Return investment
Prashant Jain is managing funds for more than 2 decades and unarguably may be one of the best equity fund managers that we have seen in our lifetime. Let me make a bold statement "not every fund manager has the nerve to avoid peer pressure and pressure from investors – Prashant Jain is a rare breed."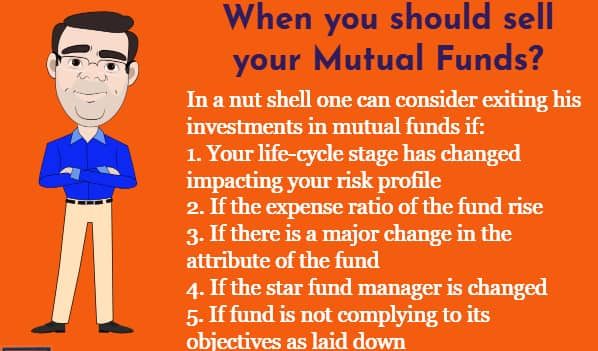 Bubble in Quality
Recently one of the ex mutual fund managers shared a report & argued that so-called quality stocks are in bubble territory. As I love to research, I checked which AMCs or funds have exposure to those stocks so to my surprise HDFC has one of the least exposure in those companies.
They have zero exposure in 90% of those companies mentioned in the list.
Prashant Jain in one of the interviews "I do not believe in contra investing but I do believe in value investing. And if value investing at a point of time means that you think differently from others then so be it. I have always tried to buy reasonably quality businesses, not always high quality because sometimes they are very expensive and I have always focussed on what you pay for them.
It is quite logical that when a good business is passing through a challenging time or when some other businesses are doing extremely well on the stock markets and since most people in life and in stock markets as well are very short term focussed, they want to avoid short term pain and get short term gains. When almost everyone wants to buy certain stocks in the markets, it is obvious that the rest of the spaces tend to become more valuable and if you are seeking value, then you become a contra investor. So contra is an outcome of seeking value but seeking value is the key."
The Biggest Problem With Your Financial Planning, And How You Can Fix It
GAP: Investment Returns Vs Investor Returns
This is what I have written on the back cover of my latest book "Modifying Investor Behaviour". We have got very good feedback – you can check on Amazon.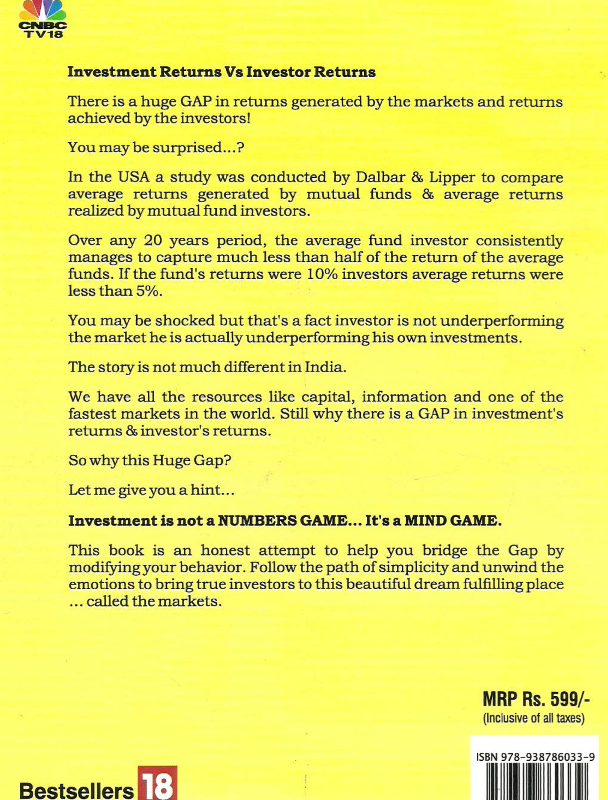 There are many reasons for this GAP. One of the main reasons is that when funds are generating good returns (hot funds/ best funds/top funds based on recent performance) investors flock in them and when the same fund is not performing for few quarters or 1-2 years they will prefer to exit.
Peter Lynch one of the top fund managers of Fidelity managed a fund from 1977 to 1990 & generated more than 29% returns (this is better performance than Warren Buffett) but you will be shocked investors did not get even 15%. I hope now you know WHY.
What should you do?
Talk to a good financial planner 😉
I always believe that if someone makes a relationship because of your beauty or money he/she will leave when you lose that. Or your employees joining you ONLY for getting a higher salary from their earlier company they will leave you for the same reason in the future.
Similarly, if you have selected your funds only on the basis of performance you will exit those because of short term underperformance. Performance is important but it can't be the only criteria.
I am not at all claiming that this fund or any other fund will outperform in the future or how history will remember Prashant Jain or any other fund manager. I have no idea how the market will perform in the next few years & which investment strategy will do better.
That's the reason Asset Allocation & Diversification is important – you should have exposure to 5-6 fund houses. Allow those active fund managers to try their investment styles to generate better returns for you.
It's time to stop making haphazard decisions about your INVESTMENTS

and instead talk to us about your GOALS.
Just add any question, observation, suggestion or advice in the comment section.