Accidental insurance is one of the most ignored insurance categories in India.
As we all know the majority of people buy insurance either for tax planning or investment purpose but unfortunately both these benefits are not available in Accidental Policy. But does that mean you should not buy accidental Insurance? Think.
This article will cover:
What is personal accident insurance & its features
Benefits of accidental insurance
Comparison of accident insurance policy
How premiums are decided in an accident insurance policy
How much accidental insurance you should take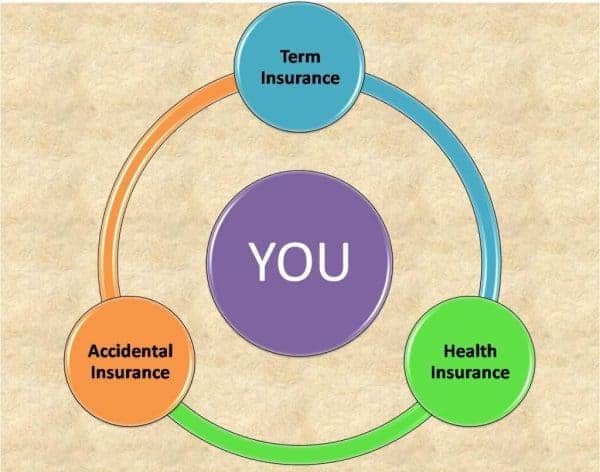 Accidents are not uncommon
Accidents can happen anytime when you are riding a bike, taking a shower, or cooking. They cause physical pain, mental trauma, and financial damage.
As per the Ministry of Statistics and Program Implementation, in 2013, more than 20,000 people died due to fire. As per TOI, there are about 400 deaths due to accidents in India daily!
I do not want to paint a bleak picture but accidents are common. They are not events that can happen only to other people. It is better, therefore, to protect oneself and one's family from a financial perspective against accidents.
Term insurance does pay on the death of the insured but the sum assured and premium depends on the person's age, profession, and other conditions.
Health Insurance is a yearly plan in which also there could be different terms and higher premiums for people of higher age or who are diagnosed with any medical issue.
Accidental Insurance provides financial protection against accidents.
Why Insurance? 
Insurance is the foundation of any financial life – a person who is having dependents must first completely insure himself & then only should start thinking about investments. We should know that the term plan is not for us but for our family and medical insurance is for us. So one should buy a term plan when he is having dependents but medical insurance is a must for everyone. If we talk about accidental insurance it is equally important for us & family.
What is Accidental Insurance?
When I bought my first vehicle; my mom advised drive safe these days accidents are increasing – hope you would have received similar advice from your parents or given to your kids. The impact from the accident can be as small as a scratch to as big as death – the impact can be temporary or sometimes even permanent. The accidental insurance policy covers this risk but first check the definition of accident.
Accident or Accidental means a sudden, unforeseen and unexpected event caused by external, violent, and visible means (but does not include any illness or disease) which results in physical bodily injury (but does not include mental, nervous, or emotional disorders, depression or anxiety).
Accidental Insurance also excludes suicides, self-injury, armed force operations, war, etc.
In case of death term plan will help the family to cope up with financial hardship but what about an accident where one loses body parts & that impacts his earning abilities. In such a situation, Accidental Insurance can be very helpful.
Features of Accidental Insurance
Yearly Contract: Similar to term plan & medical insurance – accidental insurance is also a yearly contract that you can renew every year.
Maximum Insurance: It depends on your income – some insurance companies give 60-100 times of your monthly income others give 8 to 10 times of your yearly income.
For Non-Earning Members: Few insurance companies provide accidental insurance to dependents but have limitations in sum assured. 25% to 50% of the proposer's sum insured with maximum limits in rupee terms.
Benefits of Accidental Insurance Policy
Comprehensive Accidental Insurance policy provides benefits in 4 cases:
Accidental Death
If an insured died due to an accident his nominees will get 100% sum insured. So it's very important to have the right nominee in any kind of insurance policy whether accidental or life.
Permanent Total Disablement
Sometimes a person met with an accident & loses his body parts – may not be able to work in future. In the case of Permanent total disability 100% sum insured is given to the insured person. It covers:
Loss of both hands or both feet or one hand and one foot
Loss of a Limb (hand/foot) and an eye
Complete and irrecoverable loss of sight of both eyes
Complete and irrecoverable loss of speech & hearing of both ears
Permanent Partial Disablement
As the name suggests this benefit is given if someone losses one hand or one leg or even small body parts like a finger/toe. For this, every insurance company has their own tables – what they will cover & how much they will pay depends upon the age limit of the person as per policy documents.
Temporary Total Disablement
Sometimes it can happen that anyone met with some serious accident but there is no permanent loss. But the doctor suggested a complete bed rest of 5 weeks or a complete checkup of any part of the body. This will impact an earning for a small period so in such case accidental insurance can compensate for this income loss. The weekly benefit is normally 1% of your sum assured for a maximum of 100 weeks. There is also a maximum limit according to your income.
Other small benefits
There are few other benefits that one can get from the insurance company – a few are priced in the premium & for others, you need to pay additional premiums. These can be emergency ambulance charges, education funds for kids, medical expenses, family transportation, imported medicines, etc.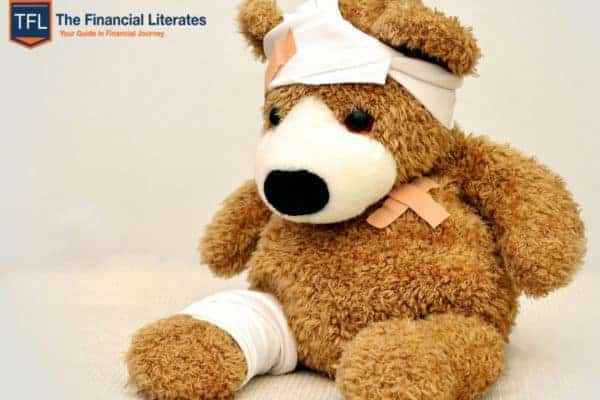 How much accidental insurance do you need?
Accident insurance covers death due to accident, disablement due to accident.
How do you determine how much accident insurance you need to have? Here are some parameters that one should keep in mind before buying a personal accident insurance policy-
1) Coverage of the insurance policy – Accident policy cover death due to accident and total disability due to the accident. Some of them cover partial disability or temporary full disability. Check the features and decide how much coverage you want.
2) Our Profession – Insurers classify people into different categories depending on their profession. If you fall into the category of high-risk professions like a factory worker or miner, you should definitely buy an accident cover. The premium is usually higher for professions that involve high-risk activities.
3) Current financial profile – The sum assured depends on many factors such as the number of dependents, financial goals, the extent of loan repayment, etc.
Disablement or death due to an accident can derail the financial situation of the family. An accident cover ensures that financial goals such as child education and debts such as home loans are repaid. The family can continue with a similar lifestyle ahead. It is said that the accident cover should be 100 times your current monthly income. So if you are earning Rs. 50,000 per month, the accident cover should be Rs. 50,00,000.  But if you do not have dependents or loans, you can go for a lower sum assured amount such that it compensates for the loss of earnings and you are able to take care of your expenses.     
Check This: How much Health Insurance do I need?
Here is a comparison of a few accident insurance policies available –
Insurer
Sum Assured
Premium
Key Features
Apollo Munich Individual Personal Accident Premium Plan
Min – Rs. 5,00,000

Max – Rs. 15,00,000

A cover of Rs. 10,00,000 for an IT Employee has a premium of Rs. 1,882.
Mainly Covers Accidental death, permanent total disablement, permanent partial disablement, and Temporary total disablement.

Read herefor more details

HDFC Personal Accident Insurance
Min – Rs. 5,00,000

Max – Rs. 15,00,000

A cover of Rs. 10,00,000 for a 35-year-old person has a premium of Rs. 2,286.
Mainly covers Accidental death, permanent total disablement.

Read here for more details

Star Health Accident Care
Min – Rs. 5,00,000

Max – Rs. 15,00,000

A cover of Rs. 10,00,000 has a premium of Rs. 700
Mainly provides cover for Accident Death, Permanent Disability, and temporary Disablement.

Read here for more details.
It is good to buy a personal accident insurance policy as it covers a major aspect of your life. It will provide financial support to the policyholder if there is disablement and also provides cover for major and minor mishaps. It also provides financial protection to family members in case of death or disablement.
The below table will give you more idea about accidental policy but this table is not updated from last few years.
Accidental insurance Comparison (Premium & Features)
| | | | | | | |
| --- | --- | --- | --- | --- | --- | --- |
| | TATA AIG Accident Guard | National Insurance Personal Accident Policy(Normal Risk) | Star Health Accident Care (Risk Level 1) | Future Generali Accident Suraksha | Bajaj Allianz Premium Personal Guard | Reliance Personal Accident Policy(Risk Level 1) |
| Premium (Rs.) | 4,748.00 | 3,000.00 | 2,500.00 | 1,256.00 | 3,171.00 | 3,000.00 |
| i-save Rating |  N/A |  N/A |  5 Star |  5 Star |  4 Star |  No Star |
| Maximum age of entry | 65 years | N/A | 70 years | 65 Years | 65 Years | 70 years |
| Temporary total disablement | N/A | 1% of CSI not exceeding Rs. 5000 per week. | 1% of the capital sum insured subject to a maximumof Rs. 5000 per week | N/A | Up to Rs.10,000 per week to a maximum of 100 weeks. | 1% of CSI per week as per policy conditions not exceeding Rs. 5000 per week |
| Minimum sum assured | 5,00,000 | N/A | 1,00,000 | N/A | Rs.10,00,000 | N/A |
| Permanent total disablement | An amount up to a maximum of Rs. 1,00,000 will be reimbursed . | 100% of the sum insured |   |   | 200% of the sum insured. | 100% of sum insured. |
| Accident medical expenses | N/A | 10% of C.S.I. or 40% of the admissible claim whichever is lower . | Covered on additional premium payment | Rs.1200 for each completed day of hospitalization for a maximum period of 30 days. |   | Up to 40% of the compensation paid or 20% of the CSI, under the policy whichever is lower. This benefit is available on payment of an extra premium of 20%. |
| Minimum age of entry | 18 years | N/A | 18 years | 18 Years | 18 Years | 5 years |
| Cumulative bonus | 5% to 25% | 5% to 50% | 5% to 50% | N/A | 5% per claim free year to a maximum of 50%.(reduced by 10% if a claim is lodged). | 5% to 50% |
| Last rites | Up to Rs. 5000 | 2% of C.S.I. subject to maximum Rs.1000/- shall be reimbursed | Covered (Rs.3000) | N/A | N/A | A lump sum of 2% up to Rs. 2500 |
| Broken bones | N/A | N/A | N/A | N/A |   | N/A |
| Family transportation | AD sum insured up to Rs.50000 | N/A |   | Maximum amount payable is 10% of the sum insured (under death cover)subject to maximum Rs.50,000. | N/A | N/A |
| Family discount | N/A |   |   | 10% if cover is opted for family members. | N/A | N/A |
| Children's education cover | 10% of the sum insured | 10% of C.S.I. per dependent child subject to Rs.5000/- per child up to maximum two dependent children. | 1 child: Rs.50000; 2 child: Rs.10000 | N/A | Rs.5,000 for a child or Rs.10,000 maximum for 2 children below the age of 19. | 10% of the sum insured to a maximum of Rs. 5000 per child. |
| Maximum sum assured | 1,00,000,00 | N/A | 5,00,000 | Up to 25 Lacs. | Rs.25,00,000 | N/A |
| Permanent partial disablement | N/A | % of CSI as Detailed in the Policy |   |   | 5% to 70% of sum insured. | 1% to 75% depending on policy conditions. |
| Accidental death benefits | 100% of sum insured. | 100% of the sum insured | 100% of the sum insured |   | 100 % of the Accidental death su insured. | 100% of sum insured. |
 Source: i-save (CSI – Capital Sum Assured Rs 20 Lakh)

How accidental policy premiums are decided
Accidental policy premiums do not depend on the age of the insured but on his work profile & working conditions. Occupational classification divides people in 3 levels (I have also added premiums from Apollo Munich for each category – Sum Assured Rs 25 Lakh)
Level 1 (normal risk) – this includes people who are in administration functions and work in offices like accountants, bankers, doctors, etc. Premium Rs 2600
Level 2 (medium risk) – people who are working as labor in the field. Premium Rs 3600
Level 3 (high risk) – people who work in mines, circus, etc will come in the higher risk category. Premium Rs 5450
You can see as the category changes premium substantially increases – this premium doesn't include service tax.
Premiums can be down if you are applying as a family or group.
Other ways to buy Accidental Insurance
We Indians love the thali system & the concept of free – but let me remind you again that there is no free lunch. From the thali system, I mean that people try to add accidental insurance as a rider with life insurance but my suggestion is you should keep both these insurance separate.  This will give you proper comprehensive insurance at a lesser price.
Sometimes you can also get accidental insurance with some credit card or even from a few of the mutual fund companies. Here my suggestion is one should not count this insurance because this will give you an illusion that your insured. But actually, you never know when you are discontinuing your mutual fund or surrendering your credit card.
Insurance is an important component of financial planning and you should analyze your and your family's requirements before deciding the appropriate cover to buy.
If you need help with your Financial Planning – you should check this
Hope this article gave you a broad idea about accidental insurance. Do you have accidental insurance or are planning to buy now??