Financial planning is a comprehensive task that requires time and effort on a regular basis. It also involves being up-to-date with market and economic information, taxation-related updates, and knowledge of finance. A financial planner who has the right credentials can add value to your financial life in different ways –
Organizing your finances
Making appropriate budgeting decisions
Managing investments, insurance, and taxation
Retirement Planning and Estate planning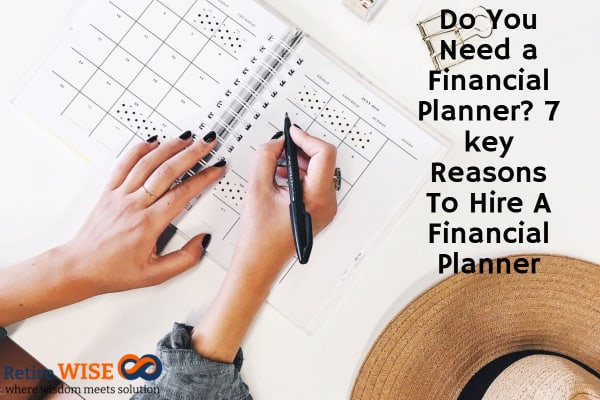 Read – Everyone Should Know What is Financial Planning?
Reasons To Hire A Financial Planner In India 
Let us look at some reasons to consider hiring the services of financial advisors in India–
1) One size does not fit all
Personal finance advice is oversimplified many times. A certain piece of advice or financial action may not be the best for everyone as each of us has our own goals, aspirations, and challenges. Moreover, events like COVID-19 have increased volatility in markets and resulted in investment portfolios losing value. At the same time, there is an excessive amount of information that is hard to ignore. We might make knee-jerk reactions to the information and the changes in the value of our investment portfolio. This can lead to less attractive results. A financial planner can manage our money with the right perspective.
2) Receipt of a significant amount of money
When we get a bonus, an inheritance, or a monetary prize, it is best to plan how to use it to build wealth or add to our income. We will be tempted to splurge it to have a great experience or acquire a luxury item. But financial planners can help decide how much to splurge, how much to invest, options to invest, etc. which will be beneficial in the long run.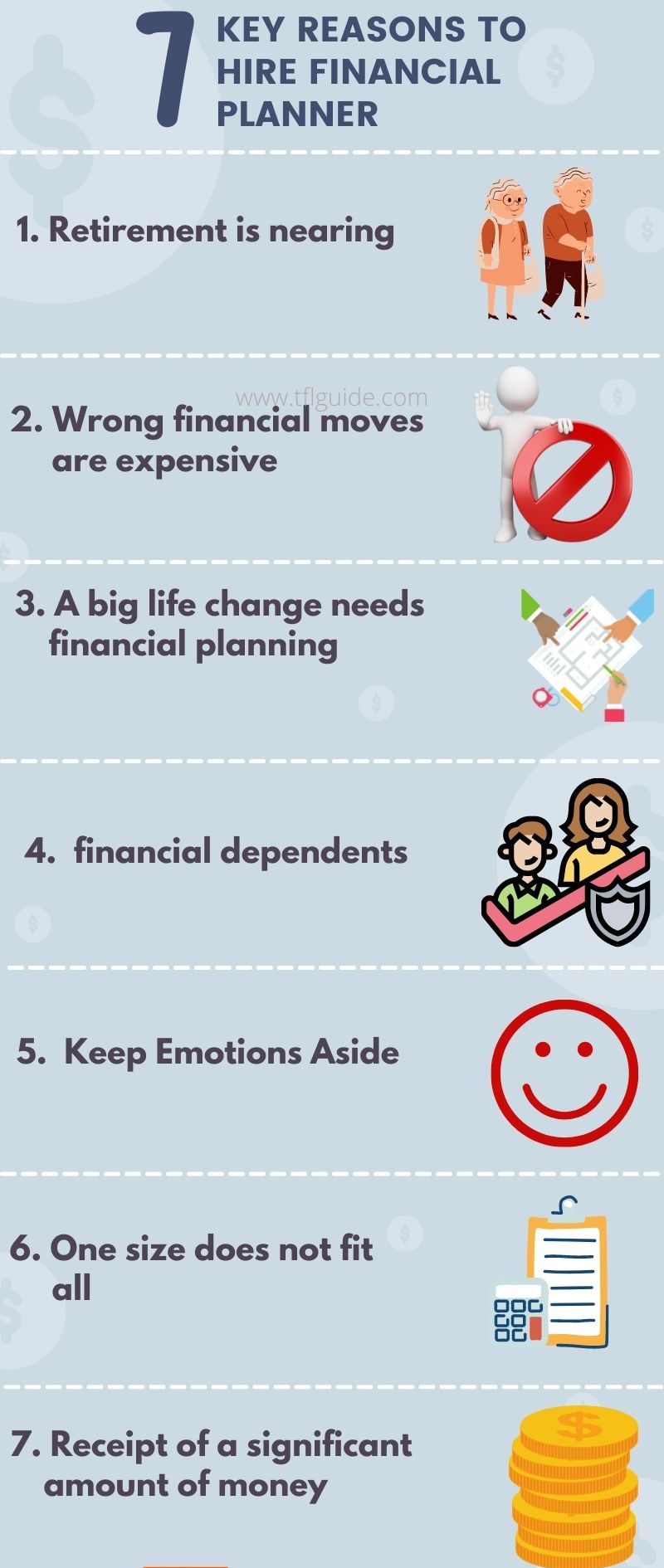 3) Retirement is nearing
An important question in our minds is – How much money should I save for retirement?
A good financial advisor will list down the short-term and long-term goals and prioritize them as per practical considerations. They will calculate the amount required for retirement realistically and then set up a realistic financial plan to achieve it.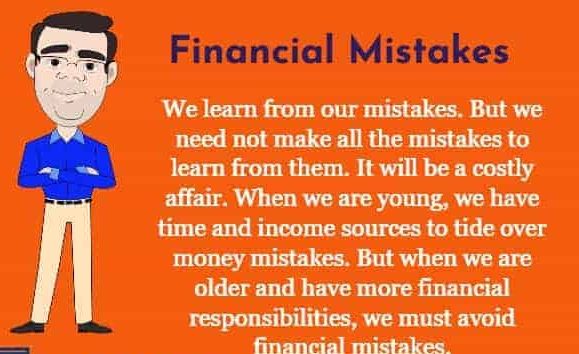 4) Wrong financial moves are expensive
We learn from our mistakes. But we need not make all the mistakes to learn from them. It will be a costly affair. When we are young, we have time and income sources to tide over money mistakes. But when we are older and have more financial responsibilities, we must avoid financial mistakes. When we are nearing retirement, we have a lesser amount of time to earn income. Many times, the potential for an increase in income is also less in that stage of life. We have to protect our capital and also make our money earn money for us. A professional financial advisor will perform many tasks –
Read – Why it is simpler to succeed with a Financial Plan
Manage taxation such that tax outgo is minimized
Build a diversified investment portfolio
Manage financial risks
Understand financial products and changing rules and regulations related to personal finance
Watch This Video  Reasons To Hire A Financial Advisor In India
5) A big life change needs financial planning
Times change. You get married, you quit your job, or your child wants to study abroad. These are significant life events that impact our financial life. We have to plan our finances so that there are no shocks. Yes! There can be unexpected changes in our life or the economy. But a flexible plan with a clear course of action will put us in charge of our financial life.
Naveen lost his job due to the COVID-19 pandemic. But his Personal financial planner had set up an emergency fund and also taken a comprehensive family floater insurance plan that covered him and his family. The financial planner also made systematic changes to the financial plan considering the severance pay package and volatile markets. So though Naveen is affected financially, but the negative impact has been cushioned with these measures.
6) You have financial dependents
Loved ones who are dependent on you financially will face a financial crisis in case of untoward events like disability, loss of income, or your death. Financial planners ensure that your financial plan includes –
Family's financial well-being
Optimized finances for various goals for various family members like aged parents or a child with special needs
Adequate Insurance (Life and Health)
Estate Planning
Also, check – The Importance of Financial planning in your life.
7) To Keep Emotions Aside
We are quite emotional when it comes to our money. We unknowingly follow certain financial biases while managing our money. A financial advisor will be able to take financial decisions based on hard facts and prioritizing our best financial interests.
Bonus – They are professionals
Competent financial advisors are qualified. They will know how to handle financial problems and crises. Financial planning is more than just investing in a few products. It is like a test match in cricket wherein you have to be patient and manage finances for the long run. You have to play your innings such that short-term volatility, unfriendly economic conditions, and good phases are handled to build your corpus. It is better to work with a professional who can manage your wealth under different circumstances and variables in the best manner possible.
You may think that there might be some phases when you may not need the services of a financial planner. For example, when you are in deep debt, you can take steps to get out of it rather than spend on a financial planner. If you have just started working and are earning a standard income, you can take steps to do some basic savings and investments and then make use of professional advice.  If you have already retired and had your finances in place, you may want to maintain the status quo. If you are an expert in managing money and have the time and inclination to do it, you could postpone the decision of hiring a financial planner. (even in these cases a professional can add value)
A Personal financial planner will help you navigate through your personal finance journey. Be sure to select someone who has the right qualifications and experience, and is suited to handle your unique circumstances.
Hope We Have Covered the major thing about Reasons To Hire A Financial Planner In India. If you have a question regarding you can add them to the comments section