First I thought the title of this article should be "Home Loan Insurance – Daylight robbery" – so you can imagine what I am trying to say.
Most of us wish to have a home in our own name. From a financial perspective, it is a big step and a huge investment that all of us cannot make on our own. We, therefore approach banks for loans. Banks are in the business to make money and will try to upsell or cross-sell products. Some banks offer a home loan insurance protection plan when you apply for a loan. Some banks claim it is compulsory to buy insurance along with a home loan. Some banks claim they cannot issue a loan if the customer does not buy insurance.  Sometimes customers are desperate and sometimes ignorant and they end up buying unnecessary products.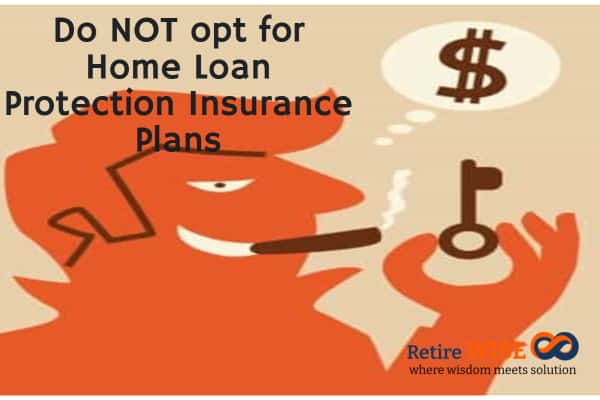 Image courtesy of jesadaphorn at FreeDigitalPhotos.net
Read – 5 insurance policies that you may not need
But here are some reasons as to why the offer of home loan insurance may not be in the best interests of the customer –
Home Loan Insurance is Very Costly  –
The home loan insurance plans are sold along with the home loan with the reasoning that in case of an unfortunate event of accident or death of the borrower, the remaining loan will be paid off with the sum assured and the dependents can be covered from financial worries. But a term insurance plan serves the same purpose. You buy a term insurance plan and your dependents get the sum assured in case of an unfortunate event and the sum assured can be used to pay off loans as required.
Let us compare the cover provided by  ICICI Loan Protect Plus with a  7 year fixed moratorium and ICICI Term Insurance for a 35-year-old male with a sum assured of Rs. 50,00,000
Parameters
ICICI Pru Loan Protect Plus
ICICI Pru iProtect Smart
Premium
Rs. 50,157 (excluding service tax and cess) p.a. for 5 years

Rs. 7,100 per annum.

Premium Comparison
For 5 years, you pay at least Rs. 2,50,875.

You cannot stop paying it as if you do not take the one-pay option, the premium will get included in the EMI.

If you consider the sum of Rs. 2,50,875, you can pay a

premium

for term cover for  35 years.

Usually,

a person will not take a term plan for so long and has the flexibility to stop premium payment whenever appropriate.

Features and Benefits
If the accidental death benefit is taken for a policy of Rs. 50,00,000, till the 7th year, Rs. 50,0000 for life cover and Rs. 50,00,00 for accident benefit will be given.

Premium can be paid either once or yearly.

Covers death, accidental

death

and permanent disability

Covers female organ cancers

Benefit amount is payable as a lump sum or as monthly income for 10 years

There are different premium payment options.

There is option to surrender the policy subject to some terms and conditions.

It covers the insured irrespective of the loans taken. You can easily port your existing loan to another lender without the insurance being affected.

Death Benefit Payable
In case of natural death in the first 7 years, it is Rs. 50,00,00. It will keep reducing from then on –

10th year – Rs. 43,60,000

15th year – Rs. 11,30,000

The death benefit is equal to the sum assured – Rs. 50,00,000

My View
Benefits in the Loan Protect plan get reduced from 7th year onwards else you have to take a fixed benefit policy which means paying a higher premium.

It is expensive compared to the term insurance plan.

Home loan protection and home loan are tightly linked. It will be difficult to port the loan if you have taken insurance without foregoing the insurance. In a term plan, you will have no such limitations on the insurance or on your loans.
Interest payable on premium –
If you do not opt for the single pay premium, the premium gets included in the EMI which has components of principal and interest on the loan amount and you will end up paying interest on the premium amount too. Moreover, you will lose out on tax benefits on the premium paid.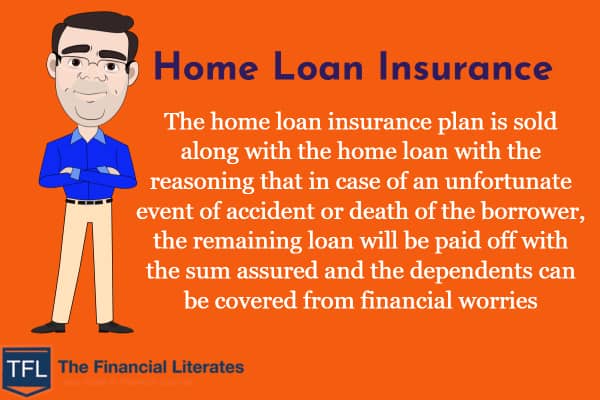 Closure of home loan –
Home loans are usually closed before the full tenure. People pre-pay the home loan. If you take a 5 year home loan and a Home Loan Protection Insurance Plans for the same tenure and pay off the loan within 3 years, you will not get back the premium paid till now.
People also port the home loan from one lender to another. There can be issues related to porting if home loan insurance is involved.
Home Loan Insurance is different from Home Insurance or Property Insurance –
Property insurance covers the property against risks to property like fire/earthquake.burglary etc. But home loan covers insurance the risk of default in repayment of home loans. Some people might get confused between these two types of loans and end up buying the wrong insurance.
Read – What bankers can do Mis-sell Insurance?
If your bank asks you to purchase a home loan cover for the home loan, you can –
Inform them that you know that it is not mandatory to buy home loan cover insurance to get a home loan.
Ask the bank to give a written document that home loan cover is mandatory to get a home loan. Since it is not mandatory, the bank will not pressurize you to buy it.
Reject the loan even if you really need it. The bank needs the business. It will come back to you asking you to take only the home loan and not the insurance cover.
Inform the bank about the term plan that you have or intend to buy which can cover the loan payment default if any
Escalate the matter to higher senior management in the bank. This will help in having written proof of the conversation and also change the offer from the bank.
Escalate the matter by filing a complaint to the Banking Ombudsman following proper procedure.
It is important to protect your dependents financially. But it is equally important to get the right kind of protection. You should understand the financial products properly before buying them. Let us know if you have faced similar issues when you had to go for a housing loan and how you managed it.
Still, if you have any doubts about Home Loan Protection Insurance Plans. You can add them to the comments sections.