There are many types of valuables and important documents that people want to keep safely and away from any risks. The concern for safety for jewelry, property documents, wills, precious stones, and other valuables is so high that some inconvenience in accessing them is worth it.
The increase in the wealth of a community propagates into, unfortunately, increased incidents of thefts and robberies. The police's lackluster attitude in either preventing or arresting the culprits and recovering the stolen items makes people afraid of keeping jewelry at home.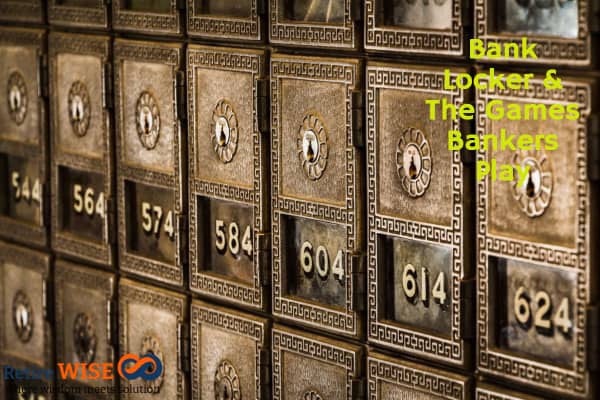 Banks facilitate a safety deposit box, or popularly a Bank locker, service for secure and safe storage of any item by the service's hirer. You can store gold jewelry, business agreements, wills, precious stones, silver gifts &coins, and insurance policies in them.
Not every branch of all banks gives a locker facility. The Reserve Bank of India has made strict guidelines as to which branch can and cannot run locker services and safety and security measures. Usually, the bank lockers are kept in a strong room or a vault within a bank.
In consideration of taking away your risk and offering a personal safe, banks charge you an annual fee or locker rent, in addition to some processing charges.
Before you opt for opening a bank locker, there are specific rules that you must know. Ignorance of these rules can come as a surprise or shock, depending on what unfolds in front of you.
Bankers rely on the general fact that people are not aware of these rules and can be taken for a ride. Like most other banking products and services, locker services see usual misselling and information obfuscation tactics by unscrupulous bankers.
Rules and how are they bent/broken
Not all bankers, and not all rules are flouted, though, but you do not know if you have been dealt a bad hand. Therefore, here are the most important rules governing locker operations and tactics to bend or break them to fulfill a banker's ulterior motives.
#1 Processing and waitlist
Once you apply for a locker at a branch, they must start the process immediately if the locker is available or provide you a waitlist number for the type of locker you need.
Bankers' Tactics: Bankers treat safe deposit lockers as a favor to the customer and not part of their service. So, instead of keeping a transparent waitlist, locker allotment becomes arbitrary and prone to all sorts of corrupt practices.
#2 Opening charges and KYC
Customers must give all necessary documents for completing the KYC requirements and pay a nominal processing charge.
BT: The one-time registration bank locker charges for most PSUs are nominal up to Rs. 1,000. In the case of private banks, these charges can be anywhere upwards of Rs. 2,500. Banks have made it into another cash cow to fill their "other-operating-income" accounts.
As for KYC, there are the usual ways of rejecting your KYC form by a banker – signature does not match, address-mismatch in two documents, no introduction by an existing customer, and so on.
The three risk categories – low, medium, and high – can put you in one of the higher risk categories, changing the relationship's whole dynamics.
#3 Security Deposit
To safeguard the bank's interests, RBI allowed them to take security deposits equivalent to three-year rent and lock-breaking charges in the form of FDs. E.g., if the rent for your locker is rupees fifteen-hundred p.a., and the breaking charges are Rs. 500, then the total security deposit cannot exceed Rs. 5,000 (1,500×3 + 500).
BT: This the point where most bankers dupe, mis-sell, and misinform their customers, as it has a direct bearing on their targets and commissions. As seen in the example, the security deposit is nominal, but to dole out the favor of jumping the waiting list, the banker manipulates you.
It may force you to open a fixed deposit, buy a ULIP, get traditional Insurance, invest in some mutual fund scheme, or take a personal loan/credit card.
Many bankers will insist on the fixed deposit to be on a safer side, as they can later justify by saying that "we offered a nominal FD, but the customer said let's open a regular bigger FD here instead of some other bank."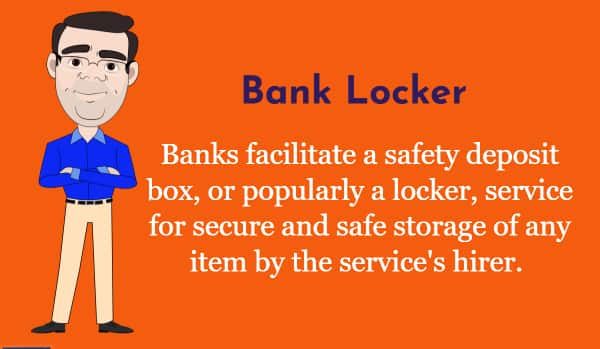 #4 Bank Locker Agreement
Once your locker is operable, the banker must give you the key to your locker and a copy of the locker agreement with all rules governing its operation and responsibilities & rights of both parties.
BT: Instead of supplying the rules, guidelines, and charter of responsibilities and rights – personally, by mail, or email – bankers get the signature of customers on the column saying something like, "I have received the rules governing the operation of my locker."
Most customers are in so much hurry that they never stop to read what is written above and below the dotted line. They are delighted to hold the key to their lockers.
#5 Operating the Locker
Customers are allowed some "free" visits to use their locker every year. It can range from 12 to 24 visits depending on the bank. Any extra visits are chargeable.
BT: Bankers can dupe you in multiple ways –
saying a bigger FD allows a greater number of free visits;
they can hide the number of visits to a very small number;
the RBI guidelines do not stipulate visits to be spread evenly in a year, but the bankers may make their arbitrary rules of limiting monthly visits to 1 or 2, thereby charging you; and
the charges for additional visits can be kept as high as Rs 2,000+GST for each extra visit.
#6 Dormant lockers
RBI rules state that if the lockers of high-risk customers stay dormant for one year, three years for medium-risk customers, the banks can break them open. However, before doing that, banks must notify the customers that their services will be suspended, locker lock is broken, and contents are taken into custody.
This rule is applicable, even if the rent for the locker is being paid without any fail. Once the locker is broken, the bank can rent it out to another customer. You can take possession of your locker contents when you will clear all dues and present necessary documents to prove that you were the person operating it.
BT: Again, the unscrupulous banker can reduce the limit for medium-risk customers from 3-years. As the RBI guideline is silent on low-risk customers, most banks apply the same rules as medium-risk customers.
Many customers report that they never received any notices about the inactive status of their lockers. And as mentioned above in point on locker agreements, they are not aware of the rules, to begin with.
Also Check: 5 Best Mobile Apps for Budgeting in India
Conclusion
If you are pressured into opening an FD or buying ULIPs, Insurance, Mutual Funds, or getting a personal loan/credit card, it is best to find the contact of the bank's vigilance officer on their website and call them / write to them.
RTI is another tool that you can use to ask the bank manager to spell out rules related to opening and operating a locker. But this will work in the case of PSU banks only.
Finally, you always have a last resort solution, a Ram-Baan of sorts, to write to the RBI's local banking ombudsman.
A little information from a credible source never goes unrewarded. You may not need a locker now, or any more, but if you come to know of someone, do not hesitate to share this article with them.
Please share hurdles that you faced while opening a bank locker…