Helicopter Parent is used for people who excessively step into their children's lives and make decisions on everything ranging from what to eat, what to wear, homework, socializing, college choices, career choices, investments and financial planning.
They do it with the intent to support their children and protect them from stressful situations. They might do it with the best intentions but in the long run, this over-parenting is not beneficial. Instead, it might do more harm than good.
Note: Helicopter Parents term is not discovered by me – so please don't blame me, if you relate to this post 🙂 When it comes to parenting, I am good in theory but when it comes to practice haha. (this article is based on reading & my observations) You can read expert views on 'Parent Induced Wastefulness' in this post.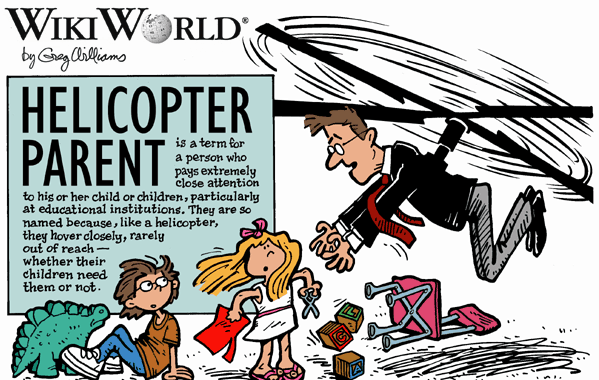 Examples of Helicopter Parents
A mother complaining to the school about her daughter getting bad grades and making it the fault of the school and teachers.
Parents hovering around the soft playground to cushion the kids if they fall.
Parents feeding their kids before a birthday party and then taking snack boxes for them in the party!
Fathers filling up forms for college admissions for their children!!
Parents taking care of financial transactions such as cheque deposits, insurance payments and other investment decisions for an adult child!
Parents giving money to adult children for buying a house and other expenses without any terms of getting it back!
Such parents are helicopter parents. They do it because they want the best for their child but it is not the best way to raise children.
Infographics – 10 Lessons to teach your kids about Money
How helicopter parenting affects young adults
1) Inability to make decisions – People who have had over-involved parents lack the confidence to do something on their own. They always have someone to take a decision for them right from what to eat to what to wear to which college to go.
They are not able to decide on the investments to make. They find it difficult to manage the budget or plan their income and expenses. They have not taken any independent steps for which they are responsible and therefore lack experience.
2) Financial Irresponsibility – People who have over-protective parents do not learn to be responsible. They spend recklessly. They do not think much about balancing their budget. They do not think of long-term finances as they know in the back of their head that their parents are there to save them from their mistakes.
3) Zero knowledge of personal finance – People who are used to their parents taking care of all their financial transactions lack any knowledge of personal finance. They will not know basic tasks like –
Manage chequebooks
Manage credit card payments
Manage investments
Manage filing of tax returns – at least providing the right information to CA.
These are Must-Know activities for any grown-up!
4) Financial Dependence – Managing bills, buying grocery, paying rent and taking care of household expenses are skills that adults should learn over a course of time. People with hover parents conveniently pass on these duties to their ever obliging parents. Parents manage these tasks and also finance the living expenses of their children.
Check – Financial Freedom Tips
Such children refuse to grow up and do not want to be independent as they know their parents will take care of everything. Parents who are doing this by dipping into their retirement funds are putting not only their kids but also themselves at financial risk.
Moreover if in the future, the parents stop funding, these adults have a hard time coping up with it and are not able to manage everything. They may also turn against their parents much to the parents' despair.
5) Behavioural Issues – People who are not responsible for their lives can have many behavioral issues – loss of self-confidence, loss of self-worth, indulging in extreme behavior like intake of too much alcohol. They do not learn to deal with issues and overreact and get too anxious even when they face minor problems.
Read – Can you afford a baby?
Parent Induced Wastefulness
A few days back I got a message on parenting from a friend – that was similar to Helicopter Parents concept that I knew. That post was really an eyeopener so I searched on google.
The article (Don't) Take it Easy!!  was written by Dr. Sapna Sharma (life coach & counselor) on LinkedIn. Few real-world examples from her post…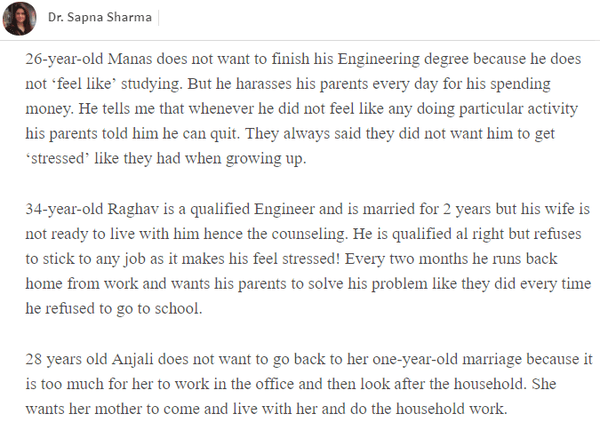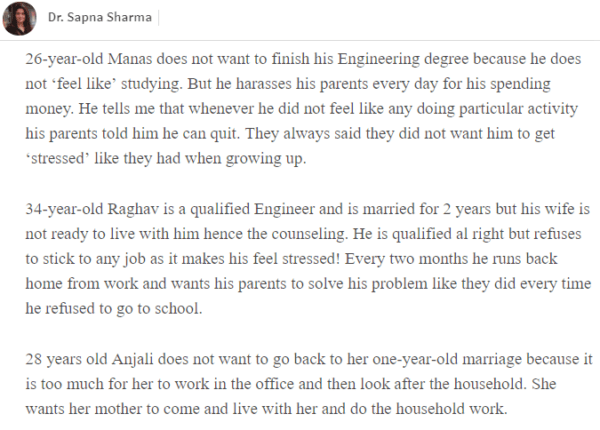 Are You a Helicopter Parent?
Do you see some traits of a helicopter parent in you? Do you think you are a helicopter parent? Here are some actions that you can take to stop helicopter parenting –
Give your child some space, some freedom. Do not hover around her throughout the day. Let her handle tasks independently and it is okay if she fails. She will surely learn to do better.
Do not interfere too much into her activities, her friendship related issues or her homework. She will figure them out. Handling her stuff independently will boost her self-esteem too. You should definitely keep an eye on what is happening but not live her life for her.
You can give older children tasks such as depositing cheques in banks, buying grocery or involve them while you balance your budget. This will prepare them for the real world.
It is important to let go of your children slowly but surely so that they learn to be independent. You can give them encouragement and help them in some situations. At the same time show some tough love by not jumping in to rescue them at every situation so that they know how to face obstacles and solve problems.
For example, from a financial perspective, you can open a savings account for your college going children or invest some amount in a mutual fund account for them. You can then talk to them about financial planning and show them tools that you use for financial management. You can encourage them to think about investments and also make some low-risk financial decisions.
If any of you have indulged in helicopter parenting, it's important to be aware of the consequences and stop doing it.  If not, you might be stuck taking care of your children even in your old age and they will never be financially independent.
Please share your experience in parenting – this will help everyone, including me 😉