Freedom is not a word, it's a feeling.
Freedom is what you feel when there are no doubts, barriers or worries. Freedom is when you feel confident, knowing that you have done everything possible to ensure a secure future for you & your loved ones.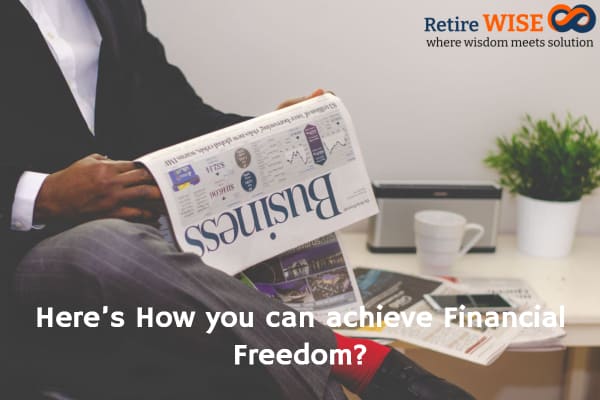 Read More – Follow the 50 30 20 Rule to Make Better Financial Life
Even if we talk about Financial Freedom it is not only about your assets & investments but lot other things. Financial Freedom is not about having best house in town or the latest model car or a foreign trip every year. But we have seen people leaving their cozy homes, air-conditioned cars and their wealth to attain this freedom. Then what it is…. In simple language, Financial Freedom is about having money/assets which can provide you perpetual income that is sufficient to have a comfortable lifestyle. But actually, financial freedom is more than that – it is having FREEDOM.
Check the below picture – this is your guide to financial freedom.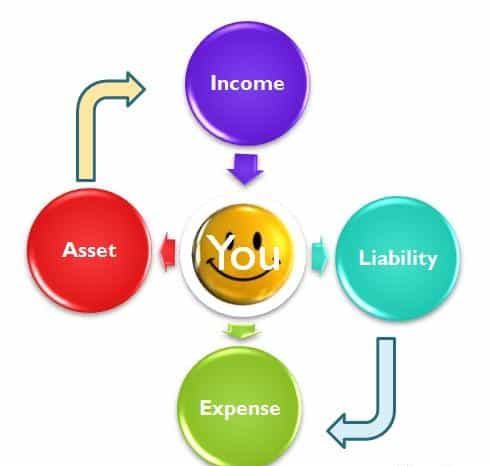 Must Check- Behavioral Finance
But why aspire to become financially free?
There should be some motivation for you to be financially independent – find that point which motivates you most. Can frustration from job can be a good motivator – couple of month's back I got a mail from one of the readers?
I have Rs30 Lakh & all of my money is invested in Bank as Fixed Deposits with 9% interest. Now, I am really got tired and need rest.My age is 25, newly married &I need Rs. 30,000 for my monthly expenses, is it really possible.
I replied "Tired at 25 – not a good sign. Take a 15-day break from your job & have fun. You are the biggest asset of your family – much bigger than Rs 30 Lakh. So understand this & take responsibility. See Rs 30000 is very much possible from your portfolio but the value of Rs 30000 will be sharply reducing by every passing year due to inflation."
I think such a type of motivation is not having enough fuel to sustain throughout the life. You need a bigger motivation like more time for my family, work of my choice which may pay me less, social work etc. So decide for yourself & make this point the starting point in a long journey.
Journey of your Financial Freedom
First, you need to understand components from the guide.
Income
Let's start with a thing for which you run the whole day but still, you don't have much control over. Yes, your salary. Salary depends on a lot of things like your academics, experience, type of sector you are in, your company, your personal skills & blah blah that HR guys talk about.
Do you think that a salary increase will help you in achieving financial freedom or building wealth or even solving your financial problems? Even if your answer is YES, my answer is NO. Most people change their jobs thinking it will make their financial life better but actually, they never realize that their problem is not less pay but something else. Tell me honestly; does getting a decent raise makes them permanently happy? This happiness due to an increase in salary is also a short-lived moment and very soon they get accustomed to it and try to maximize it again. And next year again they would start looking for a job – they don't try to find out the real problem and that is mismanagement of the funds.
But let me add one more thing, Salary is not the only income that you have. Think…
Check –Most 6 Steps of Financial Planning Process
Expenses
I know most of the readers will skip this paragraph as they know they are doing some wrong things here but would not like to face it.
But the truth is – greater the gap between earning and spending, the faster we will achieve financial freedom. And you can increase this gap by managing expenses.
Whether you make lakh of rupees a month or lakh of rupees in a year, a budget is a first and most important step you can take towards putting your money to work for you instead of being controlled by it and forever falling short of your financial goals.
You can use these budgeting sheets – First & Second.
 Assets & Liabilities
"An asset is something that puts money in my pocket. A liability is something that takes money out of my pocket." Robert Kiyosaki
This is really all you need to know. If you want to be rich, simply spend your life buying assets. If you want to be poor or middle class, spend your life buying liabilities. Try understanding this difference as this is the causes of most of the financial struggles in the real world.
Ask Yourself – are these things assets or liabilities:
Fixed Deposit
Home
Car
Mutual Fund
Plot
What was your answer for home? Does it fit in the definition of Robert Kiyosaki. I think I need to write a full post on this.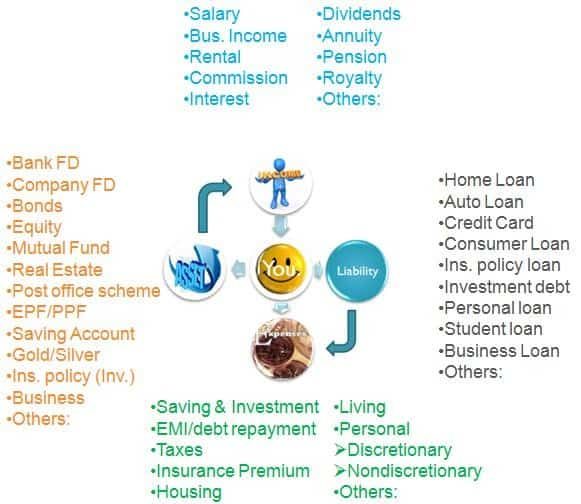 Financial Freedom Tips or Here's How you can achieve Financial Freedom?
I will pay myself first.
I will Budget Each Month & stick to it.
I will never dip into savings to buy anything superfluous (electronics, games, cars, etc).  Cash flow is the only source of my spending.
I will save and invest my yearly bonus.
I will find at least 5 sources of alternative income, including interest income, dividends, rental income, etc.
I will never let money control my life. Instead, money will be my own personal servant named XYZ when I choose to retire.
I will always value time over money and never be penny wise and a pound foolish.
I will never buy a car just to keep up with appearances.
I will not buy a house that is more than me or my family need.
I will not spend money just to spend it.
I will remember how much money was wasted buying unnecessary and unwanted crap.
I will live below – not within – my means.
I will shun all debt
I will stop all impulsive buying (Only make purchases I have planned)
I will postpone my major buying decisions.
And most important I will continually increase my knowledge of personal finance and money management.
Would you like to add or contribute your mantra of financial freedom?