To be successful in any facet of life, there is one thing that is most important – discipline. Whether you want to be a successful businessman or a good student, you want to keep yourself fit or you do anything is life, discipline is a must. Investment is no exception to it.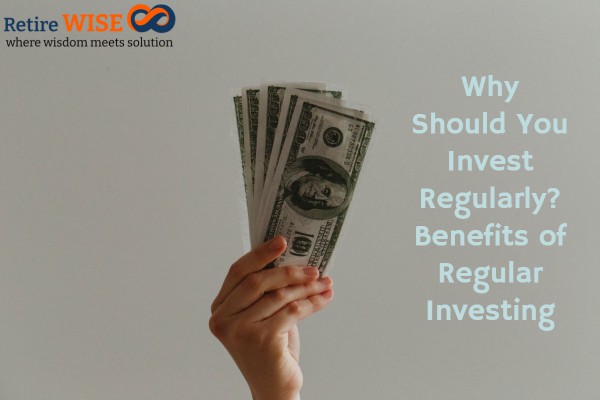 Read More- Aligning Investing with Life Goals
Why Regular Investing is beneficial?  
1. Formula of Savings
India is a country of saver and we save almost 30% of our income. This saving is one of the highest in the world. Savings is nothing but a function of "income minus Expenditure". Mostly we have income which we receive on monthly basis, may it be salary, rent, interest, and even in case of business, we look at monthly revenue. At the same time, expenses are also monthly nature it to be Rent paid, phone, petrol, grocery, etc. all our budgeting is done on monthly basis.
2. How do we Invest
But when it comes to investments, are they monthly in nature? No, they are not. For most investors, investment is either a Financial Year-end exercise or some lump sum investment made on an irrational basis. It is a very sad fact that most investors are not disciplined in their investment approach. The best way to make an investment is to the moment you have saved your money. This solves two purposes,
One that your investments get the maximum time and hence the power of compounding working best for you.
The other purpose regular investment solves is that it makes sure that you don't over-spend. You must of observed that when you go to the mall, many times you buy what is not planned or something which attracts there and we become an impulsive buyers. This happens only when there is an excess balance lying in a bank account and then it becomes very easy for anyone of us to swipe the card and buy. Many times, we buy items which are not necessary for us but just become there is Saved money with us, we tend to over-spend.
Must check  – Every Investor Should know The Two Poisons of Investing
3. Power of Compounding
we shall not be speaking anything and let the picture speak THOUSAND words.
Wait a minute, did I say THOUSAND……
So let's see what Rs.1000/- per month of investing at 12% rate of return p.a. can do to you at a different point in time of your life.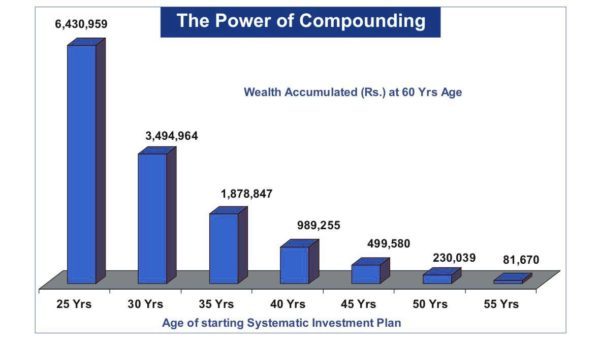 4. New Formula of Savings
So change your formula of saving & adopt a new rule "pay yourself first", pay for your retirement first, pay for future goals first even before paying for current expenses. So now onwards its
Now if you were to start regular investing, you will make such that there is what differentiates between a good investor and a bad investor.
5. Where to invest
Now the point is that where should you invest regularly. you may save regularly in traditional investment options like Bank or post office Recurring deposits but if you have term goals like education funding for your kid or saving for your retirement, the best is to invest regularly in Equity Mutual Funds. This is commonly known as a Systematic Investment Plan (SIP). Equities give the best return in long term and beat inflation comfortably. Traditional investments fail to beat inflation and hence are not recommended for your long-term financial goals.
Read – How Mutual Fund Work 
6. Learning from Past
To talk specifically, if someone would have invested Rs.10000/- in SENSEX on the first working day of the month from the last 10 years i.e., starting from July 1, 2000, Till June 1st12010, his investment of Rs.12 lacs would have given him Rs.34,53,917, a return of 20.34%p.a.
But if you would have invested the same amount in post office/Bank Recurring Deposit(RD), the same would have given you an Rs. 17,97,161 at 8% p.a.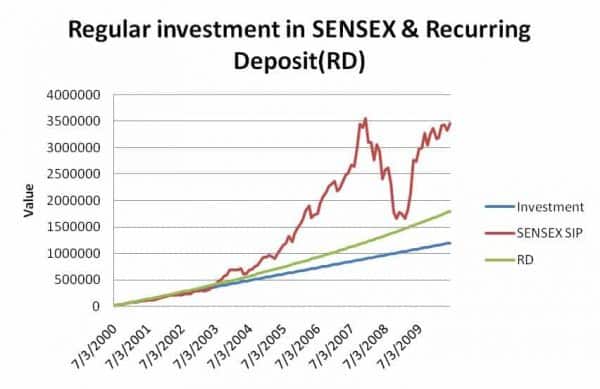 As someone rightly said,
"Journey of Thousand miles starts with a little step"
. Make sure that you start your SIP for your long-term financial goals today.
Please let us know: Are you regular when it comes to investments?