Home loans EMI is usually a big part of the monthly expenditure. It comprises the interest and principal components of the loan. In the beginning, a larger part of the EMI goes towards the interest, and over a period of time, the interest component reduces and the principal part becomes more.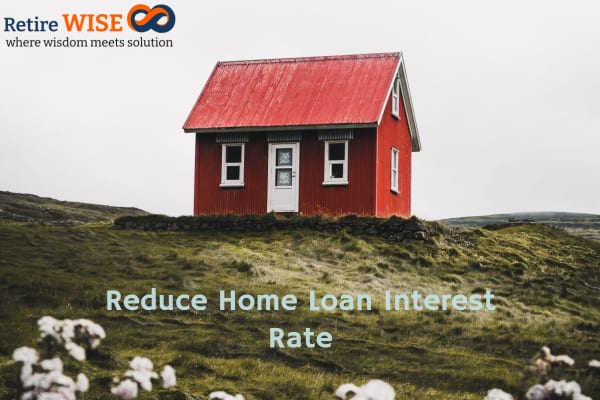 Read about – SBI Maxgain home loan 
How to Reduce Home Loan Interest  Rate 
Let us see some ways to reduce the interest burden. Look at each option and check if it is beneficial to the terms and conditions of your loan. You can use these tips to pay off other loans as well.
1) Increase EMI
You have to pay EMI for many years. You can increase the EMI by a certain factor of the annual increase in your salary. This will reduce the interest payment as the tenure will become less.
Here is an example that shows how you can save money by increasing your EMI –
Details
mortgage Amount (Rs.)
30,00,000
30,00,000
Interest Rate (% p.a.)
9.10%
9.10%
Tenure (years)
20
15
EMI (Rs.)
27185
30605
Total Amount Payable (Principal +Interest) (Rs.)
65,24,405
55,09,210
As you can see, you can save more than Rs. 10,00,000 if you increase your EMI.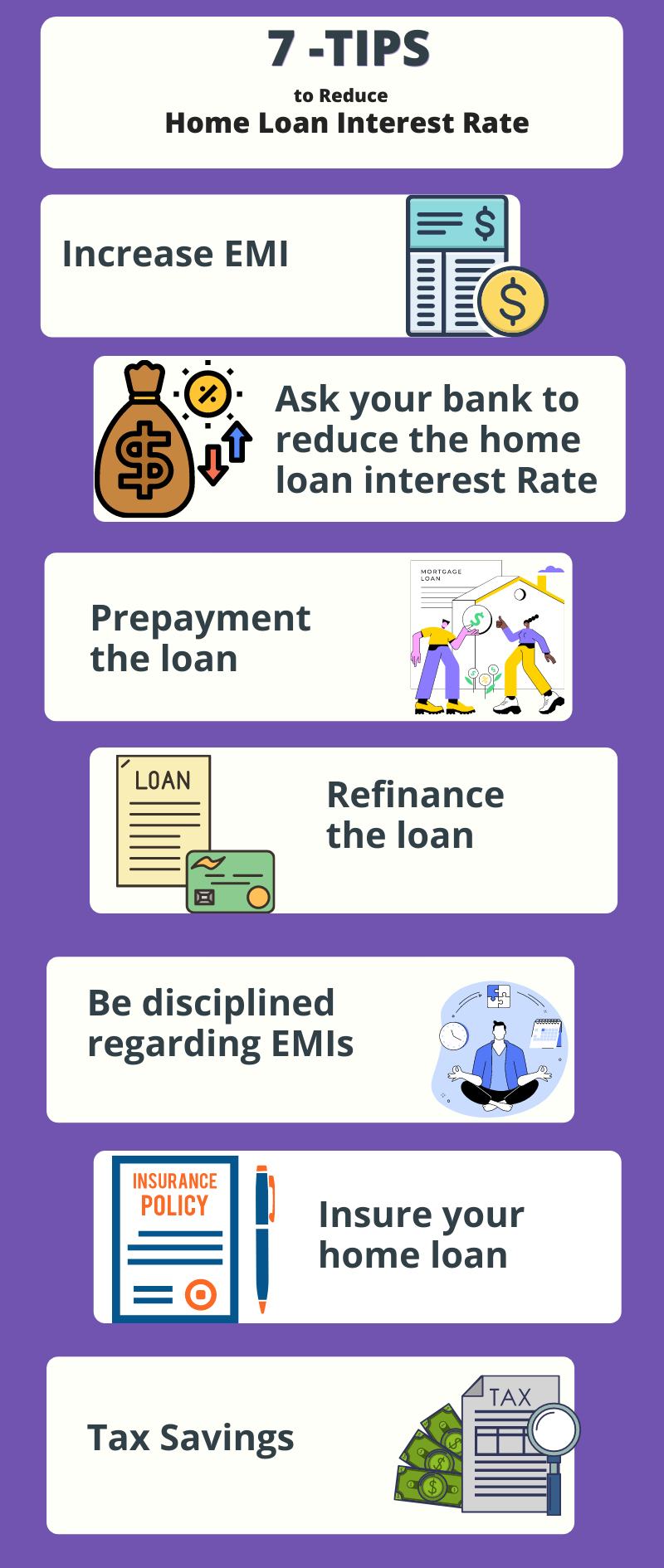 Must Read- Should I Take Loan?
2) Ask your bank to reduce the home loan interest Rate
You must have noticed that banks charge new borrowers but don't reduce the interest rate of existing borrowers.
You can ask your bank to reduce the interest rates on your ongoing home loan because banks are willing to negotiate if the borrower has a good repayment history.  If the bank doesn't agree you can give a mild threat of shifting the mortgage to another bank because of the cut-throat competition going on in the financial market.
But before going ahead with the switch of lender do not forget to take into account the charges new bank might levy on switching the mortgage such as processing fee, legal fee, etc.
Financial institutions may ask you to pay one time .25% on the remaining loan. A few months back I paid a small amount & my overall interest rate was reduced by almost 1%.
3) Prepayment the loan
If you get a windfall or bonus, use a part of it to pay some amount of the loan. This will help to repay the mortgage quickly thus reducing the interest burden. You can do this when you get your annual bonus or some performance incentives. Prepay a home loan if the EMI is more than 33% of your income in cash. If it is less than that, you should consider tax savings and investment possibilities.
Most banks do not charge prepayment fees provided you follow the rules they have laid down. Different banks have different schemes for the prepayment of loans. For example, Citi bank does not charge for prepayment of home loans, you just need to submit an application. HDFC bank also does not charge any fee for the prepayment amount. Check with your bank regarding the prepayment conditions and make a decision. There is a process to be followed to prepay the loans. Understand and follow it.
Ensure the documentation is properly done and transferred under the new loan agreement. Prepayment reduces your loan burden as the outstanding principal amount will become less leading to reduced interest payout.
4) Refinance the loan
Sometimes the interest rates fall. Some banks might have offered during festivals. But there is no benefit of the falling interest rate to people who have already taken loans. You should refinance your loans which means, you transfer your loans to the new scheme. There will be some fees for the switch. You should go for this option only if the new interest rate lower by more than 100 basis points.
If you have a floating rate loan (interest rate linked to market rates) and the interest is rising and that will be the trend for a while, you can switch to a fixed-rate loan. But here the charges are higher.
If you have a fixed interest loan and the interest rates are falling, you can switch to a loan with a floating interest rate. Again there will be a  conversion fee.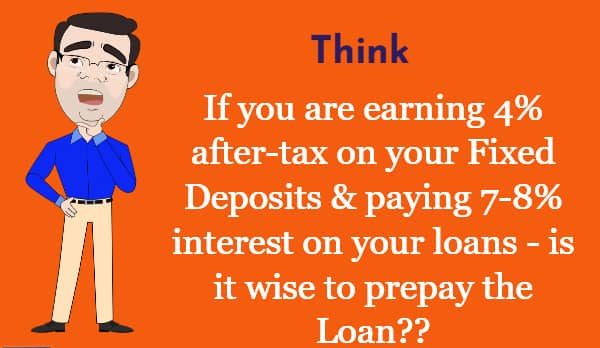 Also Read: Do Not opt for Home Loan Protection Insurance Plans
5) Be disciplined regarding EMIs
You should pay the EMIs regularly. Missing an EMI will affect your credit profile badly and you will also be charged a hefty amount as interest for delayed EMI payment. It is best to make the EMI a  direct debit from your account on a certain date. You should ensure there are enough funds in the bank whenever the EMI is due.
As we all know that when the tenure of the loan is less the interest component in the EMI is less as well and that ignites us to increase the EMIs. Remember that you should choose your EMI as per your cash flow surplus, don't go for higher EMI's because that can affect your financial stability.
6) Insure your home loan
It is best to have insurance  (e.g. term insurance) if you have dependents. The home loan will be taken care of by the insurance in case of unfortunate events and the family has a home free of debt.
Must Read- Bank locker the games bankers play
7) Tax Savings
A home loan provides income tax benefits for principal and interest payments. If the amount in tax savings is more than the amount saved by ending the loan, you might want to consider keeping the loan intact.
8) Top Up Loan
In case if you have a personal loan or auto loan where you may be paying a much higher interest rate than a home loan. So if you have an existing home loan, you can take a top-up loan from the same institution & consider prepaying loans with a higher interest rate. (consider preclosure charges & other conditions before making the decision)
Apart from all these factors, one must take the help of his financial planner in what is going to be more beneficial for him and, since home loans are usually high in the amount it is always important to remember affordability as a primary factor when choosing your loan EMI amount, one must always evaluate the budget before taking any decision.
If you have any questions related to loans – add them in the comment section.