If you don't have Medical insurance for Parents – it can put a big dent in your savings. Medical care cost is the (one of the) biggest problem in US & India may not be different in this. India may be developing as a hub for medical tourism & patients from US/Europe are coming here but days are not far when we would also be forced to travel for medical services to Srilanka or Bangladesh.
Last year finance ministry shared figures of 9.4% increase in medical care cost & we know how good our government is at these calculations. But even if we talk about 10% year on year increase on the cost this will be a whooping number till you retire. Ok time and again I have been cautioning you that health is one of the priorities that needs planning today and hopefully we have time to make appropriations for it.  But what about the people who have already crossed 60 – they need more medical care than you & me.
Must check –What is Family Floater Health Insurance Policy?
Health insurance for parents can be a great gift
Medical Insurance can be an option to avoid holes in your pocket or medical bills making you sick. But even here – there is no good information. The distribution network or agents are having little or partial knowledge. Moment you ask them for a comparison, they go mute or start defending their product. The premiums are on the rise as insurers keep complaining that they are not making money in this segment. On an average the health insurance premiums are increasing steadily between 15 & 25 percent every year and there are limited options available. These limitations make you feel that you are from general category & fighting for a government job.
Check – Best Investment Options for Senior Citizens in India
Medical insurance for Parents – Infographics
Let's check importance of health insurance for parents, alternate options to make sure medical bills do not impact their retirement plan, what you should consider before buying health insurance policy – also check comparison of health insurance product & their pricing for senior citizens.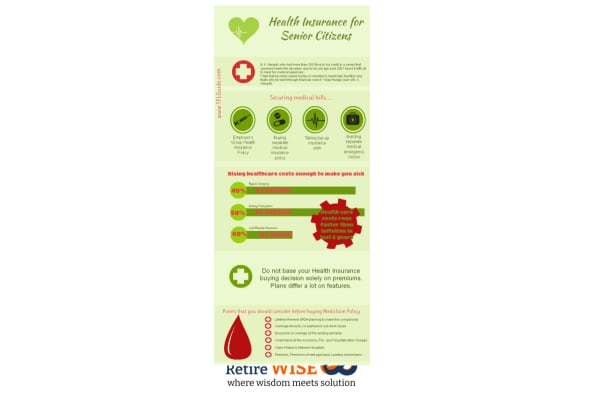 Feel free to share health insurance policy for senior citizen infographics on your site.
Hope this helped you to understand importance of Health Insurance in old age & features that you should compare. If you don't understand the terminologies that are used in above infographics – quickly check Terms commonly used in Health Insurance.
Best Medical Insurance for Parents
Premium of Medical Insurance Policies for Senior Citizens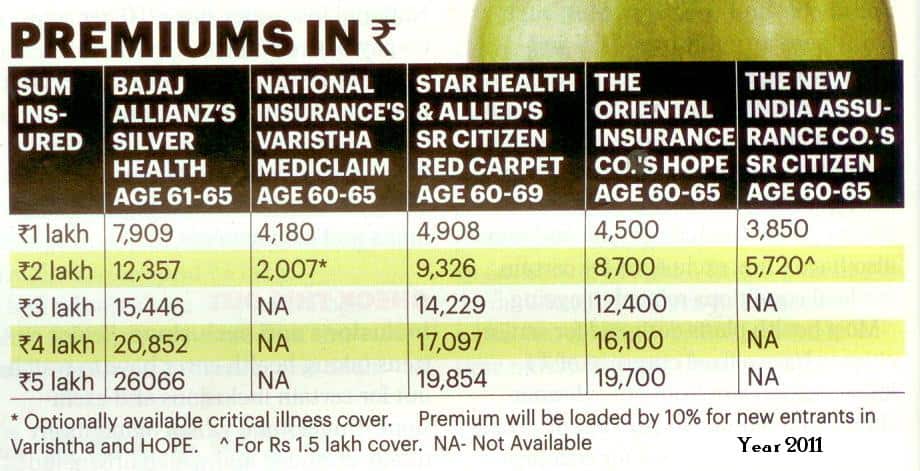 Source: Outlook Money
Health Insurance for senior citizens
K. Hangal, who has more than 200 films to his credit, in a career that spanned nearly five decades, found it difficult to meet his medical expenses when he grew old."I feel that he never saved money or invested in mediclaim facilities and that's why he went through a financial crunch," states Vijay Hangal, son of A. K. Hungal.
Health problems become a major concern as we age. The journey during these years can be very rough, if you have overlooked planning for it. Just look at how medical costs have increased during the past few years.
The graph clearly shows the kind of costs that you may be facing once you are older and have fewer sources of income. You have no option but to make provisions such risks, which have a high probability. Health insurance, thus, becomes the most important need for senior citizens.
But buying medical insurance at this age is not free from problems. There are certain issues which senior citizens have to deal with while considering medical insurance. The primary concern is higher premiums. If you look at the most basic health plans, the premiums increase once you cross a certain age. Sometimes the percent by which your mediclaim increases is greater when you move to the highest insurable age group, i.e. age 55 years and more or 60 plus. This puts even basic health insurance products out of the reach of many elderly people. To resolve this issue, health insurance companies have specific health insurance plans for senior citizens. Such plans have features that are different from basic health plans. Although some of these limit the claim amount, they are still a viable option when compared to relying on money borrowed in haste or dipping into retirement funds.
Here are a few features which you are likely to see in health insurance for senior citizens-
Medical Tests – Considering the health risks associated with advanced age, senior citizens have to mandatorily undergo medical tests when they avail health insurance products.
Entry Age-By definition, any person who is 60 years old and above is categorized as a senior citizen. This classification applies to health insurance too. So, you will be able to consider this product only if you are in this age group.
Co-Payment clause- This is the biggest reason for lower premiums in these products. Most companies levy a co-payment clause where the policyholder has to bear a certain percent of the claim. The amount of the claim to be borne by the policy issuer varies from 10%-30% depending on the illnesses and hospitalization expenses.
Limits on specific illnesses- You may also find limitations imposed by companies on their liability with respect to some specific illness or surgeries in these health plans.
Renewals- With the regulator prescribing life-long renewals, this feature is now common in a majority of health insurance schemes.
There may be a long list of illnesses for which a company has imposed some limitations on the claims you can make. But even after having to share the risks, health insurance is still a very beneficial proposal and should always be your top priority if you have already reached this age group.
Have you gifted medical insurance to you parents? Do you know you can avail tax benefits on the premium you pay towards Medical Insurance for your parents? If you have any question  feel free to add in comments.
Download Health insurance for parents PDF Guide