In recent days RBI Surprisingly Cuts down Interest Rate by 35 Bps. Now, how this decision will impact your portfolio will be the most common question that comes across when you already have Debt fund added to the current portfolio.
In this article, we are majorly focusing on Gilt funds, how they will going to be impacted by such decisions,s and of course if they could be best fitted to your portfolio or not.
I have also shared my own investment in the gilt fund to explain how interest rates impact the performance of such funds.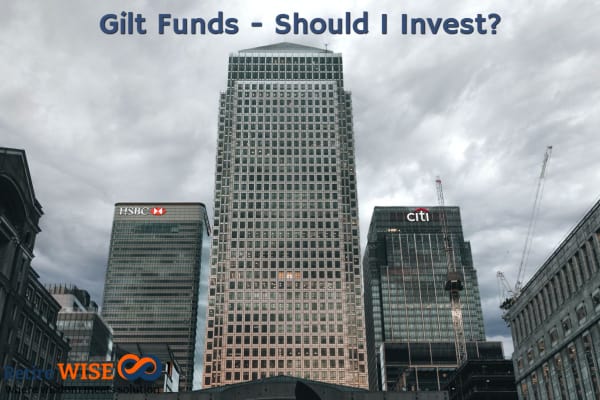 Must Read- Debt Mutual Fund Risk – are you confused?
What Are Gilt Funds?
RBI lends money to the government for development purposes. For this, the RBI issues government securities having a specific tenure. Gilt funds (or even banks) subscribe to these government securities. When the tenure is over, the government returns the money in exchange for the securities.
From an investor perspective, Gilt funds are mutual fund wherein they can buy, sell and invest in the government of India securities. They offer reasonable returns and are low-risk investments – no credit risk but interest rate risk is there. You usually need an investment horizon of 3-5 years.
The returns are dependent on interest rates. Changes in interest rates affect the price of bonds as bond prices and interest rates are inversely related.
What About Performance and Risk?
There are no guaranteed returns but the last year has seen gilt funds perform very well as there were multiple interest rate cuts.
There is an interest rate risk for gilt funds. When interest rates rise, the price of the Government securities will fall which means the fund will lose value. There is not much of credit risk or liquidity risk as the securities are backed by the government.
Gilt Fund Performance – 5 Years
Except 2007 & 2009 fund have done decently.
You may not believe that when I started my career in the investment field in 2003 – 3-5 years returns from few gilt funds were above 20-25% CAGR. That's huge.
As equity markets were down after the IT bubble burst these funds were selling like hot cake. But the next 3-year performance of gilt funds was pathetic – that you can see in the next graph.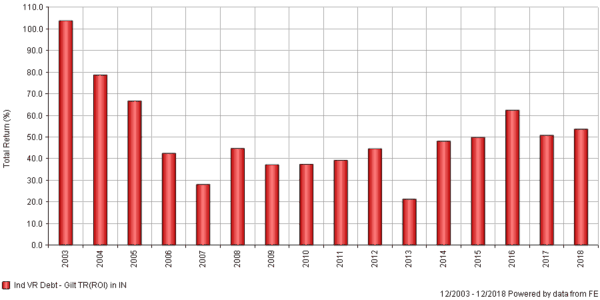 Must Check- How Should YOU view Investment Risk?
3 Year Performance
In 3 years there is a lot of volatility in gilt funds – 60% plus returns in 2002 to just 10% in 2006 or meagre 5% in 2011.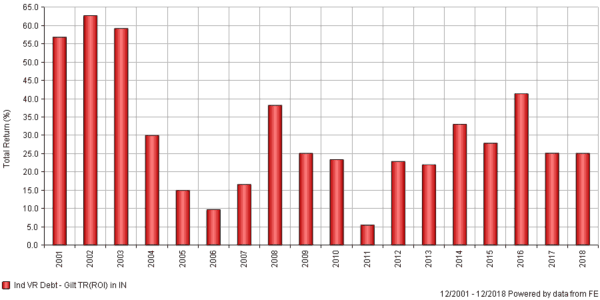 How Are They Different from Debt Funds?
Most Debt Funds invest in securities issued by the Government and Companies whereas gilt funds invest only in Government Debt Securities. Debt Funds is influenced by interest rates, liquidity, and credit risk whereas gilt funds are influenced mainly by interest rates. If you are an investor who prefers the lowest credit risk, gilt funds are ideal for you.
How Are They Different From Equity Funds?
There's no comparison as such but someone asked me this recently…
Equity funds invest mainly in equity and related instruments. The potential for more returns is in equity funds as compared to gilt funds. But gilt funds are less risky as compared to equity funds. If you are an investor who prefers capital protection to higher returns, gilt funds are a better option.
What Are Some Gilt Funds Currently Active In The Market?
Here are details on some of the Gilt Funds in the market (Aug 2019) –


Should I Invest in Gilt Funds Now?
The yield on Government Securities has come down. But as interest rates have been going down, the value of gilt fund has been increasing as the price of the securities went up.
Let me explain with my own example 🙂
In Sep 2018 10 years Gsec yield hit 8% (right now it's around 6.5%), which was quite high in the comparison of global interest rates. The Indian economy was not in good shape. The first weapon that is tried to improve the economy by any government or central bank is reduced interest rates. So it was on cards.

Must Check – 8 Most Important Mutual Fund Questions
If interest rates are expected to go down it's better to invest in long-term maturities – the best investment that was available was Reliance Nivesh Lakshay with 25 years of maturity.
On the 3rd of September 2018, I Invested Rs 2 lakh. After 6 months on 31st March 2019 value was Rs 2.22 Lakh & right now after 1 year, it's approx Rs 2.46 Lakh.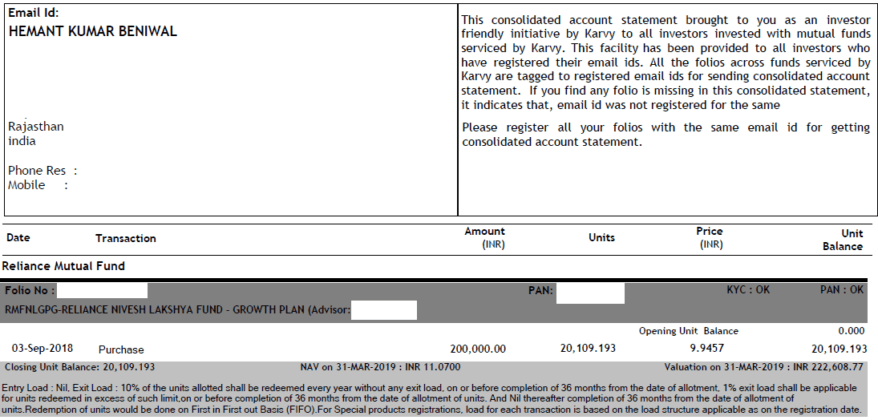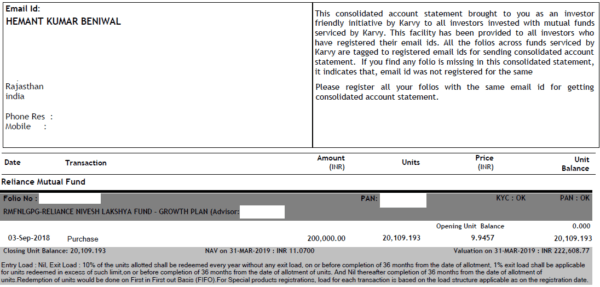 So I got 23% returns in less than 1 year. I used this to show the impact of interest rate on gilt funds. Take my example with a pinch of salt – if it was negative 10%, I would never have shared that 😉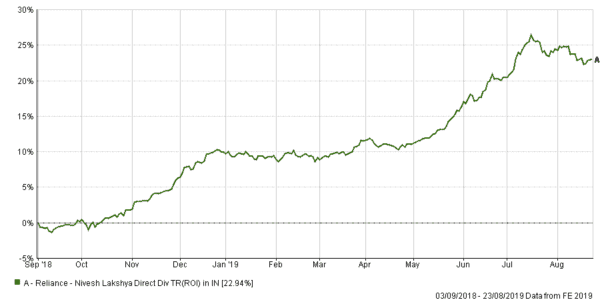 My suggestion to you.
If you are looking for reasonable returns with less credit risk, you can consider gilt funds for the long term.
But don't expect high returns in the short term. If you are a layman investor, it will not be in your best interest to try to time the entry and exit based on interest rate changes.
It is good to allocate some part of the portfolio in fund with medium-term government securities where the fund managers can manage the fund such that the interest rate changes work in the fund's favor.
If you have any questions related to gilt funds or income funds – add that in the comment section.