Let's review LIC Jeevan Ankur plan and try to come at a decision that one should buy this plan to fulfill the needs of child or with this plan LIC is fulfilling its own needs of business.
As a reviewer's job (right now you can also call me a critic), it is very interesting when you are doing a review on a product which is from the giant Life Insurance Corporation of India. From a player which has a history and the backing of profitable books, coupled with most respectable (trusted) brand you expect a multi-bagger. Here comes their new offering LIC Jeevan Ankur, which is an endowment plan targeted for Child Future Goals.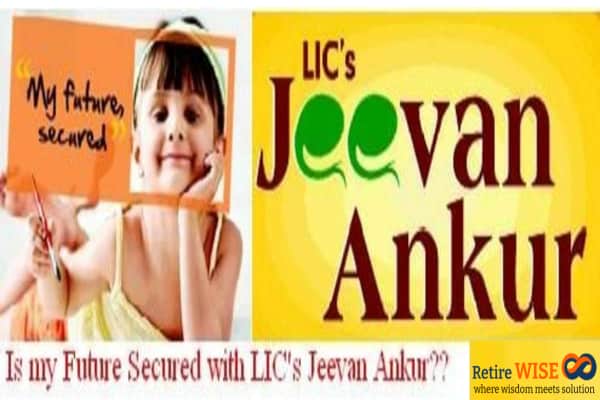 Read What is Insurance?
LIC Jeevan Ankur in nutshell
In LIC's words "Jeevan Ankur is a conventional with profit plan, specially designed to meet the educational and other needs of your child".
It's an endowment plan. (sorry and sick to say that these are even worse than a ULIP)
The life assured is the parent and not the child. This is good as logic goes that the economic loss is encountered when the bread winner meets a causality and loss of child's life is an emotional loss and not an economic loss. (few child polices defies even this simple logic, they give benefit to parents on death of child)
The basic plan comes with Accidental and Critical Illness rider. (obviously with additional premium)
The plan will not have a loan facility so HNIs looking for a refinance on the policy cannot avail the benefit of leveraging.
Features & Benefits of LIC Jeevan Ankur
You check the presentation; I am waiting for you on the other side of it to explain what's wrong with LIC Jeevan Ankur & how it will generate only 1.53% return (you can also check calculations).
Curious Case of Endowment Plans
My question is – why would somebody invest in an ENDOWMENT PLAN? Why LIC or a matter of fact any other insurer is offering an endowment plan wrapped in some emotional name and trying to pull business?
The basic problem with any endowment plan is that it offers very little returns and forget about the return part, it barely covers the inflation itself. If you consider the inflation, the inflation in education sector is around 10-11%. So if some college is charging Rs 4.5 lakh today for any course, will charge around Rs 30 lakh after 20 years. And to get this money a person will have to invest around Rs 4200/- on monthly basis if he is sure of getting a 12% per annum return.  Do you think it is possible to get even double digit returns from any endowment plan? I don't think but I am sure that LIC Jeevan Ankur will provide less than 6% returns. 

If I take the present returns that endowment plans offer, these are around 5-6% if you are lucky. I have seen policies giving return less than 5% also & you will see 1.53% for LIC Jeevan Ankur. And I am not cursing the product manufacturer for the returns part as they have very few things in hand to deliver returns. The product by nature is low on returns due to its rigid fund management & high on expense due to heavy commission to the distributor. But when they also know that the product will just give marginal returns, why do they promote and market this kind of product? What kind of financial planning are they trying to promote when your offering cannot even beat the inflation. Is this not a mis-selling case when you use heavy and emotional word like "Child Future" and offer a product which is for your "Own Future"? And when I say "own", it includes the manufacturer and the agent.
Have you ever thought why agents are ready to pay your first cheque in a quarterly premium policy? The answer lays in the fact that endowment plans offer the best & consistent commission which is available in the entire financial product category be it Equity, Mutual Funds, Small Saving instruments or Banking Products. At present the commission to the agent is around 15% to 35% for the first year and 5% to 7.5% in the subsequent years. Now you may guess!
Read Back gear of your Investment Vehicle
Illustration of LIC Ankur Jeevan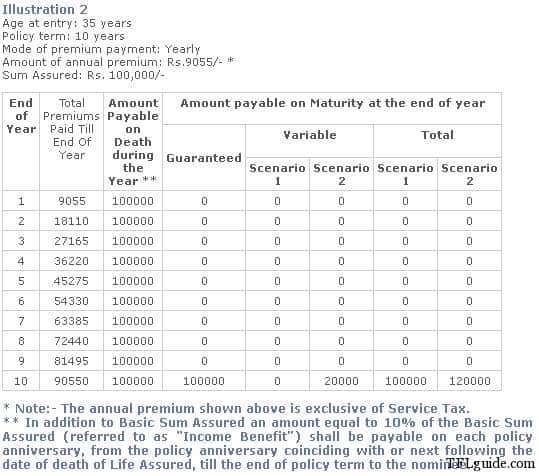 Death benefits in this Policy

In the event of unfortunate death of the life assured, payment will be (let's analyze according to above illustration – assuming someone expires after paying 5 premiums)
a)      One sum Assured Immediately (Rs 1 Lakh)
b)      10 % of Sum Assured every year till maturity (Rs 10000 for last 5 years = Rs 50000)
c)       Maturity benefits (Sum Assured and Loyalty Additions*) at the end of the term. (Rs 1 Lakh more – there is no guarantee that someone will get loyalty benefit)
Mortality Charges – how much you need to pay to get this benefit in case if you choose to go for some term plan. If you buy LIC Amulya Jeevan, You need to pay Rs 1683 per year for Rs 5 Lakh Sum Assured. If we assume total death benefit of Rs 2.5 Lakh in above illustration, you need to pay just Rs 841 per year. (this data is used in next calculation)
LIC Jeevan Ankur returns are just 1.53%
Would you like to buy a product which gives returns less than saving bank account? If yes, LIC Jeevan Ankur is a no brainer.
Let's check returns as per above mentioned illustration. Yearly premium shown in illustration 2 of LIC Jeevan Ankur is Rs 9055 & if we add service tax, premium will be around Rs 9192 per year. So total premium paid will be Rs 91908 & final maturity according to scenario 1 (Projected Investment Rate of Return assumption of 6% p.a. – being traditional plan it will be illogical to assume scenario 2 that is based on 10% returns) will be Rs 1 Lakh. So if you calculate IRR (Internal Rate of Return) this will come around 1.53%. For other calculations check below table – you can check mortality charges in death benefit point.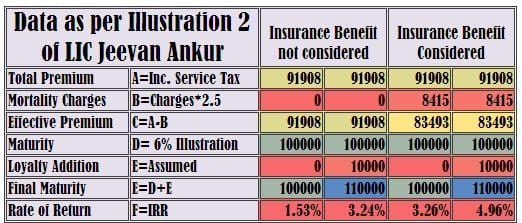 If you still don't believe these figures read an article from Moneylife Magazine "Just 2% from Your Life Insurance?"
"The kind of return you would get if you buy a traditional plan, depends on which one you buy. If you are not careful about what exactly you are buying—and most of us are not—it could be a pathetic 2%-4%."
Should you buy LIC Jeevan Ankur ?
Does this question still make any sense? I have already said a lot now and you know what will be my answer. So in the language of a decent film critic my rating to LIC Jeevan Ankur is – Compulsory Miss.
If you agree with my views must share this article with your friends – we can save few more financial lives this year. If you have any question regarding LIC Jeevan Ankur or any other LIC policy, feel free to add in comment section.