Recently I was talking to a client who was approaching his retirement very soon – both of his parents are alive. I asked "do your parents stay with you" & he politely said, "NO, we stay with our parents". This one line created a lot of respect for the client but the question is will we be that lucky in our retirement days.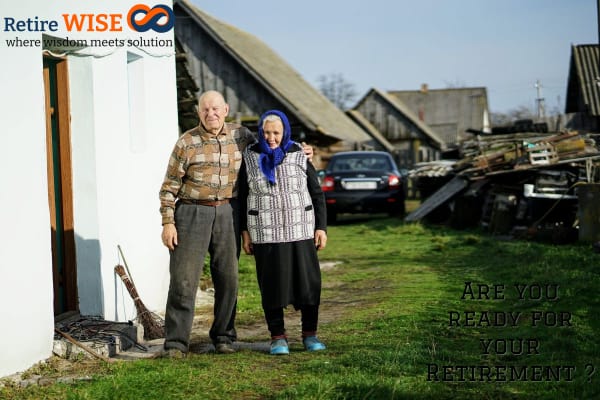 These days retirement is a real challenge due to low pension or no pension, the shift towards the nuclear family system, the longevity of life is increasing, rising medical expenses, etc. It may sound a bit odd but actually, most people don't realize they will have a shortfall in their retirement corpus & when the realization happens it is too late. Most of the clients when thinking of retirement planning, have simple calculations in mind that they need X amount every year & for this, they need 12.5X retirement corpus assuming a rate of 8%. But they ignore their biggest enemies – inflation & tax. These enemies actually start hitting them after 4-5 years & after retirement, they don't have much choices other than adjusting their lifestyle.
Check videos on Retirement Planning
Do you know how much you need for retirement?
| | | | |
| --- | --- | --- | --- |
| Current Age | 25 | 35 | 45 |
| Retirement Age | 60 | 60 | 60 |
| Income(I)/Expense(E) | 300000(I) | 800000(I) | 1500000(E) |
| Retirement Corpus Required | Rs 6.35 Crore | Rs 4.29 Crore | Rs 5.57 Crore |
If you don't believe these figures or would like to check your retirement figures – download software from here.
74% of the Indians are financially prepared for retirement: Survey
According to a survey done across 17 countries by Canara HSBC Oriental Bank of Commerce Life Insurance. Indians are second best in Asia Pacific with 74% 'feeling' adequately financially prepared to handle their retirement.
I don't know why insurance companies are on survey drive. (I know but I don't want to mention) Some days back ING did one survey on financial literacy & showed that India Ranks at no. 2 out of 10 leading nations in financial literacy. I really doubt both the surveys.
Also Read: When you are not ready for your retirement
Let's check some findings of the retirement survey:
33% of Indian respondents see retirement as a whole new chapter of life as well as a time for rest and relaxation. Only 22% associate it with financial hardship. (33% are optimist or 22% are pessimist)
Just 7% of respondents believe they will be worse off than their parents' generation in retirement, though 51% are worried about being able to cope financially in old age. (51% are worried then how 74% can be financially prepared – is there some calculation mistake or typo)
Older respondents are less enthusiastic about retirement and are far more likely to associate it with financial hardship. (older respondents know something that young guys don't know)
14% think that their personal pensions will provide their largest source of retirement income, while 13% will rely on other forms of saving and investments. (I don't know about rest 86% but these guys are going to have problem "Individual Personal Pension Schemes")
One in ten people in India expect to continue working in later life to provide an income for them. (Few people have already realized the hard facts of life)
76% of respondents have financial plans in place – far more than the worldwide average of 50% – while 57% of Indians have also sought professional financial advice. (This is awesome – 76% HAVE FINANCIAL PLANS – do even 7.6% of Indians know what is financial planning. No comments on professional financial advice or what you call the insurance agent's advice)
The internet is emerging as a prominent source of financial information and advice for people in India, with 50% of respondents using official financial websites to guide their decision making. (It is good news for TFL but what I write is an information & even other websites provide information – but the information is not KNOWLEDGE)
Independent financial advisers (33%) and banks (21%) are the most common sources of professional financial advice in India. (Check what kind of professional advice people are getting – Banks & Independent financial advisers)
For individuals who want to take action now to improve their financial well-being later in life, there is a simple 5-step checklist based on the research:
Establish some clear goals, both short and long term
Benchmark yourself
Establish a comprehensive financial plan
Implement the plan
Keep your plan under review
These are great 5 points but are these based on the survey. Is this survey done by the world's no. 1 online survey company – Speak Asia.
I am not against these surveys – these guys have definitely done some hard work but it doesn't show the picture that we see every day.
Why there is always a positive attitude shown when talked about personal finance
When someone reaches me for financial planning – I always ask when you would like to retire & what should be your retirement corpus. Most of the people reply they would like to retire not later than 55 year of age & very few dare to write corpus required above Rs 1 crore. If you have checked figures in starting of the article there is a big difference.
This difference is actually a gap between what we think (Perception) and what the reality (Actual) is. But when people reach near retirement, their perceptions of what they can expect to experience grow increasingly negative.
This is also part of this HSBC Survey (Global Report) – this is one of the best slides of survey. I don't think it needs any explanation – this tells what I am trying to convey in my last 900 words.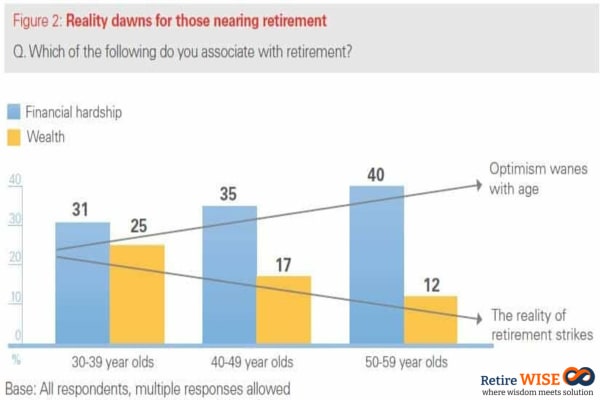 Mark Twain said, "Plan for the future, because that's where you are going to spend the rest of your life".
Would you like to share reasons – why people fail to plan for retirement?