Equity Linked Saving Schemes popularly known as ELSS funds are still struggling in the Indian market to establish themselves. Many investors, who are afraid of the equity market, choose life insurance or Provident fund to save tax.  These products are few decades old and are very popular among Taxpayers. However, due to increase in the inflation and lower returns, these products are losing their market share. Investors are now looking for those products which offer growth in the long term and helps in wealth creation. ELSS is one such product which offers both, but due to the risk/Volatility associated with the product, people hesitate to invest in it.
I am firm believer that "confusion is the first stage of solution" –
so let me try to confuse you through this post 🙂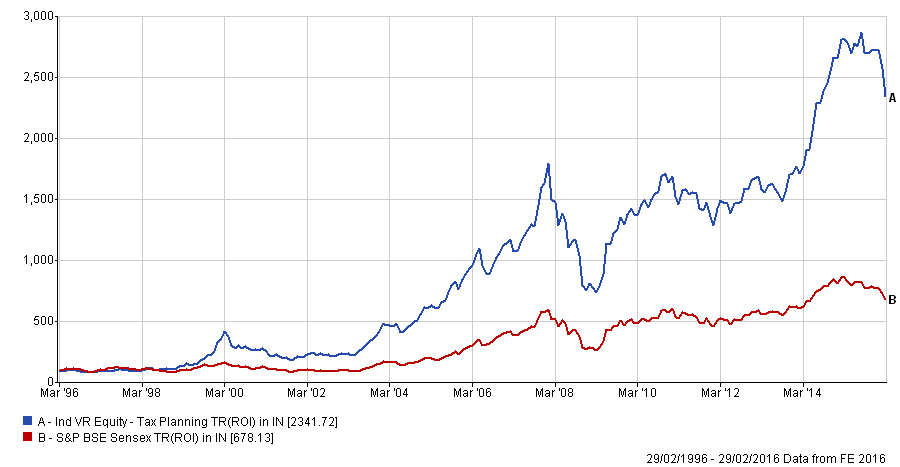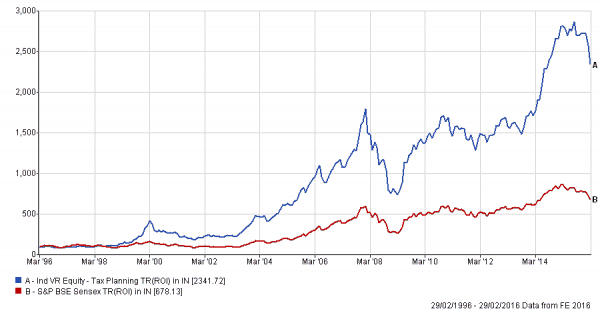 Chart – ELSS performance – 23 times or 2300% in 20 years
Few question before investing in ELSS
For a longer duration, any product which generates returns over and above inflation is good for investor and in the category of tax saving instruments, ELSS funds are best in the lot till date. But are these funds always good for an investor? Does this fund suits every category of investor? Are these funds successful in generating good returns in the short term? Have you ever thought about these questions while investing or just invested because you need to save tax? Let us today try to focus on above questions and find out which category of investors should avoid these funds and also in which situation one should stay away from ELSS funds.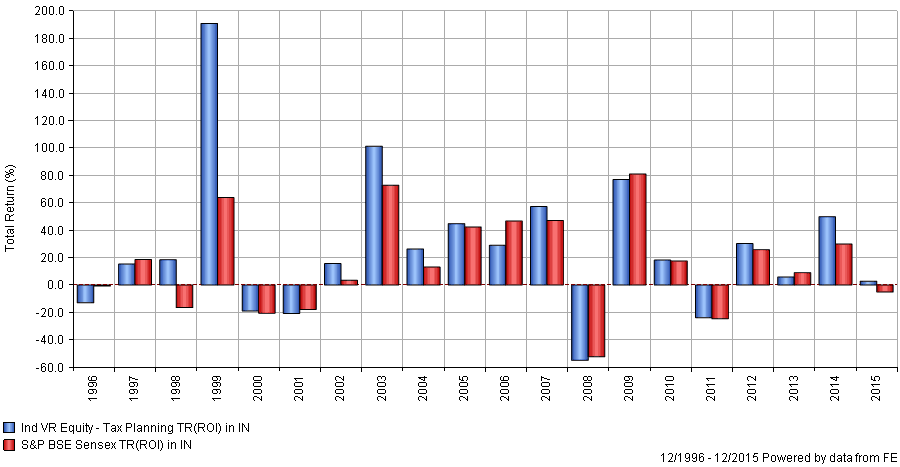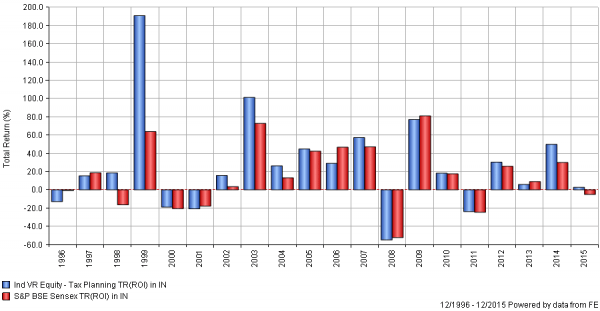 ELSS 1 Year performance – rolling return
Rolling returns display returns in overlapping cycles of any specific frequency – going back as far as the data we have available. The goal is to show you the frequency and magnitude of an investment's good and bad performance periods.
Must Read – Best Tax Saving Option ELSS Vs PPF
Think Before you invest in ELSS funds
Post Retirement
All those investors who are senior citizens or retired and are looking for the investment schemes should try and avoid ELSS funds as tax saving tool. Post retirement is a phase where one should look out for those schemes which offer both liquidity and tax saving with fixed returns. ELSS fund comes with 3 years of lock in and is highly risky if you don't understand volatility. Also, as there is no guarantee on returns, there are often chances that investor may lose the part of its capital. [we suggest even in retirement people would have decent exposure to open-ended diversified equity mutual funds based on risk profile & requirement – but after understanding risk associated with that]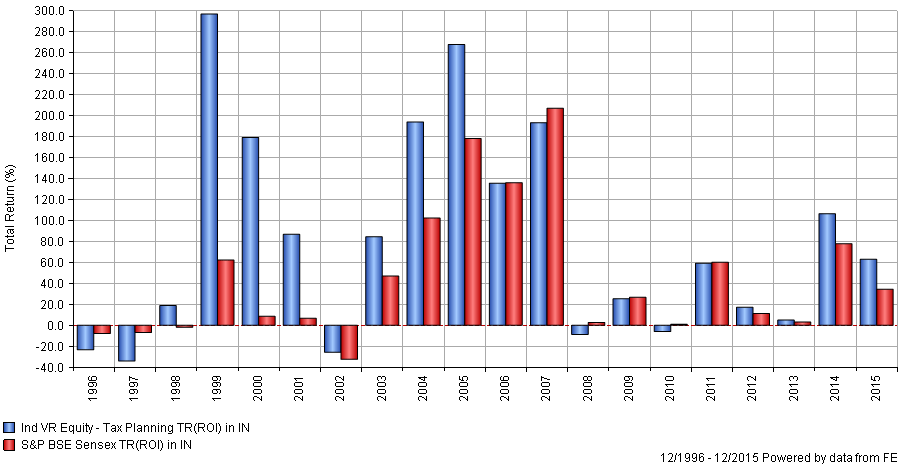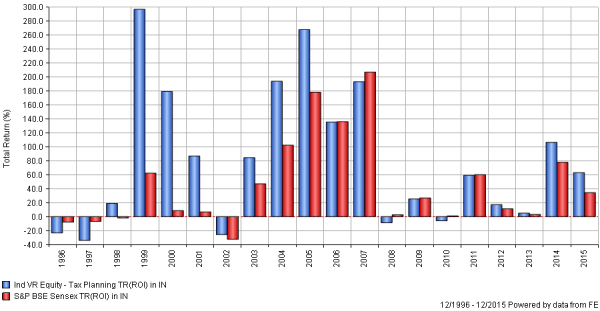 ELSS 3 Year performance – rolling return
Investor's Risk profile is conservative
If an investor's risk profile is moderately conservative then he/she should not invest in ELSS funds, as these are highly volatile and does not guarantee returns. The conservative investor always looks for growth with security and a slight decline in portfolio makes them worried. So, they should look at other tax saving products which are less volatile and should ignore ELSS funds. [we may also suggest that if you are conservative investor & literally hate equity & volatility – this year add some amount in ELSS]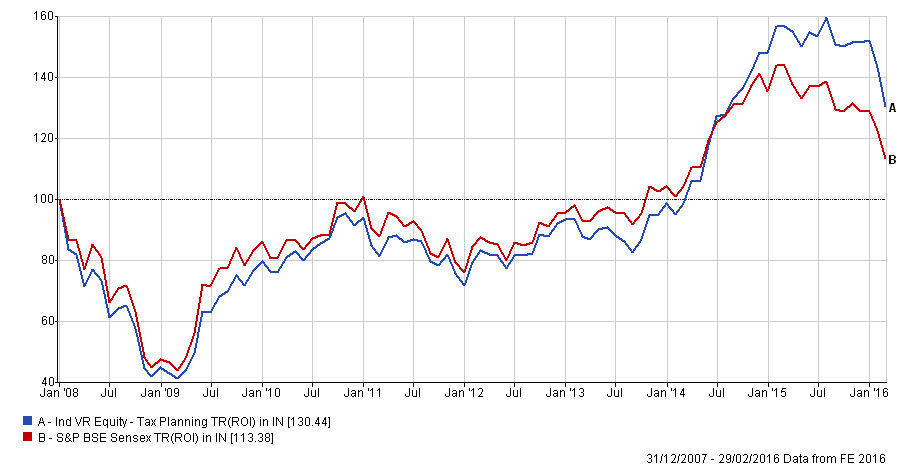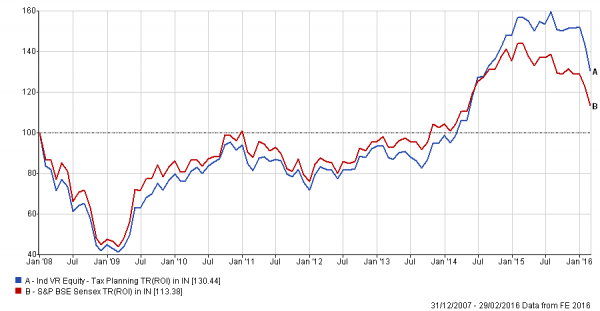 Rs 100 invested in Jan 2008
Investment horizon is less than 5 years
If an investor has a goal which is of less than 5 years then he/she should ignore ELSS funds as a part of equity investments. These funds have a multi-cap portfolio which invest aggressively into small and mid-cap and thus bears high risk. Ideally for a period of 5 years for equity one should only consider large cap fund which are less volatile than ELSS funds. [saying 5 years for equity funds doesn't mean that it will not be negative if you hold for 5 years]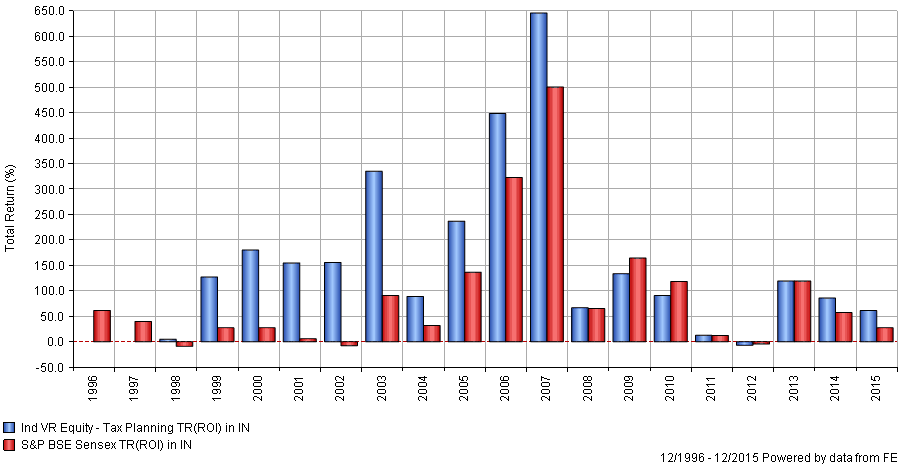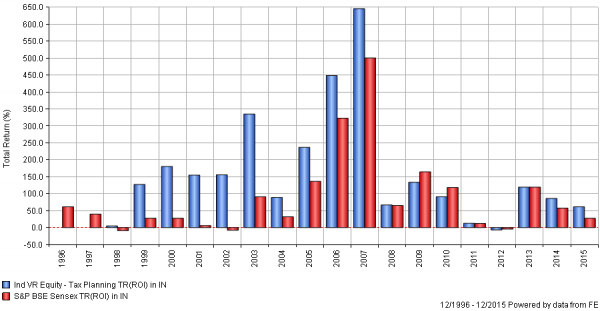 ELSS 5 Year performance – rolling return
Investing at the end of Financial Year
Most of the time people look for tax saving products only during last quarter of the financial year. It is the time when they (Employees) are forced to submit their investment details and thus in a hurry they invest in ELSS in lumpsum. Ideally, this is the wrong way to invest in ELSS. One should always plan their tax related investment in advance and invest through SIP mode in ELSS to get the benefit of rupee cost averaging. [it's not about performance but discipline]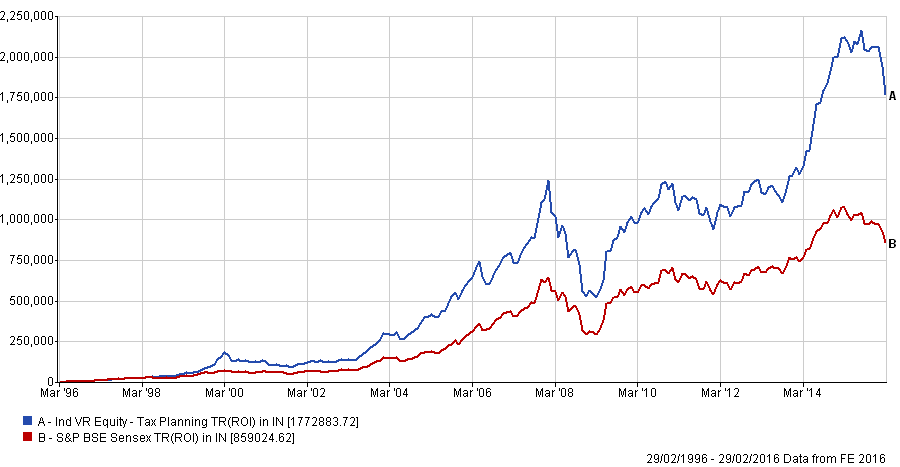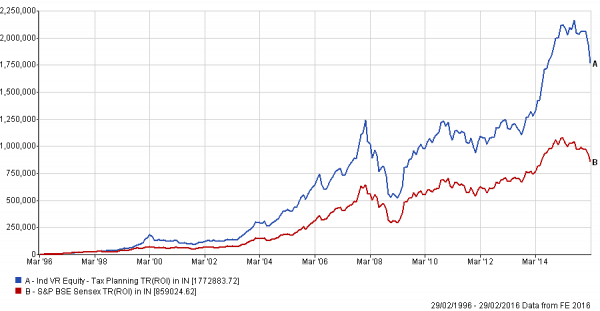 Saving Frequency: Monthly ●  SIP Amount: 1000.00
Total Investment: Rs 2.41 Lakh ●  Current Value: Rs 17.7 Lakh
What should you do?
To conclude, investors should avoid ELSS funds if they are looking for short term and are not comfortable with equities. However, one should also keep in mind that ELSS funds are not at all bad. In fact, ELSS is the best tax saving option available in India but only for those who are looking for long term and have the capacity to digest volatility. And for rest National Saving Certificates or Tax-free FD or PPF would be better as these are less risky (without considering inflation) and offer fixed interest. [if your income is less must invest some portion in ELSS for tax saving]
Let me share not a single client of our's use ELSS for tax saving – in most of the cases 80 C is exhausted in EPF, home loan & term insurance premium. So, how do you invest in ELSS funds? Do you agree with the above points or have some other views? And if you are confused – add that in the comment section.