These days investors opting for Systematic Investment Plan (SIP) has increased as both investors and mutual fund distributors have started understanding the benefits of it. If you look at the figures(in the end of the article), you will clearly see that more and more investors are actually signing in for SIPs.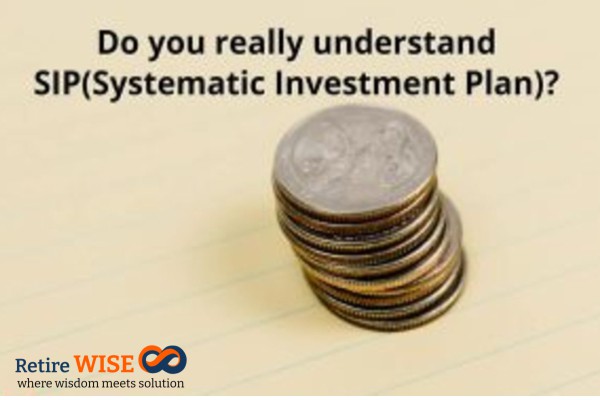 Systematic Investment Plan
This is good for investors and they will surely stand to benefit from it. But there were a couple of incidents which really made me think that many investors have yet to understand the power of SIP in the true sense. Let me first sight you two real-time examples:
1. Investor A who is working in the Indian Army started his SIP in December 2009 and came to me last week. He had invested Rs. 5000 p.m. in HDFC Prudence Fund and today after 10 months, his total investment of Rs. 50000 in now worth Rs. 58000 plus. He was happy as his annualized return were over 50% and in absolute numbers, he got 16% return in less than a year. He was excited and immediately asked me to raise his SIP from 5000 to 25000.
2. Investor B who is a businessman called me to say that I want to first withdraw all my money which he has invested through SIP markets are high and would like to stop the SIP for a moment. He would restart the same once the Sensex again comes down.
Now let me point out what these investors are actually thinking
1. Investor A thinks that SIP is a good product as in less than 1 year, he made good money. He is willing to increase his monthly investment because of this reason.
2. Investor B is looking at market movements and tries to TIME THE MARKET even with SIP.
Now let's understand why these investors thought process is not correct in my view.
1. First of all, SIP is a tool which makes sure that what you save is what you invest. In fact, it is putting your regular savings into regular Investment. It makes sure that you don't over-spend if the money would lie idle in your savings account. It also works on the principle of Power of Compounding as the moment you save, you are investing immediately and hence you give maximum time to your investment.
2. SIP in Equity Funds would work the best in case markets are going down and not when the markets are rising. But fact that we don't know when the markets will be heading south and when it be heading north, it is prudent to run your systematic investment plan always so that you average out. But if in the last 1 year, had the markets were to go down, Investor A would not have increased his SIP today. He would have thought that SIP is a bad way to invest even though he would be buying more units at lower levels. This is what happened in 2008 and early part of 2009 where lakhs and lakhs of SIPs were closed as investors felt that their investment value is going down. Now if you look at SIP return for those who has continued their SIP in bearish phase, their investments are giving excellent returns. Investor A should understand that SIP is a long-term strategy and works best in an uncertain environment. His decision to increase his SIP should be based on his increased saving capacity and not based on the returns that he got in the last 1 year.
3. Investor B still thinks that he can predict the market. On the top of it, SIP is there to make sure that you are not timing the market, now if you start timing the market even through SIP, god knows what will happen to such investors. The reason why most of the investors don't really make money in the stock market is because they think that Stock market is short term investment. I keep saying that markets do give returns but investors because of their thought process, don't make money out of it. If you look at last 10 years, regular investment through SIP in most of the well diversified equity fund is over 20% p.a. Why do we need to really outsmart those returns by doing something which is fairly impossible. There is a common saying that "CHOBE MIYA gaye CHABBE MIYA banane aur DUBEY MIYA rah gaye." This is precisely happens to those who likes to time the market.
Please do understand that SIP in Equity Funds should be used for long-term wealth creation and meeting your desired financial goals like kids higher education, your retirement funds, etc. One should understand how to make the best use else the purpose of taking the product will go for a toss. Indians should understand the benefit of participating in Indian growth story through equity investments and SIP is one of the best ways to really do that.
A number of New SIPs added in last 1 year: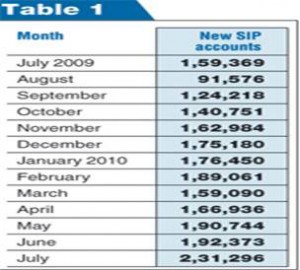 Do you think investments make money/profit?
If your answer is Yes, you are terribly wrong.
"Investors who cannot master their emotions are ill-suited to profit from the investment process." Benjamin Graham